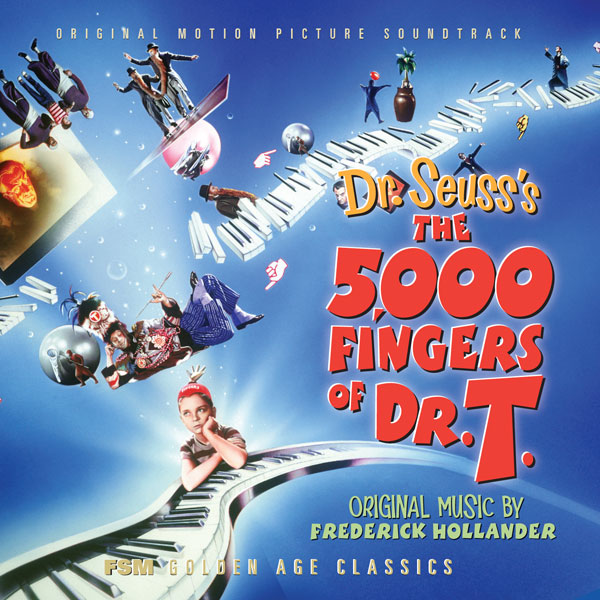 Film Score Monthly's newly released 3-CD original motion picture soundtrack to The 5,000 Fingers of Dr. T (1953) is a must for fans of Dr. Seuss, composer Frederick Hollander, or the film itself.  The rest of you might want to see the cult classic before purchasing.  And, for the record, if you've any interest in Seuss, it's worth checking out his sole live-action feature film.
What's it about? you ask.  It's an anti-fascist musical about a piano prison camp run by the megalomaniacal Dr. Terwilliker (Hans Conried), and about Bart Collins (Tommy Rettig) who seeks to expose his crazy scheme and free Mrs. Collins (Mary Healy) from Dr. T's hypnotic grip.  Bart also tries to enlist August Zabladowski (Peter Lind Hayes) to help him in his efforts.  Here's the trailer.

In the beautifully assembled (and lavishly illustrated) accompanying booklet to this CD set, Alan Lareau – who is writing a biography of Hollander – not only provides the fullest account of Hollander's life you're likely to find, but also offers all kinds of interesting information about the film.  For instance, producer Stanley Kramer saw the film as a vehicle for Danny Kaye (as Terwilliker) and Bing Crosby (as Zabladowski). I can easily imagine the film with those actors.  While Conried gives a great performance, Hayes is very much b-movie material – would that Crosby had been available to make the film.  I was also unaware that Tony Bennett had recorded "Because We're Kids" for his album The Playground (1998), or that Jerry Lewis used the song on his Muscular Dystrophy telethon.
This new 3-disc soundtrack gives you – for the first time – the complete (surviving) soundtrack as Hollander and Seuss conceived it, including material that never made it into the film, alternate takes from the film, composer piano sketches, rehearsal tracks, and of course the final songs from the film itself.  So, yes, it's for the Seuss (or Hollander) completist.  That said, several of the unreleased songs are quite interesting in and of themselves.  In this one, Peter Lind Hayes expresses his – and Seuss's – skepticism towards money.
Money, as performed by Peter Lind Hayes
Unlike Cherry Red Records' single-disc release of a few years ago, these are better quality audio –Â not pristine by modern standards, but the best possible versions all culled from archival recordings.
Oh, having just re-watched How the Grinch Stole Christmas! earlier this evening, I have to add: if you think the Grinch is a campy fella, well, he's got nothing on Dr. Terwilliker.  Take a gander at the "Dressing Song," below.

So, if you're interested in a kitschy, campy Seuss musical, check out The 5,000 Fingers of Dr. T (it's available on DVD). Then, pick up FSM's edition of the soundtrack.  They've limited its release to 3,000 copies – so, you might want to act sooner rather than later.