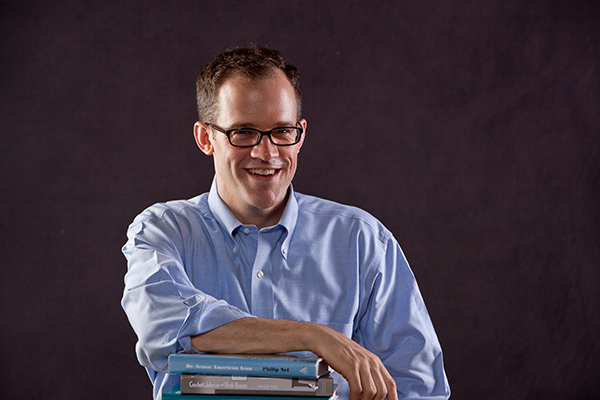 Philip Nel is a University Distinguished Professor of English at a US university with an ambiguous relationship to academic freedom. He is a scholar of children's literature and comics, an anti-racist educator, an enthusiastic amateur guitarist, an occasional guest on media programs, and a popular invited speaker around the world. He has given lectures in the US, UK, Belgium, Canada, Chile, Denmark, Germany, Norway, Sweden, Switzerland, and Singapore.
Nel is the author or co-editor of 13 books and over 50 articles. His Was the Cat in the Hat Black?: The Hidden Racism of Children's Literature and the Need for Diverse Books (Oxford UP, 2017), was featured in Time magazine, The Atlantic, TES, The Washington Post, the Chicago Tribune; the "Talk at Google" version has been viewed over 12K times. That work and the work of Katie Ishizuka and Ramón Stephens (the duo behind The Conscious Kid) led to Dr. Seuss Enterprises' March 2021 decision to cease publication of six Seuss books with racist imagery. Tales for Little Rebels (2008), co-edited with Julia Mickenberg, won favorable reviews from the New York Times Book Review and the Washington Post. His double biography, Crockett Johnson and Ruth Krauss: How an Unlikely Couple Found Love, Dodged the FBI, and Transformed Children's Literature (2012), received praise from the Wall Street Journal and Kirkus. Of his The Annotated Cat: Under the Hats of Seuss and His Cats (2007), Newsweek wrote, "Philip Nel gives us a better grip on just why Dr. Seuss has so thoroughly captured the imaginations of several generations of readers–and the imaginations of their parents." The Economist called his Dr. Seuss: American Icon (2004) "definitive" and "comprehensive."
Nel's most recent books are the second edition of Keywords for Children's Literature (NYU Press, 2021), co-edited with Lissa Paul and Nina Christensen; and the fourth volume of Crockett Johnson's classic comic strip Barnaby, co-edited with Eric Reynolds (Fantagraphics, 2020). The fifth and final volume of Barnaby is forthcoming, with a planned publication date of 2024. His latest publications are "Who is welcome?: Images of Multiculturalism in German Picturebooks Since 1989" (co-written with Ada Bieber, in the January 2022 issue of The Lion and the Unicorn) and "'Well Paid for a Woman': Gloria Hardman's 50-Year Career in Computing" (July-Sept. 2022 issue of IEEE: Annals of the History of Computing). Coming soon: "Comrade Redfield and Mr. Hoff," his introduction to The Ruling Clawss: The Socialist Cartoons of Syd Hoff (NYRB, May 2023).
If you need a brief introduction, here is a cue card for you.
If you prefer a deep dive, his autobiographical proclivities will quickly exhaust your curiosity. For example:
"A Manifesto for Children's Literature; or, Reading Harold as a Teen-Ager" (Iowa Review, Fall 2015).
"The Archive of Childhood, Part 1: Crayons" (blog post, Dec. 2014).
"The Archive of Childhood, Part 2: The Golliwog" (blog post, Jan. 2015). Content warning: contains image of a racist doll.
"The Archive of Childhood, Part 3: Earliest Memories" (blog post, Aug. 2018).
"For Mom" (blog post, May 2016). In praise of his mother, Gloria Hardman.
"Running Out of Time" (Every Little Thing, January 2016). A guest post for his late friend Alison Piepmeier's blog. The unnamed relative is his mother.
"'Well Paid for a Woman': Gloria Hardman's 50-Year Career in Computing" (IEEE: Annals of the History of Computing, July-Sept. 2022). His mother's life in the field of computing.
"Delights" (blog post, Aug. 2019). Inspired by Ross Gay's The Book of Delights.
"25 Years After; or, 10 Things I Learned at My High School Reunion" (blog post, May 2013)
"Goodbye, Pork Pie Hat" (blog post and video, May 2019). Video eulogy for his Uncle Terry (1934-2019), plus additional (written) notes.
Nel is represented by Stephen Barbara of InkWell Management.
Photo credit: Michael Henry.