This mix goes out to fans of the National. Influences cited are mostly sourced, but partly speculative. That is, most of the selections here come from bands identified by National members (usually Matt Berninger) as an influence, but some simply sound to me like influences. So, of course, feel free to disagree with my choices in the comments, below.
Also, since this is a mix (as opposed to just a playlist), I've chosen selections from each band that work together, in sequence, as a mix. For any who may be curious, I will post my rules for mix-making in a couple of days. Anyway. Here are… some of the National's influences.
1)     Love Will Tear Us Apart  JOY DIVISION (1980)                              3:26
The documentary Mistaken for Strangers briefly shows Matt Berninger singing along to this song. Of comparisons to Joy Division, Berninger has said, "I think a lot of that is the range that I sing in is similar to Ian Curtis. And I get a lot of Nick Cave. I think it's mostly because of the vocal range that we get that. Definitely Joy Division, I know Bryan our drummer, from a drumming perspective, that's been a big influence on him."  (Incidentally, I debated putting "Transmission" on, but this song seemed a better way to launch the mix….)

2)     How Soon Is Now?  THE SMITHS (1985)                                       6:46
Asked by Cheryl Cheng in 2007, "Who are some of your early inspirations?" Berninger responded, "The bands that I first really started falling in love with were The Smiths, Violent Femmes, Tom Waits, Nick Cave…"
3)     Where Is My Mind?  PIXIES (1988)                                                  3:53
On YouTube, there's footage of Berninger singing the Pixies' "Here Comes Your Man" at a karaoke bar:

4)     New Drink for the Old Drunk  CROOKED FINGERS (2000)          3:53
In his Rolling Stone "Top Tearjerkers" playlist, Berninger includes Crooked Fingers' "Sad Love."
5)     Jockey Full of Bourbon  TOM WAITS (1985)                                 2:47
In that same playlist, he includes Waits' "Jersey Girl." There are many Waits songs I could have included on this mix, but "Jockey Full of Bourbon" is my favorite and it fit well at this point in the mix.
6)     A Shot In The Arm  WILCO (1999)                                                    4:20
I've never heard any member of the National cite Wilco as an influence, but I hear echoes of Wilco circa Summer Teeth (1999) and Yankee Hotel Foxtrot (2002) – the records just before the band's critically lauded pretentious mess, A Ghost Is Born (or, as I call it, Wilco Lays an Egg).
7)     Whisper  MORPHINE (1995)                                                              3:29
I've never heard members of the National mention Morphine, but they're the most sonically similar group I know. In my iTunes, one playlist is "National & Morphine."

8)     Sweet Jane  THE VELVET UNDERGROUND (1970)                    4:09
It's more likely that the Velvets influenced the bands that influenced the National –Â i.e., we're hearing their influence at one remove. Not incidentally, Lou Reed and Berninger both appear on Booker T. Jones' The Road from Memphis (2011).
9)     Just Like Honey  THE JESUS & MARY CHAIN (1985)                 3:03
The Jesus and Mary Chain's thick wall of distorted guitars is obviously a much bigger influence on the Raveonettes, but I'd be surprised if this band wasn't somewhere among the National's influences.
10)   Pretty in Pink  THE PSYCHEDELIC FURS (1981)                          4:00
The National cover "Pretty in Pink" on The Daytrotter Sessions (2007). Also: listen to the lyrics. It's a much darker and more interesting song than its association with the Molly Ringwald film would lead you to believe. The National's cover brings out the song's sad narrative quite well – "All of her lovers all talk of her notes, / and the flowers that they never sent. / Wasn't she easy? And isn't she pretty in pink."
11)   Flavor of the Month  THE POSIES (1993)                                      2:36
I have a vague notion that members of the National have cited the Posies as an influence, but I can't find my source.
12)   Last Nite  THE STROKES (2001)                                                      3:20
Matt Berninger: "The Strokes have influenced more bands in the last ten years than even the artists I mentioned [Waits, Cave, Nirvana, Smiths] in all 25 years."

13)   Uptown Again  THE AFGHAN WHIGS (1998)                                  3:11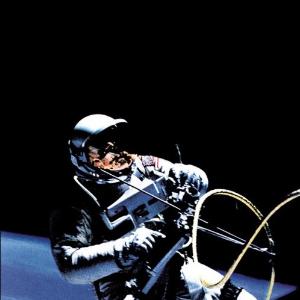 Berninger is an avowed Afghan Whigs fan. Of Greg Dulli (the Whigs' lead singer & main songwriter), Berninger says "Dulli just had a way of being so dark and almost brutal in some of his observations of himself and his dark side of romance, but he was able to articulate it in unbelievably powerful ways. There are people like that, who happily dig into the very uncomfortable personal exposure in a way. It's not wallowing. It's some sort of cathartic recognition of the sad and dark sides of our minds and hearts. I think it's a healthy way to deal with that stuff."
14)   First We Take Manhattan  R.E.M. (1991)                                        6:05
Although this is R.E.M. covering a Leonard Cohen song, I see an affinity between R.E.M.'s original work and the National's. They're both rock bands with a vocalist & lyricist who writes suggestive but elliptical lyrics. They're also willing to develop more sophisticated arrangements, bringing in strings & piano.
15)   False Alarm  SLOAN (2003)                                                             3:48
Sloan's songs are typically more power pop than the National's (and I've not seen the National cite Sloan as an influence), but the elements of longing ("Always looking for reasons to walk on your street") secure it a place on the mix. In sum, this is Sloan at their most National-esque, and (arguably) not as strong a choice as the other songs on this mix.
16)   Game of Pricks  GUIDED BY VOICES (1995)                                2:15
Berninger listens to Guided by Voices, and put "Learning to Hunt" on the aforementioned Rolling Stone playlist.
17)   I Can't Forget  LEONARD COHEN (1988)                                      4:32
In September 2011, Berninger told The Phoenix's Michael Christopher, "when I was in high school I became obsessed with Leonard Cohen and Tom Waits."
18)   Traveling Light  TINDERSTICKS & CARLA TORGERSON (1995)       4:50
I'm not sure whether the National considers Tindersticks an influence, but many reviews make the comparison between the two bands. With their baritone vocals and fondness for orchestral arrangements, it's easy to see why.

19)   Love Letter  NICK CAVE & THE BAD SEEDS (2001)                       4:09
Asked about his influences, the first two that Matt Berninger mentions tend to be Nick Cave and Tom Waits.
20)   Arvo Pärt: Cantus in Memory of Benjamin Britten  DENNIS RUSSELL DAVIES: STUTTGART CHAMBER ORCHESTRA (1984)                        5:08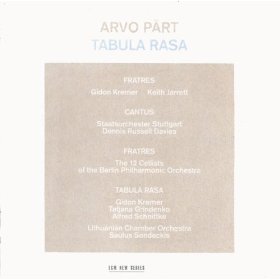 This mix has placed too much emphasis on Berninger. This last song highlights the band's guitarist, Bryce Dessner, who is also a classical composer. I'm convinced that he and his brother Arron Dessner's work in non-rock music are key to the National's sound, bringing in atypical rhythms and arrangements. Bryce Dessner has worked with and performed the works of minimalists Philip Glass and Steve Reich. I don't know what he thinks of fellow minimalist Arvo Pärt, but this track seemed an apt way to conclude.
There are many other bands who might (and perhaps should) have been included on this speculative compilation, including Nirvana, Radiohead, and Depeche Mode. (Some songs cut from earlier versions of this mix: "Lithium," "Come As You Are," "No Apologies," "No Surprises," "High and Dry," "Policy of Truth," "Enjoy the Silence.") But to make this collection work as a mix (and one that would fit on a single CD), I had to cut some things.
Credits: Photo of the National by Diedre O'Callaghan, taken from "The National on World Cafe" (WXPN).