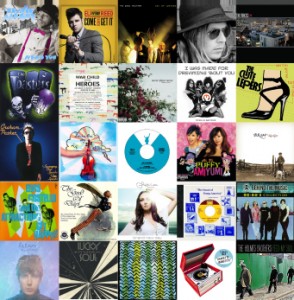 Since the decline of commercial radio (hastened by the Telecommunications Act of 1996), I learn about music by paying attention: to music blogs, public radio, other people's playlists, and the few surviving interesting radio stations (such as WFMU, KEXP, WXPN) – all of which one can listen to via the internet.  I also learn from mixes.  And I love to make mixes.  My hope is that this blog will allow me to share what I'm listening to, helping others discover new and old music.  Here's my most recent uptempo mix, titled I Think It's Getting Better (created in June 2010):
1)Â Â Â Â  Bugler's Holiday US Air Force Band Of The Golden Gate (2006)Â Â Â Â Â  2:18
This appears on their album Good Ol' Days.
2)Â Â Â Â  And what do you recommend for yourself, doctor? (from Holiday)Â  Katharine Hepburn & Cary Grant (1938)Â Â Â Â Â  0:06
This is in the film Holiday, which I highly recommend. Â Hepburn & Grant in a film adaptation of a play by Philip Barry (The Philadelphia Story).
3)Â Â Â Â  Holiday Vampire Weekend (2010)Â Â Â Â Â  2:18
From Contra.
4)Â Â Â Â  Vacation The Go-Go's (1982)Â Â Â Â Â  3:00
Originally appeared on the album of the same name. Â Also appears on hits collections Return to the Valley of the Go-Gos (1994) and VH1 Behind the Music: The Go-Go's Collection (2000).
5)Â Â Â Â  Berlin Girls The Cute Lepers (2009)Â Â Â Â Â  2:56
From Berlin Girls (single, 2009) and Smart Accessories (2010).
6)Â Â Â Â  White Russian Doll Lucky Soul (2010)Â Â Â Â Â  2:26
From White Russian Doll (single) and A Coming of Age.
7)Â Â Â Â  Secret Agent Man The Toasters (1996)Â Â Â Â Â  2:41
From Hard Band for Dead.
8)Â Â Â Â  Teen Titans Theme Puffy AmiYumi (2004)Â Â Â Â Â  3:06
From Hi Hi Puffy AmiYumi.
9)Â Â Â Â  Girls with Guns Tender Trap (2010)Â Â Â Â Â  2:28
From Dansette Dansette.
10)Â  You Belong to Me The Like (2009)Â Â Â Â Â  2:00
A cover of Elvis Costello from the benefit album War Child – Heroes, Vol. 1
11)Â  I Stand Accused Elvis Costello and the Attractions (1980)Â Â Â Â Â  2:20
Another cover, from Costello's classic Get Happy!!
12)Â  Can I Get a Witness Barbara Randolph (1968)Â Â Â Â Â  2:22
From The Complete Motown Singles – Vol. 8: 1968.
13)Â  Can't Stand It Never Shout Never (2010)Â Â Â Â Â  2:52
From What Is Love? Â Man, is this song catchy!
14)  Hopeless Case Elíza (2009)      3:31
From Pie in the Sky.
15)Â  Need You Travie McCoy (2010)Â Â Â Â Â  3:23
Appears on Need You (single) and Lazarus (yes, the same album with "Billionaire" on it).
16)Â  Need You Tonight Beck's Record Club (2010)Â Â Â Â Â  3:41
Cover of INXS from the fabulous musical experiment that is Beck's Record Club.
17)Â  I Was Made for Dreaming 'Bout You MadMixMustang [Kiss vs. Beyonce] (2010)Â Â Â Â Â  4:17
From mash-up maestro MadMixMustang.
18)Â  Can't Touch It Ricki-Lee (2007)Â Â Â Â Â  2:58
Appears on Ricki-Lee's Brand New Day and on the soundtrack for Sex and the City 2.
19)Â  Come and Get It Eli 'Paperboy' Reed (2010)Â Â Â Â Â  3:32
As of this writing, this is only available as a single.
20)Â  You're the Kind of Trouble The Holmes Brothers (2010)Â Â Â Â Â  3:46
From Feed My Soul.
21)Â  I Am Trying To Break Your Heart JC Brooks & The Uptown Sound (2010)Â Â Â Â Â  3:39
This Wilco cover is the b-side to the band's single "Get It Together."
22)Â  The Difference Between Us The Dead Weather (2010)Â Â Â Â Â  3:37
Another scorching guitar performance from Jack White.  From the Dead Weather's Sea of Cowards.
23)Â  Tender Torture Islands (2009)Â Â Â Â Â  3:34
From Vapours.
24)Â  Nobody Hurts You Graham Parker & The Rumour (1979)Â Â Â Â Â  3:39
From the classic Squeezing Out Sparks.
25)Â  Open Book The Rakes (2005)Â Â Â Â Â  2:18
From Capture/Release.
26)Â  The Devil and Me BR5-49 feat. The Jordanaires (2006)Â Â Â Â Â  2:40
From Dog Days.
27)Â  I Think It's Getting Better Dave Smallen (2009)Â Â Â Â Â  4:24
From the Waiting For The Pills EP.