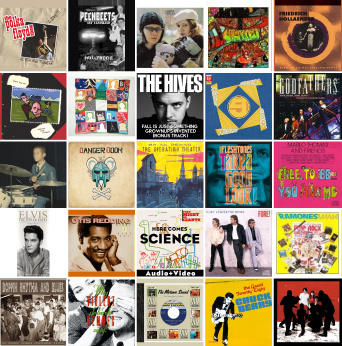 For those of you in the northern hemisphere, August and September mark the beginning of the fall term – or, at least, they do if you are or have been a student, a parent/guardian of a student, or a teacher.  This mix is for you.  And, yes, I know that I've omitted the Beach Boys' "Be True to Your School," and Crosby, Stills, Nash, & Young's "Teach Your Children" – to say nothing of the Mighty Mighty Bosttones' "Old School off the Bright," Neneh Cherry and Michael Stipe's "Trout," and John McCutcheon's "Kindergarten Wall."  The idea here is to mix newer songs and older ones, less-known songs with popular ones.  You know Sam Cooke's "Wonderful World," but you might not know Brenda Holloway's "Play It Cool, Stay in School."  You know Pink Floyd, but perhaps have missed Polka Floyd.  Finally, while I include as much music as I can fit, a mix CD holds exactly 79 minutes and 45 seconds.
Having said all that, if I've omitted your favorite school-themed song, feel free to comment below.  I will make more mixes, and I like learning about songs I may not know.  Perhaps I can include your idea on a future mix?  Indeed, I have another "education" themed mix-in-progress that focuses specifically on language.  Perhaps I might include it there.
1) Â  Â Fall Is Just Something Grownups Invented The Hives (2007)Â Â Â Â Â  2:40
UK bonus track from the Hives' Black and White Album, which deserved to be a much more commercially successful record. Â It has also been used for promos on the Cartoon Network.
2) Â  Â Illiterate City Divide & Kreate [Jackson 5 vs. Guns n' Roses] (2007)Â Â Â Â Â  2:10
The Jackson 5 meets Guns n' Roses. Â From the masher-upper known as Divide & Kreate.
3) Â  Â Wonderful World Sam Cooke (1960)Â Â Â Â Â  2:05
Written by Barbara Campbell a.k.a Sam Cooke, Lou Adler, and Herb Alpert.  Appears on many Sam Cooke collections.  It arrives here via The Man and His Music.
4) Â  Â The Mayor of Simpleton XTC (1989)Â Â Â Â Â  3:58
From Oranges & Lemons. Â One of many XTC songs that should have been a huge hit … but wasn't. Â It reached #72 on the US Hot 100, #46 in the UK, and #42 in Canada.
5) Â  Â Rock 'n' Roll High School Ramones (1979)Â Â Â Â Â  2:18
From the soundtrack to Roger Corman's Rock 'n' Roll High School (1979); also appears on Ramones Mania. A different version is on End of the Century (1980), produced by Phil Spector.  Though Spector's production makes for a much more dense sound than Ramones fans might expect, the album yielded some great tracks — "Do You Remember Rock 'n' Roll Radio?", and a cover of the Ronettes' "Baby, I Love You."
6) Â  Â The Happiest Days of Our Lives Polka Floyd (2009)Â Â Â Â Â  1:23
Because you've always wanted to hear this done as a polka, haven't you? Â Of course you have. Â Check out the Polka Floyd website for more polka'd up covers of the Waters-Gilmour-Mason-Wright-Barrett oeuvre.
7) Â  Â Another Brick in the Wall Part 2 Polka Floyd (2009)Â Â Â Â Â  4:55
No, I do not have two Polka Floyd songs on this mix. Â As anyone familiar with The Wall knows, the former track runs right into this one. Â Indicative of Polka Floyd's attention to detail, the band even does the deep breath that begins "Mother" (the next track on the original record).
8) Â  Â Birth, School, Work, Death The Godfathers (1987)Â Â Â Â Â  4:08
From the Godfathers' album of the same name; also appears on the band's "best of" collection. Â One of the greatest songs the 1980s, it ought to be better known than it is.
9) Â  Â Lack of Knowledge Violent Femmes (1991)Â Â Â Â Â  1:55
Appears on Why Do Birds Sing?, the fine Femmes record that brought you "American Music," "Out the Window," and a cover of Culture Club's "Do You Really Want to Hurt Me?"
10)Â  Stress Jim's Big Ego (2000)Â Â Â Â Â  4:13
From the caffeinated mind of Jim Infantino. Â This song is on the Jim's Big Ego album Noplace Like Nowhere.
11)Â  Going Back to School The Fleshtones (2008)Â Â Â Â Â  2:54
Still going strong, after 30 years. Â Appears on Take a Good Look!
12)Â  School Days Chuck Berry (1957)Â Â Â Â Â  2:42
From the Great Twenty-Eight, but also appears on many other collections.
13) Â Homework The Bicycles (2006)Â Â Â Â Â  3:38
From the band's excellent debut, The Good, The Bad & The Cuddly.
14)Â  (You're So Square) Baby I Don't Care Elvis Presley (1957)Â Â Â Â Â  1:54
Though I'm sure it appears on other collections, I have it on The Other Sides: Worldwide Gold Award Hits Vol. 2
15)Â  Hip to Be Square Huey Lewis & The News (1986)Â Â Â Â Â  4:05
The second single from the band's album Fore! A #3 hit, but not the biggest hit off of the record. "Stuck with You" and "Jacob's Ladder" both hit #1.
16)Â  Stay in School Otis Redding (1967)Â Â Â Â Â  1:14
A rarity until it appeared on The Otis Redding Story (1987), Atlantic's excellent 3-CD collection of Redding's work. Â As Rob Bowman's well-researched liner notes report, the song "was cut of the Stax promotion-only album also entitled Stay in School, recorded halfway through 1967 and sent to grade school libraries across the United States. Â Most major Stax artists including Carla Thomas, Eddie Floyd, William Bell, Sam & Dave and the Mar-Keys contributed brief speaking cameos encouraging children to continue their education. Â Typically Otis took things one step further improvising a brief song on the spot, accompanying himself on acoustic guitar and overdubbing the Mar-Key horns later on." Â This album is worth buying in its physical form — Bowman's notes are wonderfully detailed.
17)Â  Play It Cool, Stay in School Brenda Holloway (1966)Â Â Â Â Â  2:30
Appears on The Complete Motown Singles, Vol. 6: 1966.
18)Â  Old School Danger Doom feat. Talib Kweli (2005)Â Â Â Â Â  2:40
This collaboration between Danger Mouse and MF Doom (and others) appears on The Mouse and the Mask.  As you probably know, Danger Mouse later gained fame as half of the duo Gnarls Barkley.
19)Â  NiteStalker Afrika "Baby Bam" (1998)Â Â Â Â Â  1:53
Appears on the collection Subterranean Hitz Vol. 2.
20)Â  Lesson 6 – The Lecture Jurassic 5 (1999)Â Â Â Â Â  5:31
The greatest "Lesson" song inspired by mash-up pioneer Steinski's many lessons. Â From the EP Jurassic 5.
21)Â  Put It to the Test They Might Be Giants (2009)Â Â Â Â Â  1:42
From They Might Be Giants' Here Comes Science! – the fourth in their excellent series of children's records. Â I highly recommend buying the CD-DVD combo for each. Â No! (the band's first children's album) is just a CD, but the other three all can be purchased with a DVD. Â The videos are excellent.
22)Â  Growing Pains The Peenbeets (2002)Â Â Â Â Â  0:54
This cover of the television sit-com's theme appears on the Peenbeets' final album, The Peenbeets Get Cancelled. Â While listening, you will enjoy the song more if do your best to forget that this show launched the career of Kirk Cameron.
23)Â  We're Going to Be Friends The White Stripes (2001)Â Â Â Â Â  2:22
From White Blood Cells, whose single "Fell in Love with a Girl" (and brilliant Michel Gondry video) launched the White Stripes into the mainstream.
24)Â  First Day of School Brian Dewan (1998)Â Â Â Â Â  2:22
The brother of artist-illustrator Ted Dewan, Brian Dewan works in many media. Â He has created visual art, such as the cover to They Might Be Giants' Lincoln (1988). Â He has invented a variety of electronic musical instruments. Â He's also written and recorded some albums, such as The Operating Theatre, on which the above track appears.
25)Â  Suspended from Class Camera Obscura (2004)Â Â Â Â Â  3:46
From the band's album Underachievers Please Try Harder.
26)Â  Homework Al Perkins & Betty Bibbs (1965)Â Â Â Â Â  2:20
I'll confess that I don't know much about this record. Â I first heard the J. Geils Band's cover of the song — it's the first track on side two of the band's 1970 debut album. Â This, however, is the original version.
27)Â  Home Schooled Patrizia & Jimmy (1974)Â Â Â Â Â  2:33
The Numero Group produces beautiful compilations of largely forgotten music. Â This particular track is from Home Schooled: The ABCs of Kid Soul. Â The liner notes (by Rob Sevier, Ken Shipley, and Tom Lunt) tell us that "Longtime Los Angeles artist and producer Jimmy Robins cut the kid positive message record in 1974 with a friend of a friend's daughter. Â Under Patrizia's confident vocal, Robins puts on a Hammond funk clinic, adding his hoarse yelp where necessary, yet sill manages to give the pre-teen the kind of space demanded in the song. Â With rap still a half decade off, the track failed to resonate with kids, or the parents it hoped to sway."
28)Â  Because We're Kids Columbia Pictures Studio Orchestra, cond. Morris Stoloff; Tommy Rettig, vocal (1953)Â Â Â Â Â  1:40
From the live-action musical, The 5,000 Fingers of Dr. T. Â With script and lyrics by Dr. Seuss, the film starred Tommy Rettig (who later played Jeff on TV's Lassie) as Bart Collins, a reluctant piano student who falls into a nightmare about a totalitarian conductor, the maniacal Dr. Terwilliker (played by Hans Conried). Â He is forcing 500 children (including Bart) to play his massive piano. Â Serious fans of Dr. Seuss will enjoy this B film's Seussian surrealism, enlivened by Seuss's sets and lyrics. Â When I showed it to my Seuss class, most of my students were unable to appreciate its campy appeal. Â But I like it.
29)Â  Free To Be… You and Me The New Seekers (1972)Â Â Â Â Â  3:15
From the classic children's record Free to Be… You and Me. Â There's also a book and a TV special — the latter features the talents of Alan Alda, Harry Belafonte, Mel Brooks, Roberta Flack, Michael Jackson, Kris Kristofferson, and the New Seekers (who perform the title track).