Random House's newly updated Seussville website – featuring my biography and timeline – recently went live.  This is the first time I've written a piece for a corporation, but Dr. Seuss did it all the time.  Though he published his first children's book in 1937, he made his living through advertising … until the bestselling The Cat in the Hat (1957) allowed him to make writing for children his primary occupation.
Seuss's best-known ad campaign was for Flit bug spray. Â The tagline Quick, Henry, the Flit! became a staple of pop culture — the Where's the Beef? or the Got Milk? of its day.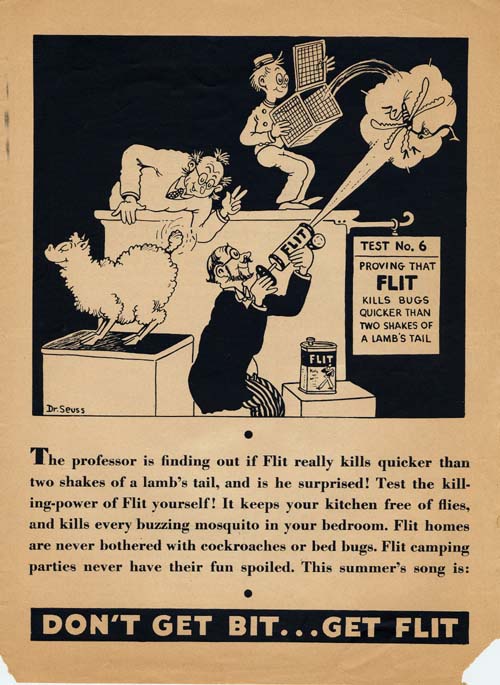 But he also created advertisements for many other products, such as Ford, General Electric, Holly Sugar, NBC, and Essomarine's Oils & Greases (an example of which I actually happen to own):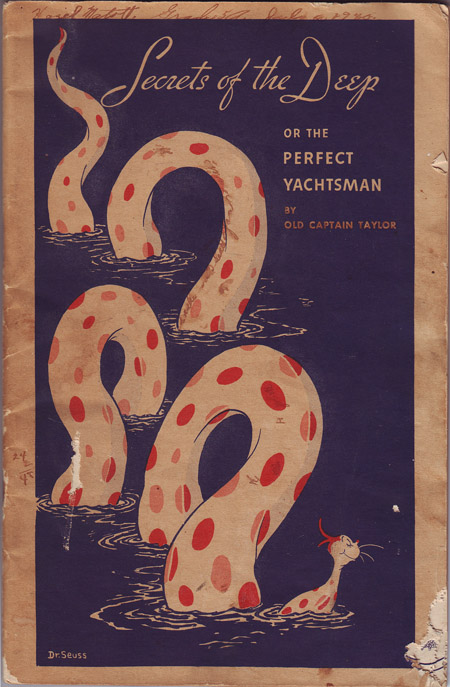 This 35-page booklet, Secrets of the Deep or The Perfect Yachtsman (1935, credited to the fictitious Old Captain Taylor), contains over a dozen Seuss illustrations — including a few that later emerge as characters in his children's books.  This little chap (on the left) seems an ancestor of the "fish / With a long curly nose" from McElligot's Pool (1947, on the right):
Incidentally, if you enjoy these sorts of correspondences between Seuss's characters, check out Charles Cohen's The Seuss, the Whole Seuss, and Nothing But the Seuss (2004) –Â he's very good at spotting them, and has found far more interesting connections than the one above.
Seuss also indulges his habit of drawing needlessly complicated machinery, a Rube-Goldberg-influenced feature of many of his books.  Sure, this is nowhere near as elaborate as the Cat's pick-up machine in The Cat in the Hat or the Utterly Sputter in The Butter Battle Book (1984), but does offer a glimpse of a tendency he exploits more fully in other early cartoons and in later children's books.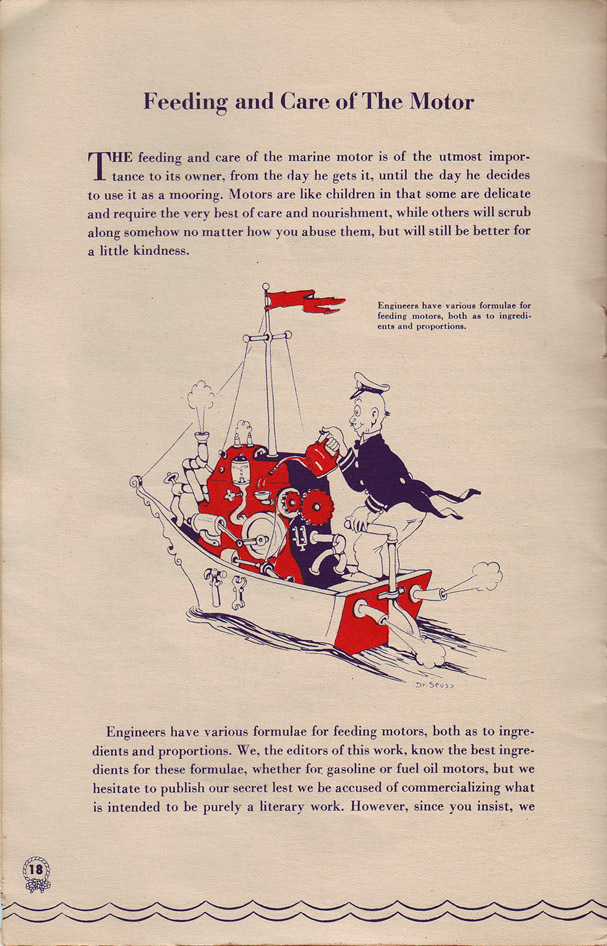 The ad copy of "Old Captain Taylor" is a bit strange in places.  I think it's safe to say that, though the second sentence above seems to make an off-handed joke about child abuse, the word "abuse" would not for a reader in 1935 have the connotations it has for a reader 75 years later.  For that matter, in the wake of BP's Gulf oil disaster, a 35-page ocean-themed advertisement for oil seems a bit strange….
Mostly, though, the booklet showcases the sense of humor that Seuss had been honing in his magazine cartoons.  There are jokes about fat people: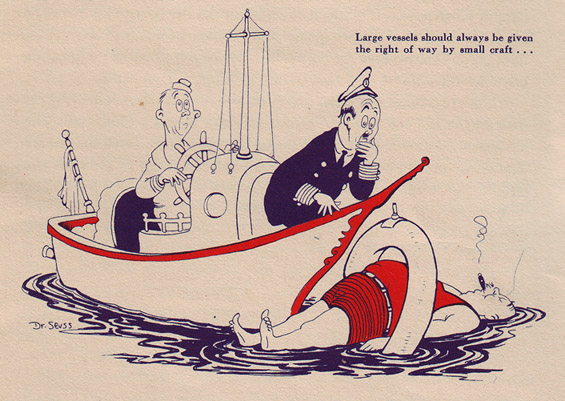 Jokes about conspicuous consumption: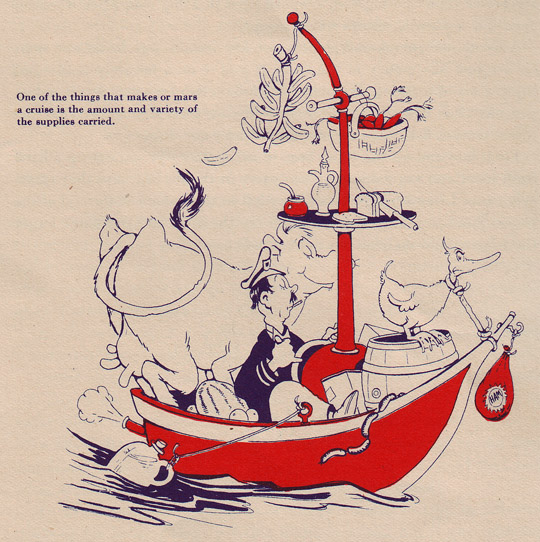 And, of course, plenty of fish.