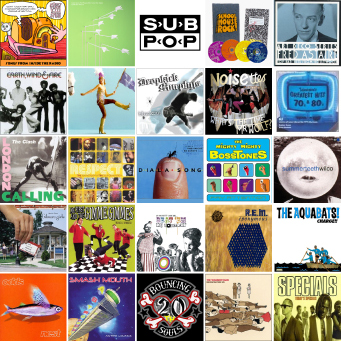 Inspired by a tweet and then a blog post from Natalia Cecire, this mix is intended for those of you on the academic job-market — but I hope it provides some encouragement for anyone out there looking for work.
1)Â Respect ARETHA FRANKLIN (1967)
If this isn't the greatest cover song of all time, I don't know what is. Â (Otis Redding wrote it, and recorded it first.) Â Appears on the Queen of Soul's Atlantic Records debut, I Never Loved a Man the Way I Love You, and on many compilations, including Aretha Franklin: 30 Greatest Hits.
2)Â Look At Me (I'm a Winner)! THE AQUABATS (2005)
"…you just can't argue with that!" Â From Charge!!
3) Movin' On Up (theme to The Jeffersons) JA'NET DuBOIS & OREN WATERS (1975)
"…to a deluxe apartment in the sky!"
4) All Star SMASH MOUTH (1999)
In which the band proves that it would not be a one-hit wonder. From Astro Lounge.
5) Shining Star EARTH, WIND, & FIRE (1975)
"You're a shining star / no matter who you are / Shining bright to see / what you can truly be." Â From the album That's the Way of the World.
6) Where You Come From THE MIGHTY MIGHTY BOSSTONES (2000)
"… it's more where you're going, and knowing that the going might get strange." Â From Pay Attention, the group's penultimate album (excluding the 2007 collection of odds & ends)
7) Plea from a Cat Named Virtue THE WEAKERTHANS (2003)
Is there a better song written from the point of view of a cat? Â From Reconstruction Site.
8) Electrolux BICYCLE (1999)
"Suck it up, enhance production." Â This was on my job-seeking mix, back in 1999. Â The mix — a cassette! — was titled Enhance Production. Â To the best of my knowledge, Bicycle only released this self-titled debut album.
9) It's Alright, Baby KOMEDA (1998)
"From patience and from pain, / The one who never ends will gain." Â Appears on What Makes It Go? (1998) and the Gilmore Girls soundtrack.
10) Finest Worksong (Mutual Drum Horn Mix) R.E.M. (1987)
"The time to rise has been engaged. / You're better, best to rearrange." Â This version from Eponymous (1988), the IRS Records hits collection. Â First appears on Document (1987).
11) Worker's Song DROPKICK MURPHYS (2003)
"This one's for the workers!" Â From Blackout.
12) I Believe I Can Fly ME FIRST AND THE GIMME GIMMES (2003)
From Take a Break, the band's album of R&B covers.
13) Verb: That's What's Happening ZACHARY SANDERS (1974)
From Schoolhouse Rock, and (in the accompanying animated cartoon) featuring an African-American superhero, too!

14) You Can Make a Difference If You Try, Try, Try THE HAPPIEST GUYS IN THE WORLD (2002)
From the compilation Greasy Kid Stuff: Songs from Inside the Radio.
15) Don't Give Up THE NOISETTES (2007)
From the album What's the Time, Mr. Wolf?
16) Participation Prerequisite DJ FORMAT featuring ABDOMINAL (2005)
From one of the best hip-hop records of the Naughties, If You Can't Join 'Em… Beat 'Em!
17) Float On MODEST MOUSE (2004)
"Don't worry if things get a little bit heavy / We'll all float on alright." Â From Good News for People Who Love Bad News.
18) Pressure Drop SPECIALS (1996)
A cover of Toots and the Maytals' 1970 classic. Â Appears on Today's Specials.
19) I Should Be Allowed to Think THEY MIGHT BE GIANTS (1994)
Launching the song with a line from Allen Ginsberg's "Howl" (1956), TMBG lets us know that they should be allowed to glue their poster, to shoot their mouths off, and to blurt the merest idea.  The song first appears on John Henry (1994), and again on Dial-A-Song: 20 Years of They Might Be Giants (1999).
20) Hurt Feelings FIGHT OF THE CONCHORDS (2009).
"Some people say that rappers are invincible. Â We're vincible."
21) Someone Who's Cool ODDS (1996)
"I'm the the coffee, not the sleep." Â From Nest.
22) I'm Not Down THE CLASH (1979)
From London Calling, which is one of my Desert Island Discs.
23) Pick Yourself Up FRED ASTAIRE (1936)
Astaire sings and dances to this in Swing Time (1936), the sixth of ten films he made with Ginger Rogers. Â Here they are, watched by the reliably funny Eric Blore:

24) Nothing'severgonnastandinmyway (Again) WILCO (1999)
From Summer Teeth.
25) Never Say Die / When You're Young THE BOUNCING SOULS (2009)
If I had three words of advice for anyone entering academia, those three words would be "Never say die." Â Seriously. Â I know it sounds like a team cheer, but it's true. Â Gotta keep on fighting.