Crockett Johnson was not a teller of jokes.  His sense of humor was wry, subtle, sardonic.  He'd quietly offer a well-turned phrase or make an off-hand observation that perfectly addressed the moment.  However, in contrast to his gentle delivery, he "had this sort of earthy laugh,"1 a "marvelous laugh."2 Courtesy of Nina Stagakis, here is a previously unpublished photograph of Crockett Johnson laughing, circa 1967 – which would make Johnson 60 or 61.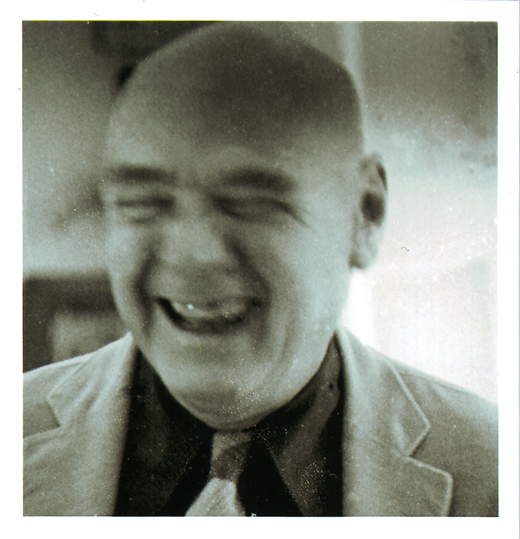 Having had successful careers as both cartoonist and children's author, Johnson at the time of this photo had recently embarked upon a new career: abstract artist and mathematician.  He would ultimately paint over 100 mathematically-inspired paintings, and publish two original theorems.
But he's better remembered for the wit of his words, and the succinct elegance of his artwork's clean, clear line. One reason his humor succeeded derived from a refusal to condescend to his audience.  As he put it, "Humor for children must be written for adults. I cannot think of a good, humorous children's book that has not been.  An inconsistency or a line or situation that makes a grownup wince is almost certain to insult, or worse, bore a child."3
The preceding is part of a series of musings on, material omitted from, and occasional excerpts from my forthcoming The Purple Crayon and a Hole to Dig: The Lives of Crockett Johnson and Ruth Krauss (UP Mississippi, 2012).  At present, none of the above is in the book.  When my editor returns the manuscript, perhaps I'll find a way to work it in.  However, given that he'll be writing with suggestions on how to cut 27,000 words, it's more likely that you'll only read the above here.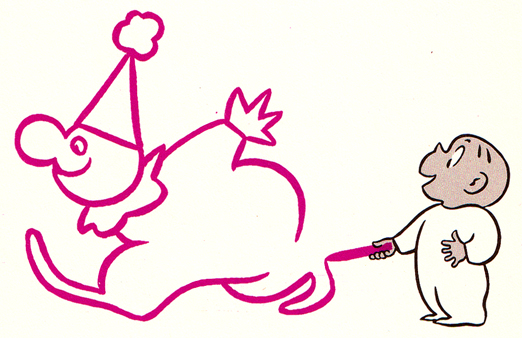 from Crockett Johnson, Harold's Circus (1959).
___________________
1. Dan Richter, telephone interview with Philip Nel, 28 June 2005.
2. Nina Stagakis, telephone interview with Philip Nel, 30 June 2001.
3. Crockett Johnson, in Weston Woods catalogue (Weston, CT: Weston Woods Studios, Inc., 1969), p. 12.