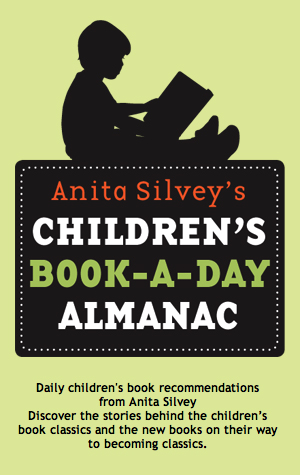 Anita Silvey has a new blog. Â Well, she started it late last month. Â But I just began reading it. Â If you have any interest in children's literature, you'll want to read it, too. Â Here's why.
Anita Silvey really knows children's literature. She's a former editor at Houghton Mifflin, former Editor-in-Chief of the Horn Book, and the author of several books on the subject (four of which are on my bookshelves), including: 100 Best Books for Children, and Children's Books and Their Creators. Â So, you're getting recommendations from an expert.
The field of children's literature is unbelievably vast, and it's helpful to have a tour guide. Â What should you read next? Â What book might you give to a younger reader? Â Anita is recommending both classics and newer books. Â It's a daily guide to some of the greats.
In a sidebar feature, the blog also covers related events for each day in history – and children's books that address those events. Â This would, I think, be very helpful for teachers.
The thoroughness and clarity of each entry is impressive, and she seems to be posting every day! Â Wow. Â If you haven't done so already, why not welcome Anita Silvey to the blogosphere by checking out her blog?