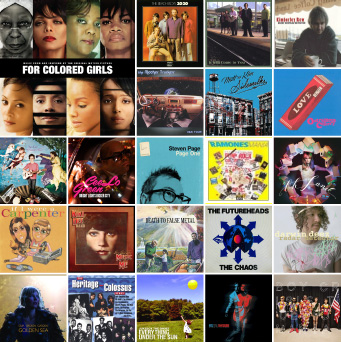 When I began this blog, I thought I would post more of the many mixes I make.  I haven't.  But here's the first uptempo mix of 2011 – a happy way to begin the year, and (for those educators and students out there) the new semester.
1)Â Â Â  William Tell Overture Sixth Wave (2004)Â Â Â Â Â  1:07
The first of two cover songs on this mix, a cappella group Sixth Wave gives their jazzy version of Rossini's overture.
2)Â Â Â  Turning Up the Radio Weezer (2010)Â Â Â Â Â  3:37
From the second Weezer album released in 2010 –Â the earlier one was a new studio record, but this track comes from the collection of unreleased material called Death to False Metal.
3)Â Â Â  Do You Remember Rock 'n' Roll Radio? Ramones (1980)Â Â Â Â Â  3:51
Phil Spector grafts his wall-of-sound production onto punk rock.

4)Â Â Â  Bright Lights Bigger City Cee Lo Green (2010)Â Â Â Â Â  3:38
Adapting the bass line from Michael Jackson's "Billie Jean," a title from Jay McInerney's Bright Lights, Big City (1984), and synthesizers from Gary Numan (well, that's what they sound like to me), Cee Lo Green gives us some New Wave soul.  It sounds like a lost soul classic from the early 1980s.
5)Â Â Â  Radar Detector Darwin Deez (2010)Â Â Â Â Â  3:10
This Darwin Deez song also has a bit of a 1980s sound to it. Â And a happy lyric. Â REMOVED BY REQUEST. Â The video is below, and here's a link to a Soundcloud file of the song.

6)Â Â Â  Venus Shocking Blue (1969)Â Â Â Â Â  3:05
The original hit version, Shocking Blue's "Venus" reached #1 on the Billboard charts in 1970.  In 1986, Bananarama had a #1 hit with a cover of the song.

7)Â Â Â  Alien Girl The Mother Truckers (2010)Â Â Â Â Â  3:15
"Now we're coming down to destroy you. / This experiment has come to an end." And: "Stop your crying. / It's just the end of your world." Â Below, the Mother Truckers perform the song live.

8)Â Â Â  L.O.V. Fitz and The Tantrums (2010)Â Â Â Â Â  3:40
Fitz and the Tantrums bring you a nice slice of retro soul.
9)Â Â Â  Our Love Will Change The World Outrageous Cherry (2005)Â Â Â Â Â  3:43
Power pop from Outrageous Cherry.
10) Top of the World Shonen Knife (1994)Â Â Â Â Â  3:56
From the compilation If I Were a Carpenter.
11) I Can Do That The Futureheads (2010)Â Â Â Â Â  3:43
Can they channel Gang of Four and especially early XTC? Yes, the Futureheads can do that. Â From The Chaos.
12) Without a Fight Janelle Monáe (2010)      3:36
From the For Colored Girls soundtrack
13) I've Got the Music in Me The Kiki Dee Band (1974)Â Â Â Â Â  5:01
One of Kiki Dee's first big hits.

14) Block After Block Matt & Kim (2010)Â Â Â Â Â  2:54
From their latest, Sidewalks.
15) Garden Grow Our Broken Garden (2010)Â Â Â Â Â  4:14
From Our Broken Garden's Golden Sea, a slightly darker song on this otherwise upbeat mix.  It's uptempo, but … well the playfully macabre video (below) highlights some sinister undercurrents.

16) The Fountain of Youth Boy Crisis (2009)Â Â Â Â Â  4:42
Boy Crisis has released many catchy singles, but never (to my knowledge) a full album. Perhaps they will one day?
17) A New Shore Steven Page (2010)Â Â Â Â Â  3:49
Former Barenaked Ladies frontman Steven Page is setting sail for a new shore. Â Let's join him, shall we? Â Below, he performs on the CBC's Q, and then chats with host (and former Fruvous!) Jian Ghomeshi.

18) We Will Swim Together Kimberley Rew (2002)Â Â Â Â Â  2:56
If you know about the Soft Boys, it's probably because you know the work of the band's lead singer and songwriter Robyn Hitchcock.  But Soft Boys guitarist Kimberley Rew also has a knack for writing quirky pop.  In addition to the smash hit "Walking on Sunshine" (after the Soft Boys, Rew was in Katrina and the Waves), he's also released several solo records that are well worth your while.
19) The Stars Jukebox the Ghost (2010)Â Â Â Â Â  4:53
No sophomore slump for Jukebox the Ghost.  Everything Under the Sun is an even stronger record than their debut.  Recommended.
20) White Nights Oh Land (2010)Â Â Â Â Â  3:46
"Son of a Gun" was my introduction to Oh Land, but this is a strong song, too.  There's also a video, with white balloons, white lights, and Oh Land dancing around.
21) What's So Bad (About Feeling Good)? Ben Lee (2009)Â Â Â Â Â  4:42
Ah, Ben Lee, here to bring good cheer.  Lee has a knack for a hook.  In a better world, some of his catchy songs would also be big hits.
22) I Can Hear Music The Beach Boys (1969)Â Â Â Â Â  2:37
From 20/20, some post-Pet Sounds Beach Boys.