Happy First Day of Summer! Â Here's a "Summertime" box set. Â I will now take your questions.
Q: Are there good "summer" songs omitted from these four mixes?
A: Yes, of course there are. Â I came up with an additional 133 songs that I did not use.
Q: Will you assemble more mixes including those songs?
A: If I had world enough and time,… I would. Â But…. Â [Long pause.] Â Yes — the young man in beige?
Q: Beyond "Summertime," does each mix have any additional theme or mood?
A: Yes. Â The first three are all uptempo. Â The fourth is more midtempo, even quiet, and contains the highest proportion of melancholic songs. Â So, if you want something a little more calm, head for the fourth one.
Summertime, vol. 1: Let's Get Away from It All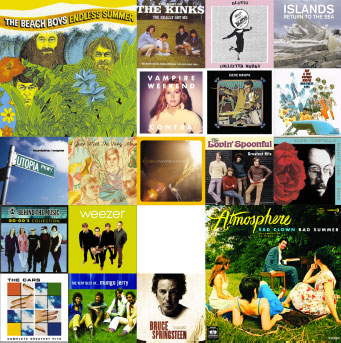 1)Â Â Â Â  In the Summertime Mungo Jerry (1970)Â Â Â Â Â  3:33
Named for a line in a T.S. Eliot poem, this band had its biggest hit with this song. Â Shaggy also recorded a hit version of this in the mid-1990s
2)Â Â Â Â  Heat Wave Ethel Waters with Bunny Berigan, trumpet; Benny Goodman, clarinet (1933)Â Â Â Â Â  3:03
Written by Irving Berlin for the musical As Thousands Cheer, where it was performed by the great Ethel Waters – whom you hear in this recording, backed by Bunny Berigan and Benny Goodman.
3)Â Â Â Â  (Love Is Like A) Heatwave Martha Reeves & The Vandellas (1963)Â Â Â Â Â  2:43
Composed by the crack songwriting team of Brian Holland, Lamont Dozier, and Edward Holland Jr., this song was a top ten hit in 1963.
4)Â Â Â Â  Summer in the City The Lovin' Spoonful (1966)Â Â Â Â Â  2:43
A #1 hit for the Lovin' Spoonful.
5)Â Â Â Â  Vacation The Go-Go's (1982)Â Â Â Â Â  3:00
"Now that I'm away, / I wish I'd stayed." Â The title track to the Go-Go's second album.
6)Â Â Â Â  Holiday Vampire Weekend (2010)Â Â Â Â Â  2:18
"To go away on a summer's day never seemed so clear." From Vampire Weekend's Contra.
7)Â Â Â Â  Island in the Sun Weezer (2001)Â Â Â Â Â  3:20
"We'll never feel bad anymore." Â From Weezer [The Green Album].
8)     Let's Get Away From It All Gene Krupa with Anita O'Day and band, vocals (1941)            3:08
"Let's take a kayak / To Quincy or Nyack" or, no, "Let's take a powder / To Boston for Chowder." Â Love the couplets, and the band's shouted responses to Anita O'Day's vocals. Â "Let's take a trip to Niagara. / This time we'll look at the falls." Band replies: "What? No romance?"
9)Â Â Â Â  A Mid-80s Lower-middle Class Family Summer Road Trip The Very Most (2010)Â Â Â Â Â  4:17
From A Year with the Very Most.
10)Â  Hot Fun in the Summer Time Sly & The Family Stone (1969)Â Â Â Â Â  2:38
A #2 hit from the summer of 1969.
11)Â  I Wanna Be a Lifeguard blotto (1980)Â Â Â Â Â  4:15
I first heard this song on the Dr. Demento Show. Â MTV also played it, back in the early days of the network.

12)Â  Rockaway Beach Ramones (1977)Â Â Â Â Â  2:05
Ramones' homage to the Beach Boys. Â See also "Sheena Is a Punk Rocker."
13)Â  Surfin' U.S.A. The Beach Boys (1963)Â Â Â Â Â  2:29
The Beach Boys' first mega hit borrows its melody from Chuck Berry's "Sweet Little Sixteen."
14)Â  Magic The Cars (1984)Â Â Â Â Â  4:00
"It's like a merry-go-round.' Â Also, "Twisted under sideways down." Â Indeed. Â Produced by Robert John "Mutt" Lange. Â Below, the deeply silly video. Â Enjoy!

15)Â  Summerfling k.d. lang (2000)Â Â Â Â Â  4:16
From lang's Invincible Summer.
16)Â  Jogging Gorgeous Summer Islands (2006)Â Â Â Â Â  2:48
From Islands' Return to the Sea.
17)Â  Girls in Their Summer Clothes Bruce Springsteen (2007)Â Â Â Â Â  4:19
From Springsteen's Magic.
18)Â  It Must Be Summer Fountains of Wayne (1999)Â Â Â Â Â  3:19
"And the sun keeps shining 'til it's dead and gone. / And it must be summer 'cause I can't go on." Â Power pop with melancholic lyrics. Fountains of Wayne's new record, Sky Full of Holes, is due out later this summer.
19)Â  The Other Side of Summer Elvis Costello (1991)Â Â Â Â Â  3:56
"I feel glad in my own suspicious way."
20)Â  Cruel Summer Bananarama (1984)Â Â Â Â Â  3:37
In the U.S., this song and their cover of "Venus" were this group's biggest hits, but they had more chart success in their native U.K.
21)Â  Summertime Blues Eddie Cochran (1958)Â Â Â Â Â  1:59
Covered by T. Rex, Blue Cheer, and many others – but here's the original. Â For a guy who only lived to be 21 years old, Eddie Cochran had a remarkable impact on popular music. Â In particular, check out his "Somethin' Else," "C'mon Everybody," and "Nervous Breakdown."
22)Â  Sunny Afternoon The Kinks (1966)Â Â Â Â Â  3:34
Ray Davies, adopting the persona of a petulant millionaire. Â A #1 U.K. hit, and a #14 U.S. hit.
23)Â  Sunshine Atmosphere (2007)Â Â Â Â Â  3:37
"Feelin alright, stopped at a stop sign / A car pulled up, bumpin' Fresh Prince's 'Summertime.'"
24)Â  Summertime DJ Jazzy Jeff & The Fresh Prince (1991)Â Â Â Â Â  4:32
Borrowing Kool & the Gang's "Summer Madness," DJ Jazzy Jeff & the Fresh Prince (a.k.a. Will Smith) score their final and biggest hit.
Summertime, vol. 2: Good Vibrations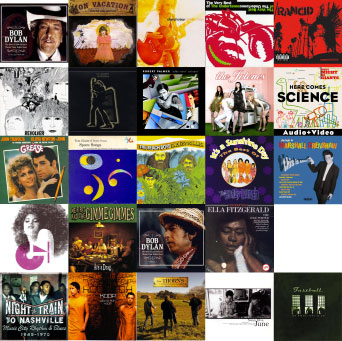 1)Â Â Â Â  Why Does the Sun Shine? Tom Glazer & Dottie Evans (1959)Â Â Â Â Â  2:41
You've probably heard They Might Be Giants' cover of this, but have you heard the original? Â It appears on Space Songs, one of several educational records Tom Glazer cut in the late 1950s.
2)Â Â Â Â  Why Does the Sun Really Shine? They Might Be Giants (2009)Â Â Â Â Â  1:52
Turns out scientists now know more about how the sun works. Â For their album Here Comes Science, They Might Be Giants updates "Why Does the Sun Shine?"
3)Â Â Â Â  Summer Sun Koop (2001)Â Â Â Â Â  3:48
From the Swedish duo Koop. Â Appears on their album, Waltz for Koop.
4)Â Â Â Â  Blue Skies Frank Sinatra with Tommy Dorsey & His Orchestra (1941)Â Â Â Â Â  3:18
Music and lyrics by Irving Berlin.
5)Â Â Â Â  Good Day Sunshine The Beatles (1966)Â Â Â Â Â  2:10
"I take a walk, the sun is shining down. / Burns my feet as they touch the ground." From Revolver.
6)Â Â Â Â  It's a Sunshine Day The Brady Bunch (1972)Â Â Â Â Â  2:32
"Can't you dig the sunshine?" This ersatz pop group perform this song on a talent show (on their own hit TV series, The Brady Bunch), and place third. Hmm. Â I guess the judges had no appreciation for camp.

7)Â Â Â Â  Automatically Sunshine Swan Dive (2002)Â Â Â Â Â  3:45
From the duo of Bill DeMain and Molly Felder (a.k.a. Swan Dive), a bit of happy summer pop. Â I knew Bill when I lived in Nashville. Â He once made me an incredible mix tape of Italian film soundtrack music. Â Someday, I should try to recreate it on CD — it was (and remains) one of my favorite mixes.
8)Â Â Â Â  Mambo Sun T.Rex (1971)Â Â Â Â Â  3:41
The opening track from Electric Warrior, the record that brought you "Bang a Gong (Get It On)."
9)Â Â Â Â  Blister in the Sun Nouvelle Vague (2009)Â Â Â Â Â  3:12
Love the ESL nonsensical lyrics in this – a cover of the first track from the Violent Femmes' self-titled debut.
10)Â  Too Darn Hot Ella Fitzgerald (1956)Â Â Â Â Â  3:51
From Ella Fitzgerald's The Cole Porter Songbook, Vol. 1 – which I recommend to any fans of Fitzgerald or Porter.
11)Â  Some Like It Hot The Power Station (1985)Â Â Â Â Â  5:05
This "supergroup" (the late Robert Palmer, Chic's Tony Thompson, and Duran Duran's John Taylor and Andy Taylor) also had a hit with a cover of T.Rex's "Bang a Gong."
12)Â  Summertime Me First and the Gimme Gimmes (1999)Â Â Â Â Â  2:10
With music by George Gershwin and lyrics by Ira Gershwin and DuBose Heyward, this song from Porgy and Bess gets a punk make-over. Â This version appears on Me First and the Gimme Gimmes' Are a Drag — all covers of show tunes.
13)Â  Here Comes the Summer The Undertones (1979)Â Â Â Â Â  1:43
Punk legends who really should be better known than they are. Â If you've never heard their "Teenage Kicks," you'll want to go and listen to it. Â Now.
14)Â  Ice Cream Man John Brim (1953)Â Â Â Â Â  2:49
I'm a devotee of cover versions and I've heard the Van Halen rendition of this song, but I've yet to hear a recording that beats John Brim's original. Â And yes, Mr. Brim is talking about what you think he's talking about.
15)Â  Ice Cream The Jolenes (2006)Â Â Â Â Â  2:43
Unlike the last song, this one — as far as I'm aware — is just about ice cream. Â I mean, I'm aware that one could perform it to bring out other meanings. Â But, in this rendition, it sounds quite literal (to me, at any rate).
16)Â  June-teenth Jamboree Fatso Bentley (1950)Â Â Â Â Â  2:02
Juneteenth (celebrated June 19th) commemorates the ending of slavery, and is recognized in most but not all U.S. States.
17)Â  On Vacation The Robot Ate Me (2004)Â Â Â Â Â  3:00
From the album of the same name.
18)Â  You're An Ocean Fastball (2000)Â Â Â Â Â  3:18
Powerpop from Fastball's The Harsh Light of Day.
19)Â  Wipe Out The Surfaris (1963)Â Â Â Â Â  2:41
The Surfaris' biggest hit.
20)Â  Good Vibrations The Beach Boys (1966)Â Â Â Â Â  3:37
Bringing the theremin to rock music! Â Yeah!

21)Â  Soak Up the Sun Sheryl Crow (2002)Â Â Â Â Â  3:18
Is Sheryl Crow's "friend the Communist" (in the first line of this song) the "vending machine repair man" who is "high on intellectualism" (in her "Everyday Is a Winding Road")?
22)Â  Sunny Bobby Hebb (1966)Â Â Â Â Â  2:49
Such a lovely song from the late Bobby Hebb.
23)  Summer Nights John Travolta, Olivia Newton-John & Cast (1978)            3:37
From the film version of the musical Grease.
24)Â  Red Hot Moon Rancid (2003)Â Â Â Â Â  3:36
"Take the bus downtown to the graveyard shift tonight." From Rancid Indestructible.
25)Â  Starless Summer Sky Marshall Crenshaw (1996)Â Â Â Â Â  3:25
Known for his sole hit "Someday, Someway," Crenshaw deserves a larger audience. Â By way of introduction, I recommend This Is Easy: The Best of Marshall Crenshaw.
26)Â  Long, Sweet Summer Night The Thorns (2003)Â Â Â Â Â  3:15
The Thorns are: Matthew Sweet, Pete Droge, and Shawn Mullins. Â Or I should say "were" – they did one album (and a tour)… but that's it.
Summertime, vol. 3: Sunshowers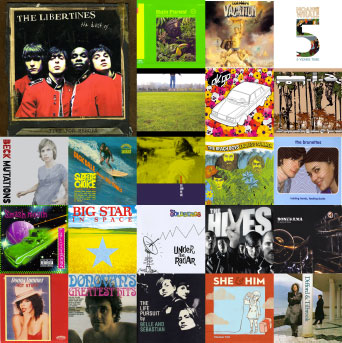 1)Â Â Â Â  Holiday Road Lindsey Buckingham (1983)Â Â Â Â Â  2:11
The theme to National Lampoon's Vacation.
2)Â Â Â Â  Walking on Sunshine Katrina & the Waves (1985)Â Â Â Â Â  4:01
Written by Kimberley Rew, who was also a member of the Soft Boys.
3)Â Â Â Â  Feel the Sun The Goldbergs (2008)Â Â Â Â Â  2:41
Mmmm. Â Power pop. Â From the Goldbergs' Under the Radar.
4)Â Â Â Â  Catch a Wave The Beach Boys (1963)Â Â Â Â Â  2:11
From the collection Endless Summer, but originally released on Surfer Girl.
5)Â Â Â Â  Surf Beat Dick Dale & His Del-Tones (1962)Â Â Â Â Â  3:01
Everyone knows Dick Dale's version of "Misirlou," but he cut a number of other great surf rock tunes – such as this one.
6)Â Â Â Â  Ocean Bonerama (2007)Â Â Â Â Â  4:43
Led Zeppelin, as rendered by the trombone-tastic sounds of New Orleans' Bonerama.
7)Â Â Â Â  Sunshine Superman Donovan (1966)Â Â Â Â Â  4:34
I confess that I debated putting on Mel Torme's cover of this on instead of Donovan's original. Â It's just as silly, but Mel knows how to bring the kitsch.
8)Â Â Â Â  Sunshine Smiles Billie Burke Estate (2005)Â Â Â Â Â  2:10
From Give It All Away.
9)Â Â Â Â  In the Sun She & Him (2010)Â Â Â Â Â  2:51
From Volume 2, which is just as great as Volume 1. Â Save time: get them both.

10)Â  Sunshine Paul Westerberg (1996)Â Â Â Â Â  2:26
Paul Westerberg covers Jonathan Edwards. Â From the Friends soundtrack.
11)Â  Sunshowers M.I.A. (2004)Â Â Â Â Â  3:17
This is the first song I heard by Sri Lankan rapper M.I.A., now best known for her "Paper Planes." During a visit to Kansas, Scott McCloud introduced me to her work.
12)Â  Walkin' on the Sun Smash Mouth (1997)Â Â Â Â Â  3:27
The big hit from Fush Yu Mang.
13)  You Dress Up For Armageddon, I Dress For Summer The Hives (2007)            3:10
From The Black and White Album.
14)Â  Don't Look Back Into the Sun The Libertines (2003)Â Â Â Â Â  2:58
Before Babyshambles and his tabloid fame, Pete Doherty led this band. Â Good stuff.
15)Â  Turn My Back On the Sun Big Star (2005)Â Â Â Â Â  2:39
From their reunion record, In Space. Â Unless there are unreleased recordings lying around, this is also their last record (frontman Alex Chilton passed away last year).
16)Â  You're So Damn Hot OK Go (2002)Â Â Â Â Â  2:39
From the band's self-titled debut album.
17)Â  Hot Stuff Donna Summer (1979)Â Â Â Â Â  5:15
The chart-topping disco hit.
18)Â  Love's Crashing Waves Difford & Tilbrook (1984)Â Â Â Â Â  3:10
After Squeeze broke up in 1982, Chris Difford & Glenn Tilbrook cut a record as a duo. Â Released in 1984, it's the "lost" Squeeze album between Sweets from a Stranger (1982) and Cosi Fan Tutti Frutti (1985)
19)Â  4th of July X (1987)Â Â Â Â Â  4:07
From X's See How We Are.
20)Â  5 Years Time (Sun Sun Sun) Noah and the Whale (2008)Â Â Â Â Â  3:36
The first song I heard by Noah and the Whale, but they've many other memorable tunes: "L.I.F.E.G.O.E.S.O.N." and "Tonight's the Kind of Night" are upbeat, "Blue Skies" is melancholic.
21)Â  Another Sunny Day Belle & Sebastian (2006)Â Â Â Â Â  4:04
"You picked me up for a long drive. / We took the tourist route. / The nights are light until midnight." From Belle & Sebastian's The Life Pursuit.
22)Â  Summer Love The Brunettes (2002)Â Â Â Â Â  2:31
From the New Zealand pop duo's debut LP, Holding Hands, Feeding Ducks.
23)Â  Tropicalia Beck (1998)Â Â Â Â Â  3:21
"Now you've had your fun / Under an air-conditioned sun."  From Beck's Mutations.
24)  Summer Samba (So Nice) [Samba de Verão] Walter Wanderley (1966)            3:07
From Rain Forest.
25)Â  Ice Cream Truck 0:57
Exactly what it says — the sounds of an ice cream truck.
Summertime, vol. 4: That Summer Feeling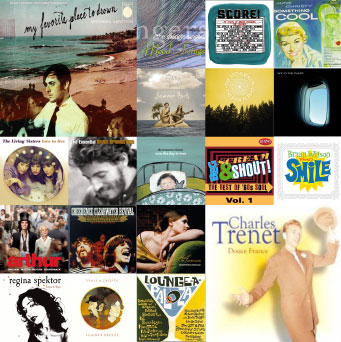 1)Â Â Â Â  Summer Breeze Seals & Crofts (1972)Â Â Â Â Â  3:26
Jasmine is in their minds. Â And it is blowing.
2)Â Â Â Â  The Summer Wind Madeleine Peyroux (2006)Â Â Â Â Â  3:55
You probably know Frank Sinatra's recording, but I prefer this one. Â From Peyroux's Half the Perfect World.
3)Â Â Â Â  Groovin' The Young Rascals (1967)Â Â Â Â Â  2:32
"Couldn't get away too soon." Â A #1 hit in 1967.
4)Â Â Â Â  Ice Cream Song Dynamics (1969)Â Â Â Â Â  3:18
"Great God Almighty!"
5)Â Â Â Â  When the Sun Goes Down Ben Gibbard (2011)Â Â Â Â Â  3:20
From the new Arthur soundtrack — one of two contributions by Death Cab front man Ben Gibbard.
6)Â Â Â Â  Summer Rains The Ditty Bops (2008)Â Â Â Â Â  3:20
The Ditty Bops' new album, Love Letters, is due out soon. It'll be their first since Summer Rains — the title track of which is represented here.
7)Â Â Â Â  Have You Ever Seen the Rain? Creedence Clearwater Revival (1971)Â Â Â Â Â  2:40
A top ten hit in early 1971, from the Credence album Pendulum (also on Chronicle, of course).
8)Â Â Â Â  June Hymn The Decemberists (2011)Â Â Â Â Â  3:58
"And you were waking / And day was breaking / A panoply of song." From the band's latest, The King Is Dead.
9)Â Â Â Â  4th of July, Asbury Park (Sandy) Bruce Springsteen (1973)Â Â Â Â Â  5:38
From The Wild, The Innocent, and the E-Street Shuffle.
10)Â  Ocean City Girl Ivy (2005)Â Â Â Â Â  4:25
From In the Clear, Ivy's last album. Â The group's new album, All Hours, is due in September.
11)Â  Sleep All Summer St. Vincent and The National (2009)Â Â Â Â Â  4:33
"Give the ocean what I took from you so one day you find it can find it in the sand / And hold it in your hands again." Â From Score!: 20 Years of Merge Records.
12)Â  Summer's the Worst Michael Leviton (2006) Â  Â  Â 3:36
"I'm giving summer just one chance."  From Leviton's My Favorite Place to Drown.
13)Â  That Summer Feeling Jonathan Richman (1983) Â  Â  Â 6:08
"If you've forgotten what I'm naming, / you're going to long to reclaim it one day, / because that summer feeling's gonna haunt you one day in your life."
14)Â  Summer in the City Regina Spektor (2006) Â  Â  Â 3:51
From her Begin to Hope.
15)Â  Once Upon a Summertime The Innocence Mission (2004) Â  Â  Â 2:13
From the group's Now the Day Is Over. Â Not sure who recorded this song first, but Blossom Dearie cut a version on her album of the same name (1959).
16)Â  Something Cool June Christy (1953) Â  Â  Â 4:20
"I don't ordinarily drink with strangers. Â I most usually drink alone. / But you were so awfully nice to ask me, and I'm so terribly far from home."
17)  Black Hole Sun Steve Lawrence & Eydie Gormé (1999)      4:35
From the delightful collection of covers, Lounge-a-Palooza. Â Does anyone know what Soundgarden thinks of this version?
18)Â  Don't Let the Sun Go Down The Living Sisters (2010) Â  Â  Â 3:36
Beautiful harmonies from Inara George, Eleni Mandell, and Becky Stark. Â If you enjoy this track, you'll enjoy the entire album: Love to Live.
19)Â  Surf's Up Brian Wilson (2004) Â  Â  Â 4:08
In 2004, Wilson finished the legendary Beach Boys Smile record (1966-1967) – parts of which appear on Smiley Smile and on Beach Boys compilations.
20)Â  Surfboard The Swingle Singers (2003) Â  Â  Â 2:49
From the group's album Mood Swings.
21)Â  La Mer Charles Trenet (1946) Â  Â  Â 3:20
With new English lyrics by Jack Lawrence, this tune – retitled "Beyond the Sea" – became a hit for Bobby Darin in 1959. Â I prefer Charles Trenet's original.