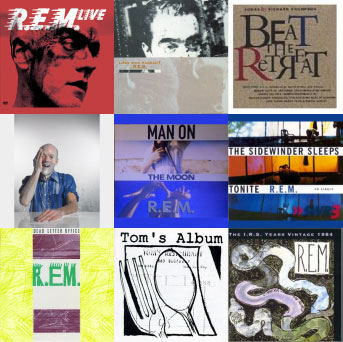 As R.E.M. has called it a day this week, I'm paying tribute by highlighting a facet of their career that is not being talked about that much – or, at least, not in the articles I've seen.  And that is… R.E.M., the cover band!  One of their hits was a cover of the Clique's "Superman."  Rather than focus on that, I thought I'd highlight a few covers that were not hits.  To quote the (lesser-known) R.E.M. song from which this blog post takes its title, "Music will provide the light / You cannot resist."
1. Tom's ? (recorded as Bingo Hand Job, 1991)
This one is part cover, part improvisation, and (at its conclusion) part mash-up. Â R.E.M. — performing under the name Bingo Hand Job — plays a version of Suzanne Vega's "Tom's Diner," which was then gaining notice because of DNA's remix of the song. Â Billy Bragg joins on backing vocals, chiming in near the end with "Unbelievable" (from EMF's song, very popular at the time). Â Recorded at the Borderline Club in London.
2. The Lion Sleeps Tonight (1993)
In which R.E.M. cover a song with a complicated history – "The Lion Sleeps Tonight," a song written by Solomon Linda, who recorded it first (as "Mbube") with his group the Evening Birds in 1939. Â Retitling it "Wimoweh" and adding some lyrics, the Weavers had a hit with it in 1951. Â Hugo Peretti and Luigi Creatore created a new arrangement for the song, added revised lyrics by David Weiss, retitled the song "The Lion Sleeps Tonight" – and gave themselves songwriting credit for their alterations to this allegedly traditional folk melody. Â I read about this in Rian Malan's excellent piece in an issue of Rolling Stone in 2000. Â The Wikipedia page devoted to the song sums up many of its points, including the legal history which (ultimately) resulted in Linda's heirs receiving some royalties for the song. Â Anyway, the Tokens recorded a hit version of the Peretti-Creatore-Weiss version in 1961, and the song has long been a staple for a capella singers. Â This recording appears as a b-side to R.E.M.'s "The Sidewinder Sleeps Tonite"
3. Wall of Death (1994)
R.E.M.'s contribution to the album of Richard Thompson covers, Beat the Retreat.  The song appeared originally on Richard and Linda Thompson's Shoot Out the Lights (1982).
4. I Will Survive (1996)
A laid-back and probably improvised cover of Gloria Gaynor's "I Will Survive" (1979) appears on a single sent to members of R.E.M.'s fan club in 1996 – the year before drummer Bill Berry's departure. Â And, perhaps, one day, it'll gain wider release on a big R.E.M. box set. Â Now that the band has decided to part ways, perhaps they'll assume a curatorial role over their back catalogue & release such rarities? Â Well, one can hope….
5. Pale Blue Eyes (1984)
It's been said that, though the Velvet Underground had few fans, everyone who listened to them started their own band. Â In the interest of full disclosure, I heard R.E.M.'s cover of "Pale Blue Eyes" (on Dead Letter Office, 1987) before I heard the Velvet Underground's original recording. Â The R.E.M. version first appeared as a b-side to "So. Central Rain" (1984).
6. Dream (All I Have To Do) (1987)
A lovely version of the Everly Brothers' song.
7. The Arms of Love (1993)
As a b-side to "Man on the Moon," R.E.M. records a version of a gentle Robyn Hitchcock song. Â Fun trivia: Peter Buck (R.E.M. guitarist) plays on Hitchcock's Globe of Frogs, and has toured with him.
8. Moon River (1984)
The boys from Athens, GA cover … Audrey Hepburn… or possibly Andy Williams or, well, any of the people who recorded this song prior to them. Â Irrespective of which version inspired Michael Stipe to take it on, the first version of "Moon River" (music by Henry Mancini, lyrics by Johnny Mercer) appeared in Breakfast at Tiffany's (1961), sung by Audrey Hepburn. Â "We're after that same rainbow's end, waiting round the bend." Â Thanks for the tunes, Messrs Berry, Buck, Mills, & Stipe —