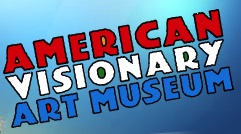 Going to be at ASA in Baltimore next week? Â Consider a tour of the largest national repository of self-taught artistry.
Sponsored by the American Studies Association's Visual Culture Caucus, this guided tour will take you through the museum's collection of visionary art – that is, "art produced by self-taught individuals, usually without formal training, whose works arise from an innate personal vision that revels foremost in the creative act itself." The only American museum of its kind, the American Visionary Art Museum is the largest national repository for self-taught artistry, featuring an acre – 3 buildings – of outsider artwork. The museum is located just over a mile from the conference hotel.  More information can be found at http://www.avam.org/
Cost is $10 per person. Â Meet at 10 am at the American Visionary Art Museum (800 Key Highway, cross street is Covington). Â OR meet promptly at 9:30 am in the Hilton Baltimore Lobby. Â GoogleMaps alleges that it's a 22-minute walk. Â Since we need ten people for the group rate, Philip Nel <philnel@ksu.edu>Â would be grateful if you would sign up with him at your earliest convenience, but no later than Friday, October 21 at 9 am.
(Below, "A" is the Hilton, and "B" is the American Visionary Art Museum.)

View Larger Map