| | |
| --- | --- |
| | |
| Occupy Wall Street Library (before) | Occupy Wall Street Library (after) |
"I cannot live without books; but fewer will suffice where amusement, and not use, is the only future object."
— Thomas Jefferson to John Adams, 10 June 1815
"Knowledge is power."
— Thomas Jefferson to to Joseph Cabell, 22 January 1820
"Let me conclude by thanking the NYPD, FDNY, and the Department of Sanitation for their professionalism earlier this morning. Thank you."
— Mayor Michael Bloomberg, 15 November 2011, after the NYPD and the NY Sanitation Department evicted Occupy Wall Street, destroying 5000 books.
"Apparently the NYPD have destroyed the donated library at #ows – I don't think you need a metaphor, but crushing 5000 books might be one."
— Simon HB (@norock on Twitter), 15 November 2011
 UPDATE as of 5:30 pm Central Time.  All of the Library has not been destroyed.  It's being "held captive" by the City.  Here is a photo, courtesy of Mayor Bloomberg's Twitter account (and The Observer).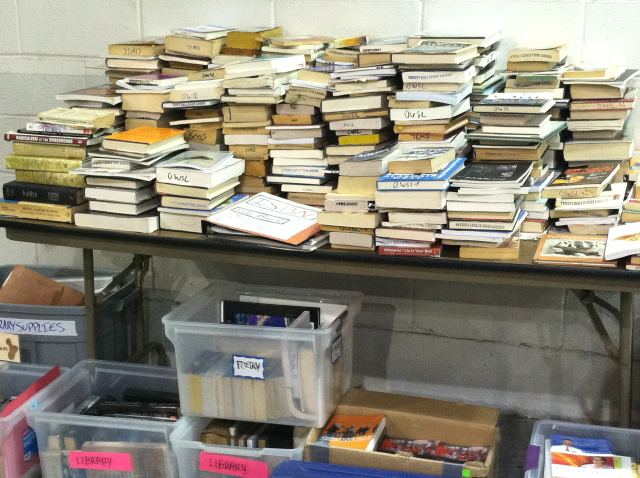 UPDATE as of 11:30 pm Central Time: Occupy Wall Street Library asks, "And where is the rest of it?": "We're glad to see some books are OK. Now, where are the rest of the books and our shelter and our boxes? Nice try guys, but we won't be convinced until we actually have all our undamaged property returned to us."
UPDATE as of 12:30 pm Central Time, 16 Nov. 2011: Occupy Wall Street Library reports "that their claim that the library was 'safely stored' was a lie."  About half of the books are missing; many others are damaged or destroyed.  Initial reports that books were thrown into dumpsters seem, in fact, to be accurate.  And this blog's initial claim that the NYPD destroyed the library is also accurate.