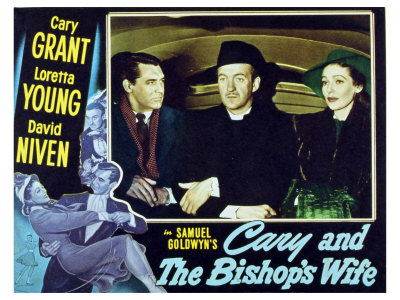 Everyone knows It's a Wonderful Life (1946), A Christmas Story (1983), Miracle on 34th Street (1947), and the many versions of A Christmas Carol (1938, 1971, 1984).  But far too few people have seen The Bishop's Wife (1947).  Sometimes, when I mention the title, people will say, "Oh, the Denzel Washington movie?"  That picture – The Preacher's Wife (1996) – is a remake of this one.  I'm recommending the original, starring David Niven (as the bishop) Loretta Young (as his wife, Julia), and Cary Grant.
What's the film about? Â The trailer is deliberately elusive:

In keeping with the film's trailer, I don't want to give away any of the film's surprises, but I do want to praise both the screenplay and the performances.  Even the supporting characters have a full history – they seem to be as "real" as the three main characters.  There's Monty Woolley as Professor Wutheridge, James Gleason as cab driver Sylvester, Gladys Cooper as wealthy widow Mrs. Hamilton.  Grant, Young, and Niven are of course magnificent, too.  Sure, since it's from 1947, you'll find a few "dated" portrayals (the Italian shopkeeper, the Cockney maid), but those moments are few and mild.  In other words, don't worry: no blackface!  The problems of Holiday Inn (1942) are conspicuously absent.
The themes of The Bishop's Wife certainly remain resonant and appropriate. Â Do yourself a favor: don't read any more about the film. Â Just rent it. Â To take a break from grading, I'm planning on watching it again this evening.