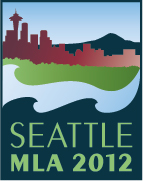 For those who may be heading to the MLA in Seattle (5-8 Jan. 2012), here's a list of all the panels on either children's literature or comics/graphic novels. I count sixteen panels exclusively devoted to one or more of these subjects, and an additional nine panels in which one ore more paper addresses either children's literature or comics/graphic novels. Â Based on that tally, I feel fairly confident in claiming that this is the MLA with the most number of panels devoted to either children's lit or comics/graphic novels. Â Incidentally, I arrived at the list below via searching the MLA program – so, it's possible I've missed some. Â Also, if graphic narratives are your main interest, then do check out Charles Hatfield's great list of just the MLA comics panels.
Devoted EXCLUSIVELY to CHILDREN'S LIT or COMICS / GRAPHIC NOVELS
These are the panels in which all of the papers address one or more of the above subjects.
48. Filling the Gaps: The Future of Keywords for Children's Literature
1. "Fairy Tale," Jack D. Zipes, Univ. of Minnesota, Twin Cities
2. "Genre," Karin E. Westman, Kansas State Univ.
3. "Family," Kelly Hager, Simmons Coll.; Talia C. Schaffer, Queens Coll., City Univ. of New York
95. The Graphic Novel in Latin America
106. No(Bodies): Ghost Children in Juvenile Literature
681. Ecocriticism and Literature for Young Readers