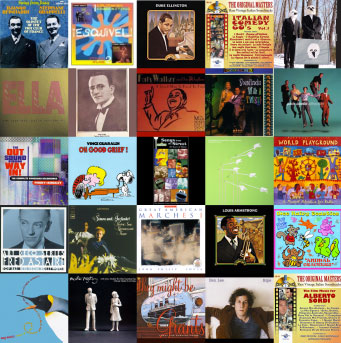 Yes. Â Spring is here, which means flowers blooming and (for academics, at least) the rapidly accelerating roller-coster that is the second half of the semester. Â It is thus time for some jaunty music. Â Enjoy!
1)    You Meet the Nicest People in Your Dreams       Fats Waller and His Rhythm (1939)    2:51
How is it that this song is not more widely known and recorded?  "I've looked the universe over from Wack-a-nac-sac to Dover," and… I'm aware of only two recordings: this one, and one by Peter Mulvey.  This is one of my favorites because, well, how can you listen to this and not smile?  Although I expect this song is on more than one compilation, the only place I've found it is Fats Waller's The Middle Years Part 2 (1938-1940).  The song's composers are Al Hoffman (best known for co-writing "Mairzy Doats"), Al Goodhart (co-wrote "Fit as a Fiddle"), and Manny Kurtz.
2)    Funiculi Funicula  The Mills Brothers (1938)    2:31
Another favorite that always makes me happy. Â The original Italian version of the song (1880, music by Luigi Denza, lyrics by Peppino Turco) commemorated the opening of the first funicular cable car up Mount Vesuvius. Edward Oxenford's English lyrics retain the cheeriness but not the meaning of the original. Â This song appears in more than one compilation, but it comes to you here via the Mills Brothers' The 1930s Recordings Volume 5.
3)    Alouette     The Delta Rhythm Boys (1958)    2:42
Confession: that Target ad introduced me to the Delta Rhythm Boys, whose sound seems to fall in between the Mills Brothers and doo-wop.

The Delta Rhythm Boys are a jump-blues vocal group. Â They performed in the U.S. in the 1930s and 1940s, but in the 1950s moved to Europe, where they remained for the rest of their careers. Â Perhaps this is why the group is not as well-known in their native country, and why the CDs I could find mostly seem to have been produced in Europe.
4)    Sh-Boom   The Chords (1954)    2:26
Is there a more perfect doo-wop number than the Chords' "Sh-Boom"? Â The Crew Cuts' cover (released the same year) sold more copies, but nothing matches the original version. Â This was the Chords' sole hit. Â Below, an a capella rendition, and further evidence that all popular culture will eventually end up on YouTube.

5)    Boum        Charles Trenet (1938)    2:35
This one's in French, but includes lots of imitations of animals. Â Silly and fun, from the vocalist best known (in the U.S.) for "La Mer" – the song performed (in English) by Bobby Darin as "Beyond the Sea."
6)    A Newt Called Tiny          Wee Hairy Beasties (2006)    0:18
Delightful pun. Â It's the sort of song that, I think, should be sung on playgrounds everywhere. Â Indeed, it sounds like it's an older song, but I think the group wrote it. Â Comprised of Kelly Hogan and two members of the Mekons, the Wee Hairy Beasties are a supergroup of sorts. Â This track appears on their first record, Animal Crackers.
7)    Swinging on a Star         Bing Crosby (1944)    2:32
Crosby sang this song in the film Going My Way (1944).  Written by Jimmy Van Heusen and Johnny Burke, it won the Oscar for Best Original Song.  I like the arrangement on the record better than that in the film (below), but the movie is notable for its inclusion of a racially integrated boys' choir.

8) Â  Â Mais Que Fait La Nasa? Â  Â Paris Combo (2001) Â  Â 4:04
For a few years in the late 1990s and into the first decade of the 2000s, Paris Combo put out some great records. Â Then,… they stopped. Â I don't know why. Â I do know that they're currently on tour. Â Perhaps there'll be new recordings soon? Â There are some new demos on their website — so, I'm hopeful. Â This particular song appears on their album, Attraction (2001).
9)    Love Astronaut    Murder Mystery (2007)    3:01
This extremely catchy song is from the band's first LP, Are You Ready for the Heartache Because Here It Comes (2007).  That record contains a number of finely crafted pop songs, but this is my favorite.  After a few years of silence (at least in terms of new releases), Murder Mystery put out a new EP earlier this year: Problems.
10) Flying Home (Take B)Â  Â  Â  Ella Fitzgerald (1945) Â  Â 2:30
One of the classic records to feature scat-singing, an art at which Ella Fitzgerald excels.  Her ability to use her voice as an instrument, improvising solos and syllables … is truly astonishing.  For more great scatting, check out her "Oh, Lady Be Good" (Decca, 1947), "Cotton Tail" (1967, on The Concert Years 1953-1967), and the great "Mack the Knife" (1960, on The Complete Ella in Berlin).  The box set Twelve Nights in Hollywood is also well worth your while.  This track appears on Ella: The Legendary Decca Recordings.
11) Float On    Modest Mouse  (2004)    3:28
From the album Good News for People Who Love Bad News.

12) What Would Jay-Z Do?    Ben Lee (2007)    2:55
A very good question, and a happy song, too.  From Lee's album, Ripe (2007).
13) It's a Great Life (If You Don't Weaken)Â  Â  Sam Lanin & His Orchestra (1929) Â  Â 3:14
The song that inspired the title of Seth's It's a Good Life, If You Don't Weaken (1996).   Lyrics by Leo Robin, music by Richard Whiting and Newell Chase.
14) Pick Yourself Up  Fred Astaire (1936)    2:56
Composed by Jerome Kern and Dorothy Fields, the song appears in Swing Time (1936), one of the great Astaire-Rogers films.  Not that you asked, but the other great ones are Top Hat (1935), The Gay Divorcee (1934), and Shall We Dance? (1937).
15) On the Sunny Side of the Street    Louis Armstrong (1937)    2:55
Composed by Jimmy McHugh and Dorothy Fields, this song can be found in versions by Count Basie, Dave Brubeck, Nat King Cole, Billie Holiday, Ella Fitzgerald, Tommy Dorsey (with the Sentimentalists), and Dinah Washington.  Louis Armstrong's recording is one of the earlier versions — the song made its debut in a 1930 Broadway musical.
16) The 59th Street Bridge Song (Feelin' Groovy)Â  Â  Â  Simon & Garfunkel (1966) Â  Â 1:43
"Hello, lamppost. What'cha knowin'?" Â One of Paul Simon's more whimsical compositions, this appears on Simon and Garfunkel's Parsley, Sage, Rosemary and Thyme (1966). Â Below: Simon and Garfunkel on the Smothers Brothers Comedy Hour in 1967.
17) Sweet Georgia Brown       Django Reinhardt & Stéphane Grappelli (1938)    3:08
I first heard this song (whistled) as the theme to the Harlem Globetrotters Popcorn Machine, which aired on Sunday mornings from 1974 to 1976.  Django Reinhardt & Stéphane Grappelli's rendition reaches you here via the compilation Swing from Paris: The Quintette of the Hot Club of France (ASV/Living Era). Music composed by Ben Bernie and Maceo Pinkard.  Kenneth Casey's lyrics do not appear in this rendition.
18) Linus and Lucy     Vince Guaraldi (1968)    2:59
More commonly known as the Peanuts theme, Vince Guaraldi's song makes its debut in Jazz Impressions of a Boy Named Charlie Brown (1964), appearing again in A Charlie Brown Christmas (1965) and many subsequent Peanuts productions.  This particular recording appears on Oh, Good Grief! (1968).
19) Il sole è di tutti       Franco Micalizzi (1968)    1:58
From the soundtrack to the film of the same name.  Appears on The Original Masters: Italian Comedy 60's, Vol. 1
20) Ad Ogni Costo (At Any Cost)Â  Â  Â  Ennio Morricone (1967) Â  Â 2:53
Continuing the theme of Italian film soundtracks from the 1960s, here's one of the greatest Morricone tunes.  It appears in the film of the same name, and is on many compilations.  But it comes to you here via Cocktail Mix Volume 4: Soundtracks With a Twist!
21) The Liberty Bell March     Her Majesty's Royal Marines & Lt. Colonel G.A.C. Hoskins (1992)    3:20
You know it as the theme to Monty Python's Flying Circus, but this John Philip Sousa piece is an American military march composed in 1893.

22) Whatchamacallit    Esquivel (1958)    2:33
From Esquivel's Exploring New Sounds in Stereo (1958).
23) Le fate (m8)Â  Â  Â  Â  Â  Â Armando Trovaioli (1966) Â  Â 1:16
Returning to Italian film soundtracks from the 1960s, here's the title song from the film of the same name.  This track appears on The Original Masters: The Film Music For Alberto Sordi.
24) Mah Na Mah Na   Mah Na Mah Na (1969)    1:54
Composed by Piero Umiliani for Svezia, inferno e paradiso, the song achieved lasting fame via its long association with the Muppets.

25) It Don't Mean a Thing       Duke Ellington with Joya Sherrill, Marie Ellington and Kay Davis, vocals (1945)    3:01
"It makes no difference if it's sweet or hot. / Just give that rhythm everything you've got!" Â Composed by Duke Ellington (music) and Irving Mills (lyrics).
26) Tobacco Auctioneer          Don Byron (1996)    2:36
Composed by Raymond Scott but performed by Don Byron and co., this recording appears on Byron's Bug Music.
27) Soul Bossa Nova (Original Mix)Â  Â  Â  Â Quincy Jones & His Orchestra (1962) Â  Â 3:11
Probably best-known today for its appearance in the Austin Powers films, the song made its debut on Jones' Big Band Bossa Nova (1962).
28) The Mesopotamians          They Might Be Giants (2007)    2:58
On my imaginary radio station, this song was a big hit. Â From They Might Be Giants' The Else.

29) Bongo Bong          Manu Chao (1999)    2:56
Manu Chao's song first appears on his record Clandestino (1998), but this version comes from the compilation World Playground: A Musical Adventure for Kids (1999).
30) Particle Man          Mrs. Belaire's second grade class, Ottawa Elementary School (Buchanan, MI), music director Tim McCarthy (1990)    2:06
The greatest cover of any They Might Be Giants song ever appears on Then! The Earlier Years.  The original version is on TMBG's Flood (1990).