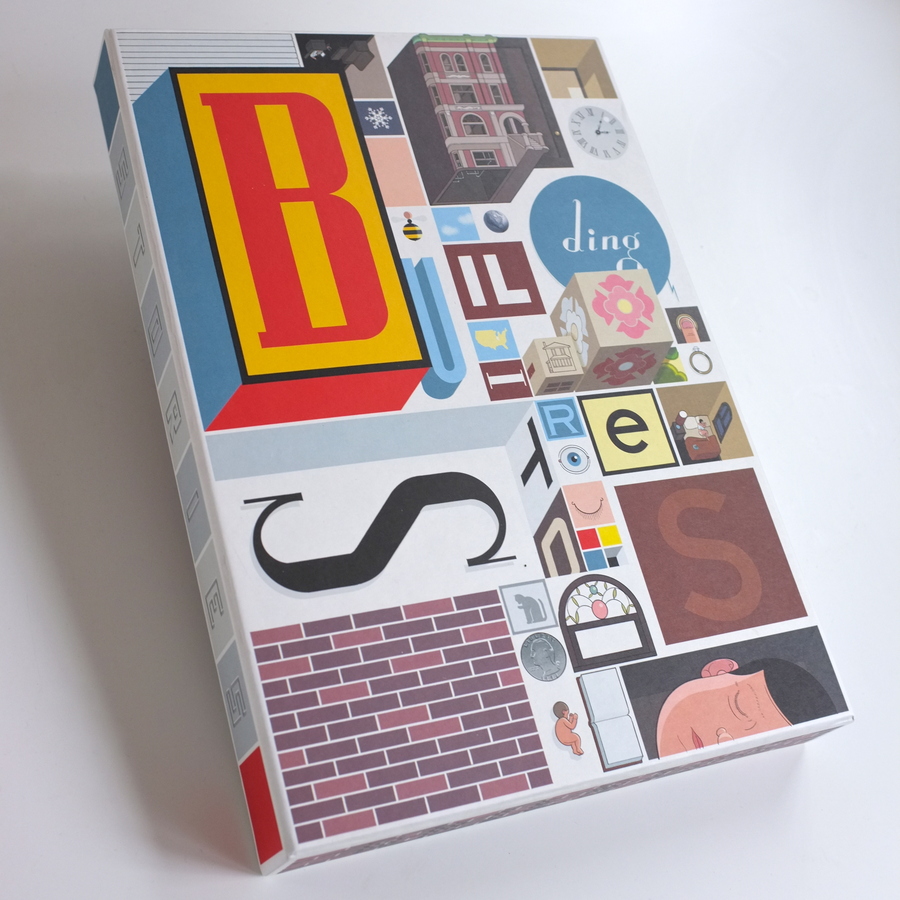 As one of the first people to teach Chris Ware's Building Stories (which just came out last month), I thought I would share what I'm planning. Given the loud and enthusiastic acclaim that has greeted Building Stories, I expect that others will also teach the work.  (To the best of my knowledge, the only other person teaching Building Stories this term is Dave Ball.)  As serious readers of comics and graphic novels already know, Building Stories is a box containing fourteen textual objects – book, booklets, magazines, newspapers, Little-Golden-Book-designed book, small folded strips, board game, and the box itself (which resembles the box to a board game).
This poses some challenges. Â Since these items can be read in any order, where do you begin? Â Should you impose an order at all? Â For practical reasons, IÂ have imposed an order. Â I've told students that they can read this work in any order they like, but we have a specific order in which we'll be discussing it, in class. Â The order in which the items emerge from the box determined my order. Â That, I figured, was both arbitrary and consistent. Â I say "consistent" because I expect that all boxes were packed similarly: so, each reader would encounter this "order" first. Â As we get deeper into the work, I will also ask about how order shapes our sense of chronology and meaning. Â However, to start, I've dived the class into groups of two or three, assigned each a section on which they'll become an "expert," and provided some "generic" questions. Â Here's what I told the students when I announced this plan a month ago, followed by a collection of readings (on Building Stories) that I've been collecting since then. Â (My name for each section derives either from the first lines of text or from something more descriptive.)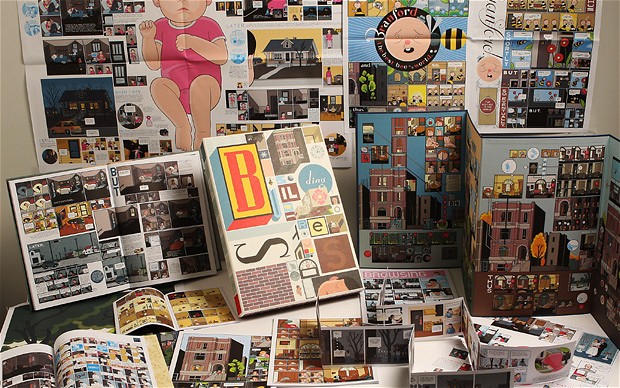 ---
As mentioned in class today (16 Oct.), I've divided up the readings for Chris Ware's Building Stories – this is on the page I handed out in class, and the syllabus's Schedule of Readings (scroll down).  As I also mentioned, the book is the graphic novel event of the season.  It made its debut about 2 weeks ago, and was the best-selling book on the New York Times' Graphic Books list this past Sunday (14 Oct.).  In this post, I'm listing: (1) the questions (same as those handed out in class), (2) the list of readings, and (3) links to some of the many reviews, essays, and stories that have been published in the past few months.
---
THE QUESTIONS
What stories does this part (or these parts) build?  Provide at least three examples.
What do we learn about our unnamed protagonist (the amputee)?  In some cases, the connection will be more challenging to make. Pick three moments.
Why tell this story in this form (book, newspaper, magazine, booklet, etc.)?
What questions do you have?  These can be discussion questions or simply subjects that perplex you.
Each group (or pair) should address these questions, and bring them with you on your day. Â Bring an extra copy for me, so that I can follow along during discussion.
---
SCHEDULE OF READINGS
13 November
Group 1
1) [wordless / 7.5 x 25 cm / nights and days]
2) "God… I can't bear it… I can't… I can't" / "I don't care… I just don't care…" [2-sided folded strip]
3) "Her laugh is like a flight of tiny birds, taking off…" / "Momma, I don't know how I feel right now. I mean, I don't know how to say it. I'm just not happy or sad. I'm in between." [2-sided folded strip]
4) Branford, the Best Bee in the World
Group 2
5) September 23rd, 2000 [Golden Book]
15 November
Group 3
6) "Shit" [magazine]
7)"VVVFFFMMMMMMMMMMM" [magazine]
8) DISCONNECT [larger magazine]
27 November
Group 4
9) "I JUST WANT TO FALL ASLEEP AND NEVER WAKE UP AGAIN" / [Acme Novelty Library No. 18]
29 November
Group 5
10) The Daily Bee [newspaper]
11) "Recently, my high school boyfriend friended me on Facebook…" / "As a kid, I could sit in front of a mirror and stare at myself for hours, trying to imagine what I'd look like when I grew up…" [newspaper]
12) "Before winter starts" [architecture / blueprint / board]
Group 6
13) "god…" [newspaper]
14) "It all happened so fast… When I think back now I almost can't believe it" [newspaper]
15) Building Stories [the box]
---
LINKS
Interviews
Essays
Reviews
Other
---
That (the above) is what they have to get us started. Â At times, I wonder if I'm a little ambitious in assigning this dense, layered, beautiful, complex, experimental work to an undergraduate class on graphic novels. Â But, based on my experience with the class so far, I think they'll rise to the challenge. Â In any case, teaching Ware is like teaching James Joyce or (in a children's literature class) Lewis Carroll. Â The bright, thoughtful students tend to be intrigued, and embrace the experiment. Â Other students require more help in making sense of it.
Teaching Ware is also like teaching Joyce or Carroll because Ware changes our understanding of what the medium can do.  He writes strips that can (and must) be read in more than one direction, pages that need to be read multiple times, and books that make other cartoonists feel that they need to rethink their approach to comics.  If you're teaching a class in graphic novels or comics, you have to teach Ware.  He pushes the medium further, and (I expect) will be pushing my students in the coming weeks.  So.  Here's to the grand experiment!
Image sources: Alan Trotter's 5∞, Mark Hayes' Passing Notes.
Giving credit where it's due: I found most of those links via Dave Ball's Facebook page or his The Comics of Chris Ware: Drawing Is a Way of Thinking Facebook page.