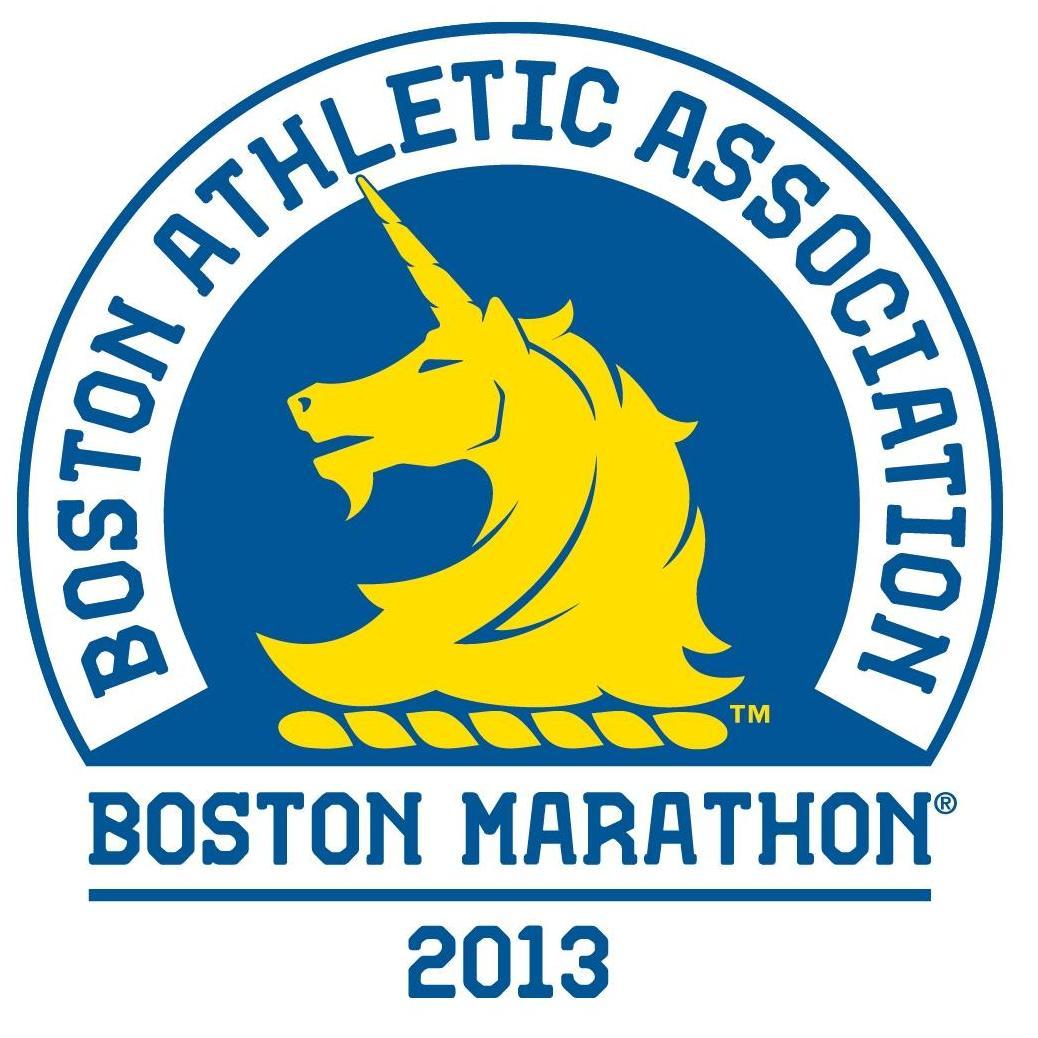 Boston is the U.S. city that feels most like home to me. I grew up north of the city, in Lynnfield. Some of my family still live in the Boston area, though most are spread out around the globe. Indeed, I haven't lived in Massachusetts in nearly three decades. But it's still where I'm from.
In a city that embraces its diverse population (and their equally diverse opinions), the Boston Marathon is something (nearly) everyone agrees on.  Runners from all over the world compete.  Local TV broadcasts the race, which is always held on Patriots' Day – a holiday commemorating the first battles of the American Revolution.  It's celebrated in Massachusetts, but not nationally. I remember, as a kid, staying home from school, and watching the Boston Marathon on TV. It's probably one reason that my mother, sister, and I have all run a marathon. (Or to be more accurate, my mother and I have each run one marathon; my sister has run over a dozen.) So, today's bombing also hits close to home because I and my family know what it means to run a marathon.
As of this writing, I don't know why some sociopath (or group of sociopaths) decided to bomb the city. I assume that the choice of Patriots' Day was not an accident.
If you want to help,…
For information, I've found these useful:
Finally, here is a salute to Boston in song. It's one of America's great cities, and if you haven't been there yet, please include it in future travel plans. As President Obama said today, "Boston is a tough and resilient town." It and its people will recover from this.  So. Following is a mix of songs that either reference Boston or are by a band from Boston.
For Boston: A Mix
1. M.T.A. The Kingston Trio (1959)            3:16
A song that will tell you where the "Charlie card" (used for travel on the T, Massachusetts' public transit system) got its name.
2. Yankee Doodle   Tex Ritter (1952)            1:28
An allusion to the city's revolutionary past, performed by the father of John Ritter.
3. For Boston   Dropkick Murphys (2001)            1:33
Great Boston band, rousing Boston song.  Appears on the aptly titled Sing Loud, Sing Proud!
4. I'm Shipping Up to Boston   Boston Pops Orchestra (2009)            2:59
Also a Dropkick Murphys song (with lyrics by Woody Guthrie), but I didn't want two songs by the same artist on the mix and I did want to include the Boston Pops.  So… here's their version!  And, below, the Dropkick Murphys:

5. Massachusetts   Anita O'Day with Gene Krupa (1942)            3:16
"Boston, if you please, Massachusetts."  From Let Me Off Uptown!
6. Dirty Water   Standells (1965)            2:49
"Love that dirty water, aw, Boston you're my home" sing the Standells, a band from … Los Angeles.  From the great Nuggets collection.
7. B.O.S.T.O.N.   Bleu (2010)            3:48
A song about Boston from a singer-songwriter who studied at Boston's Berklee School of Music.
8. Rock & Roll Band   Boston (1976)            3:00
"We were just another band out of Boston." Tom Scholz (the creative force behind the band) is actually from Toledo, Ohio.  However, at the time of recording this album, he lived and worked in the Boston area.
9. Let's Face It  The Mighty Mighty Bosstones (1997)            2:33
The quintessential Boston band has a message for the haters: "Be racist, be sexist, be bigots, be sure: We won't stand for your hatred."  An appropriate song for the first state in the union to legalize same-sex marriage.  More recently, Boston Mayor Thomas Menino said he would not let the Chick-fil-A franchise (owned by anti-gay bigot Dan Cathy) open a restaurant in the city. He later acknowledged that he didn't legally have the power to stop them, but his claim that "There is no place for discrimination on Boston's Freedom Trail" resonated with those of us who support human rights.
10. Livin' on the Edge  Aerosmith (1992)            6:20
Perhaps the most famous band from the city, Aerosmith are not famous for songs with a political message.  But, in this one, they have a caustic comment for bigots: "If you can tell a wise man by the color of his skin, then mister you're a better man than I."
11. The Fire Down Below   Bob Seger & The Silver Bullet Band (1976)            4:28
To give credit where it's due, this song –Â and a few others here –Â is inspired by a medley of snippets of songs that reference Boston which (Boston's) WBCN used to play as part of their station identification.

12. Freeze-Frame   The J. Geils Band (1981)            3:58
No references to Boston in this song, but these guys were one of the great Boston bands. People know them for this album (Freeze-Frame), but Blow Your Face Out (1976) is one of the all-time great live albums.

13. Ladies of Cambridge   Vampire Weekend (2007)            2:39
Just across the Charles River from Boston, is Cambridge (though the band is from NYC).
14. Here Comes Your Man   Pixies (1989)            3:22
Another classic song from a Boston band.

15. Pretty In Pink   The Dresden Dolls (2006)            3:58
And still another, though covering a song by the (British) Psychedelic Furs.
16. Sweet Little Sixteen   Chuck Berry (1958)            3:02
"They'll be rockin' in Boston."  From The Great Twenty-Eight.  One day soon, Boston will be rocking with joyous songs – like this one.
17. Hey Nineteen   Steely Dan (1980)            5:10
Another song that references Boston and to which the aforementioned WBCN medley uses.
18. Let's Do It   Joan Jett & Paul Westerberg (1995)            2:23
In this punk cover of the Cole Porter classic, we learn that "In Boston, even beans do it."
19.Roadrunner   The Modern Lovers (1976)            4:09
Founded by (Natick, Mass. native) Jonathan Richman, the Modern Lovers got their start in Boston.  In February, Massachusetts Representative Marty Walsh proposed this song as the official rock song of the state.
20. Good Times Roll  The Cars (1978)            3:48
With the knowledge that the good times will roll again, in Boston, here's a (or the?) great new wave band from Boston –Â possibly the second best-known Boston band (after Aerosmith)?

21. Early to Bed   Morphine (1997)            2:58
"Early to bed, early to rise, makes a man or woman miss out on the nightlife." Morphine were from Boston, and fronted by the late, great Mark Sandman.

22. Night Train   James Brown (1962)            3:35
The night train stops in Boston.
23. I've Been Everywhere  Johnny Cash (1996)            3:15
In this song, Mr. Johnny Cash goes to Boston (among many other places).
Incidentally, if you're a music fan, when in the Boston area, check out Planet Records (144 Mt. Auburn Street, Cambridge, Mass.).
Peace to all in Boston today. I know the city and its people will bounce back. We always do.