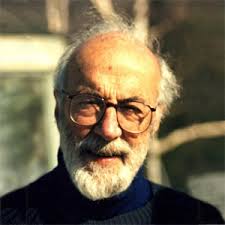 When his roommate, Robert McCloskey, wanted to study ducklings for his next book, Marc Simont let him adopt a whole group of them. McCloskey followed them around their small Greenwich Village apartment, sketching each one from all angles – work that would help make his Caldecott-winning Make Way for Ducklings (1941) a classic. Simont would win his own Caldecott for A Tree Is Nice, written by Janice May Udry (1956). He won two Caldecott Honors, one for Ruth Krauss's The Happy Day (1949) and the other for his own The Stray Dog (2001). And he illustrated so many other classic children's books (over 100!), from James Thurber's Many Moons (1990) to Marjorie Sharmat's Nate the Great series (1972-1998).
According to the New York Times, Simont passed away on July 13th. He was 97.
When researching my biography of Crockett Johnson and Ruth Krauss (published last year), Simont was one of the first people I spoke to –  back in July of 2000.  At that time, I thought it was only going to be a book about Johnson, and so I didn't ask him as much about Krauss.  But we did talk a little about her.
Marc Simont: … Of course, Ruth, as I say, was somebody I knew much better.  She was a difficult writer to work for…

Philip Nel: Because…?

MS: For instance, she interfered a lot.  I say "interfered" because I don't like people to get to close to me when I'm working.  And she would have none of that.  In other words, she wanted to see roughs.  And every rough, she would have comments to make.  And it was very funny.  But, you know, thinking back on it, she was quite good.  She had made a real study of children, very intellectual, being emotional at the same time.  She wasn't cold about it.  But she really got into it.  She had gone to Bank Street, and they had a course there, they had a place where they brought the kids and they couldn't see they were being observed – a kind of voyerurism.  And she was quite good.  And I could see how she and Maurice Sendak would hit it off very well.  Because he was very much a children's artist and author.

PN: You mean, in the way he observed children, and got the details of their movements down….?

MS: I knew Maurice when he started — we had the same publisher, Ursula Nordstrom.  He would talk about the kids in his neighborhood in Brooklyn, and how he watched them.  One little girl — she was the boss, and she ran the show, and all the kids played together.

PN: You can really see that in the illustrations he did for Ruth's books – especially A Hole Is to Dig, Open House for Butterflies. The personality really comes through.

MS: Exactly.  A lot of them, in my case, I don't do any of that at all. I go by the fact that I used to be a child myself, and there's something always left, and if I like what I'm doing, the kids will like it, too.
Of working with Ruth, he later elaborated:
MS: … They [Krauss and Johnson] were people that I saw, I was delighted to see them when I saw them, but we weren't really that close.  With Ruth, of course, professionally. And, most of the time, I was put off by her.

PN: Well, she seems like she was fairly difficult to work with, from talking to people but also from reading – I was reading her letters at HarperCollins a few weeks ago.  I think she required extra maintenance on the part of those who worked with her.

MS: But, as I say, as I look back on it, she was very sound.  Her remarks were very good.  The thing is that anybody trying to hold my hand, even if they're on the right track, if they try to hold my hand while I'm working, causes me to want to shake, to shake [them] off.  And, she also had a little bit of the political correctness thing.  I remember once I did an illustration of a primitive guy, and I had a beard on him like a Stone Age man, and she said "well, no we can't have that because that implies that he was Stone Age, that he was primitive, that he wasn't intelligent." I couldn't believe it that she would say things like that. And now people are saying it all the time.

PN: She was a bit ahead of the curve on the political correctness issue, I guess…

MS: Yeah, that's true.

PN: That's interesting.

MS: I'm sure she was ahead of her time on the feminism, too.  I'm sure she was.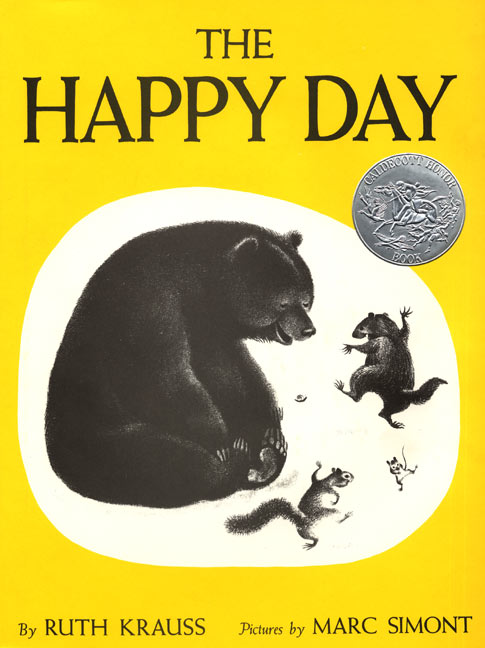 In addition to The Happy Day, Simont illustrated three other Krauss books: The Big World and the Little House (1949), The Backward Day (1950) and the new edition of A Good Man and His Good Wife (1962; originally illustrated by Ad Reinhardt, 1944).
He was extraordinarily kind to me. After our chat, he FAXed me copies of correspondence with both Johnson and Krauss, including Krauss's typed manuscript for The Happy Day, with her notes on where the text should be placed on each page! Indicative of his generosity, along with this correspondence, he took the time to amend what he said about Ruth: "I was glad to look through my correspondence and find the letter I remembered as criticism which wasn't at all."
One more anecdote, since it got cut from the bio.:
I remember once we went to a party in Greenwich Village, where a group of young men were doing a farewell party for Truman Capote. And big signs saying "Caio" and so forth and so on. And Truman Capote didn't show up. (Laughs.) I think Ruth and Dave took me to that thing. But I know I never kept up with any of the people at the party. It was just a one-evening thing. If it hadn't been for that detail of the party for Truman Capote and Truman Capote didn't show up, I probably wouldn't have remembered it.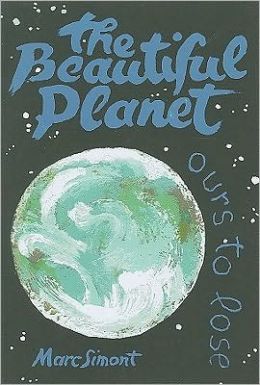 The "Dave" in the above reminiscence is Crockett Johnson (his given name was Dave). I guess my editors thought it superfluous to mention a farewell party for Truman Capote at which the guest of honor failed to show. And they may be right. I, of course, thought it was funny. And so did Simont.
It seems that, every month, another giant from the field of children's books leaves us. That said, Simont evaded this sad inevitability for longer than most. 97! And still working in his final years, too. His most recent picture book, The Beautiful Planet, was published in 2010. Remarkable. My thanks to him for his gifts to the art of children's books, and to lending a hand to a neophyte biographer. Godspeed.
More about Marc Simont: