Greetings, faithful readers. I am pleased to report that Crockett Johnson and Ruth Krauss: How an Unlikely Couple Found Love, Dodged the FBI, and Transformed Children's Literature – a book that was twelve years in the making – now exists in both hardcover and paperback. I received my author copies today, which means that it should be available for shipping from warehouses in the next few weeks (the official publication date is September 1st).
| | |
| --- | --- |
| | |
| The author poses with the hardcover. | The author poses with the softcover. |
It's already available on the Kindle, Nook and SONY Reader, but I find the ebook's absence of book design a little disappointing. So, I recommend purchasing the paperback. First, it's cheaper. Second, only the paperback has the full wraparound cover (designed by Chris Ware). The Kindle version supplies only the front cover.1 On the hardcover, the artwork wraps around the spine and onto the back cover, but, since there is no dust jacket, the cover ends at the vertical edges of both back and front covers. The paperback also has no dust jacket, but does have folded flaps that mimic a dust jacket – they fold in along the vertical edges, tucking in between front cover and first page, and between last page and back cover. Thus, the paperback allows you to view the full wrap-around cover.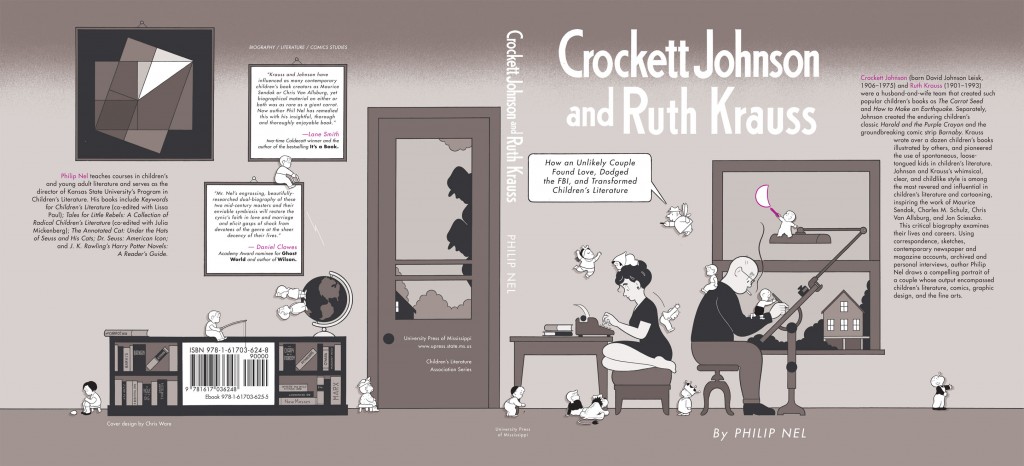 The only other ways to see the full cover are on this blog or in the poster versions. The generous Mr. Ware has designed a version of the cover – sans blurbs, UPC symbol, etc. — that is currently being made into posters. I plan to sell them at book events. (I'm selling them rather than giving them away because I've underwritten the cost of this endeavor, and I'd like to make back my investment.)
Anyway. My point is that the book is now officially real. For me, a book is not a book until I hold it in my hands. It doesn't matter that I've signed the contract, delivered the manuscript, edited the manuscript (many times in this case), obtained rights to reprint the images (88 for this one), checked the page proofs, or seen the image for the jacket. The book is only real for me at the moment I actually see a physical copy for the first time. For this book, that moment was late this afternoon.
My biography of Crockett Johnson and Ruth Krauss is now real.
---
1. I haven't seen the Nook or SONY Reader versions. I assume they look much as the Kindle version does, but cannot verify that assumption.