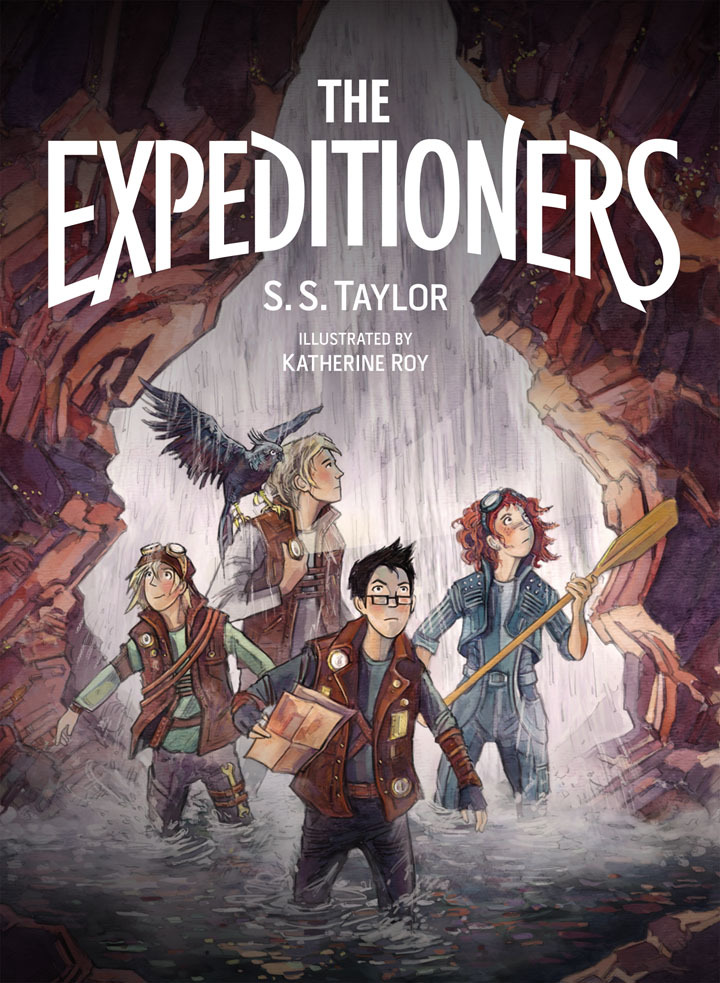 When will the next book in the series be published?
This was my first thought upon finishing S. S. Taylor's The Expeditioners and the Treasure of Drowned Man's Canyon (McSweeney's McMullens, 2012). It's a mystery-adventure-fantasy set in a dystopian parallel universe, where four children seek the answers to a mysterious map, as they evade agents of a corrupt American government, and uncover more mysteries along the way.
I don't want to give too much away here, but – as in any good mystery – the book has a strong narrative drive, keeping you wondering what will happen next.  In the first chapter, Kit (the narrator) gets chased through a marketplace, and then caught by a man with a clockwork hand. The man gives him a package that seems to have come from Kit's late father.  And that's all of the plot I'm going to tell you.
The main characters –Â two boys, two girls –Â are fully realized, and I was particularly pleased to note that both of the female protagonists are strong and smart. Â The secondary characters are also credible, including Leo and Lazlo Nackley, a powerful father and sneering son who reminded me a little of Lucius and Draco Malfoy. There's Mr. Mountmorris, a Machiavellian and frog-like historian, who… ah, I again feel I should resist the impulse to describe him further.
On Facebook, my friend Marah Gubar compared The Expeditioners to Trenton Lee Stewart's Mysterious Benedict Society (2007), suggesting that those who enjoyed that novel will also like this one.  She's right. I would also add that The Expeditioners is faster-paced, and pulls you in more swiftly than Stewart's book. Taylor – who I have known for about a dozen years – honed her narrative craft as a mystery writer (for adults), and this well-plotted tale clearly benefits from that experience.
When my two-year-old niece is about seven, I will definitely be adding this book to Emily's Library. I think she'll enjoy it. If you love mystery and adventure, you'll enjoy The Expeditioners, too.