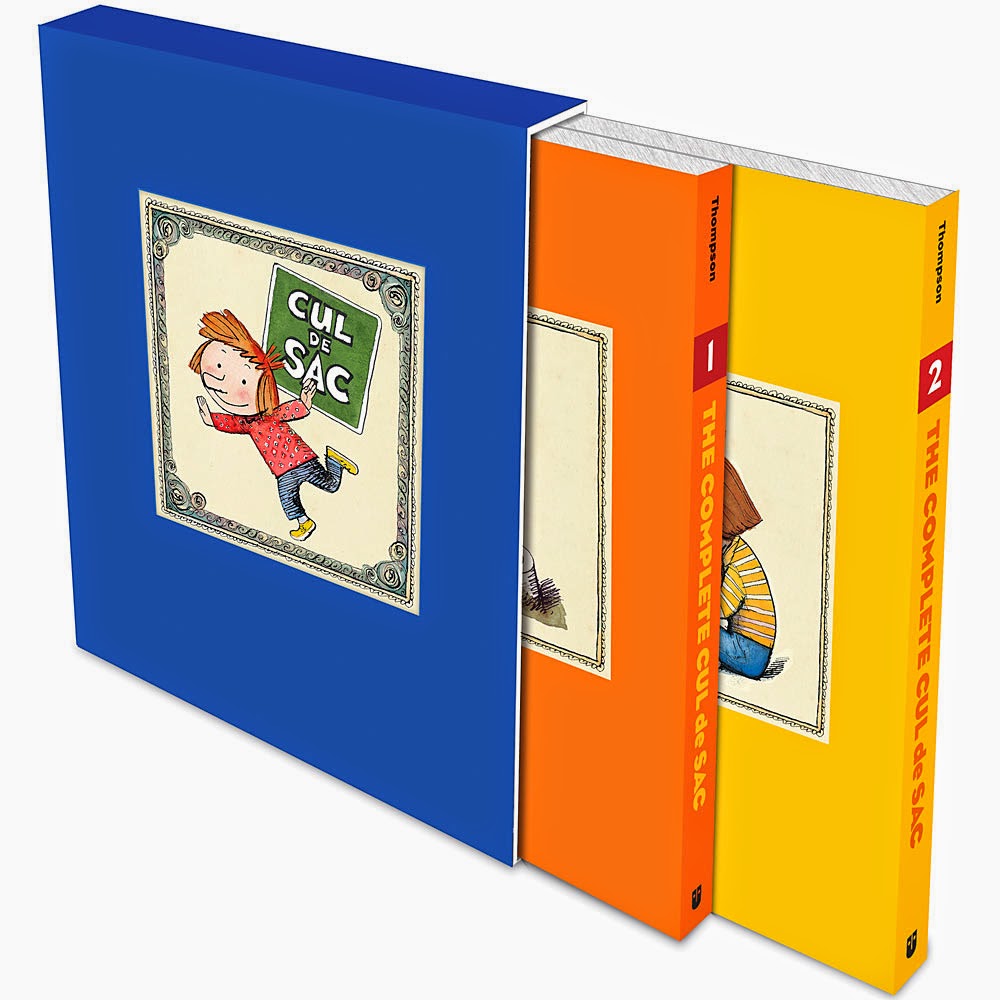 Richard Thompson's Cul de Sac is one of two comic-strip masterpieces of this century.1 Fortunately for the busy comics-reader, you can now read the entire work in The Complete Cul de Sac (2 volumes, just out from Andrews McMeel). Unfortunately for the medium (of comics! of Art!), the complete run of the Thompson's daily strip is a mere five years (2007-2012).2 Parkinson's Disease forced him to end the strip a couple of years ago.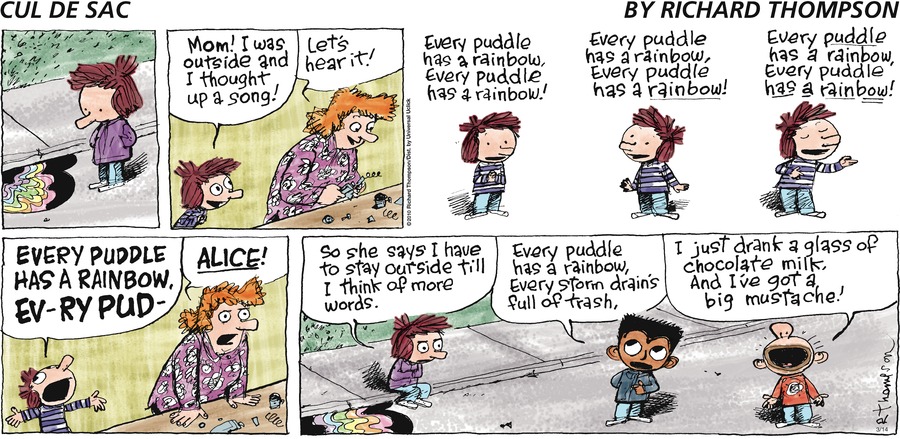 But what a marvelous five years! Thompson's ability to convey the emotional lives of children is a delight to see. Facing a bewildering and unpredictable world, Thompson's child characters display a mixture of fierce independence (embodied in his preschooler protagonist, Alice) and insecurity (embodied in her neurotic older brother, Petey). They seek guidance from the fanciful logic of older siblings' stories, half-remembered truths passed down from their elders, and their own inventive interpretations of reality. As fellow Cul de Sac fan Jeanne Birdsall (author of the delightful and keenly observed tales of the Penderwicks family) puts it, Thompson portrays "children living parallel lives from ours, seeing and hearing all the same things, but experiencing them in a completely different way."3 Exactly.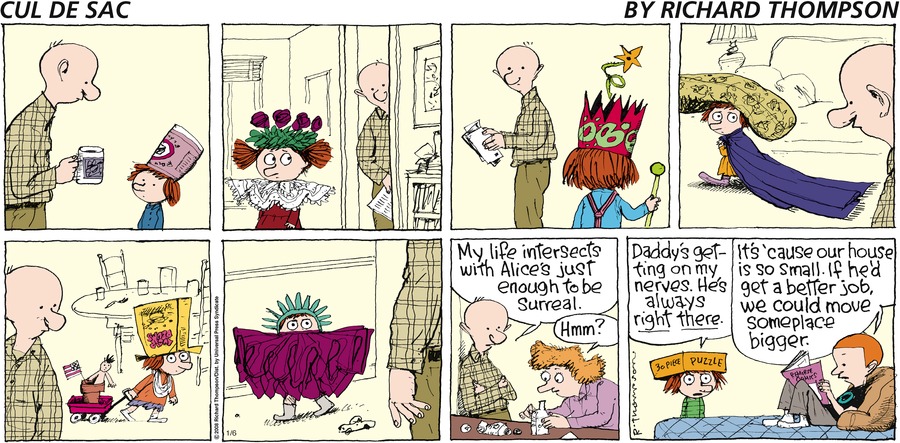 I especially love the way that the characters – especially the young children – talk past each other. Each is her or his own planet, and sometimes orbital paths bring them closer to each other, but other times they zoom in opposite directions.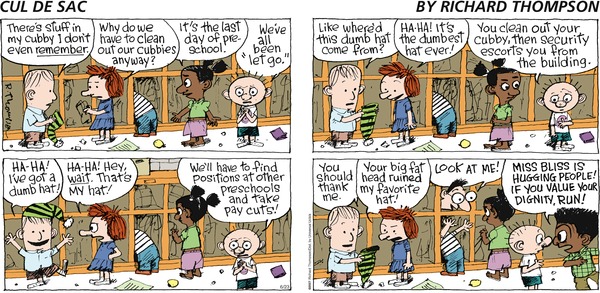 And then there's Thompson's Art – yes, Art with a capital "A."  As Bill Watterson wrote in the introduction to the first Cul de Sac collection, "With a mix of rambling looseness, blotchy crudeness, and sheer cartoony grace, Thompson's expressive pen line is the equal of any of cartooning's Old Masters." And, as Art Spiegelman writes in his intro to the Complete Cul de Sac,
It's that ferbile quill pen line –Â Thompson's "cartoony grace" – that totally wins me over. It's hard to master a quill pen! They tend to dribble ink and spatter if you push 'em too hard. They spit up blobs of wet ink or dry up in the middle of a line. Thompson's mastery seems to be achieved by letting the instrument have its way. They line starts like it's gonna behave –Â Mmp –Â then fattens up where you might not expect it to – MMNG –Â and then backs up on itself in a breathless skritch of scribbled hatch marks –Â HEENK!

Above: the strip to which Spiegleman is referring.
More than that, it's Thompson's ability to make inkiness into art. As Spiegelman puts it, "How can a style be distinctively sophisticated while also humbly down-to-earth?"
Comics fans will also love the comics jokes! Petey's favorite strip is Little Neuro, a parody of Winsor McCay's classic Little Nemo. His Comics Camp teacher is Dan Spinnerack, because – as Thompson points out in his notes – "Comic books are commonly displayed on a spinner rack."  And I swear that Alice's friend Dill is the great grand-nephew of Happy Hooligan, the protagonist of Frederick Opper's early-twentieth-century comic strip.

My enthusiasm for Cul de Sac is such that I feel a bit like Dorothy Parker trying to write a review of Crockett Johnson's Barnaby: "I cannot write a review …. I have tried and tried, but it never comes out a book review. It is always a valentine."  So, not that you need more to read, but if you've any interest in the narrative art of the comic strip, do yourself a favor and check out Thompson's Cul de Sac. And then give copies to your friends.
___________________
Since you asked, I'll tell you: the other is Patrick McDonnell's Mutts. And, yes, you may argue with me in the comments, below.
It ran for five years as a daily, but there are some Sunday strips that go back for a few years –Â to February 2004.
Jeanne Birdsall, email to author, 28 May 2014.
---
More Cul de Sac on this blog:
Cul de Sac = Classic (28 July 2010). One of the very first posts on Nine Kinds of Pie was on Cul de Sac!  Here's an excerpt I should've incorporated into this post: "Cul de Sac is funny, but is character-driven rather than gag-driven.  The humor develops from Petey, the anxiety-ridden comic-book obsessed older brother; Alice, the force of nature that is his younger sister; Ernesto, who may or may not be imaginary (Petey isn't sure); Dil, who has thus far survived his older brothers' many experiments; and many others."
My report for Comic-Con, July 20, 2013. Â Scroll down to "Team Cul de Sac" to read Lincoln Pierce (Big Nate), Mark Tatulli (Lio), Jenni Holm (Babymouse) and others sing Thompson's praises.
More Cul de Sac:
Cul de Sac at Go! Comics.  If you're not convinced by the few strips I've posted here, then go to Go! Comics and read more.