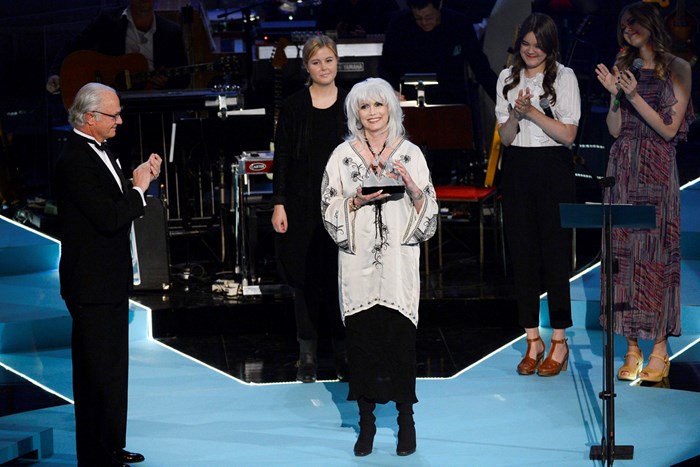 Emmylou Harris has that catch in her voice. When she sings, the lyrics seem poised perfectly, uneasily, between her beautiful, glistening tone and a deep well of intense emotion – often, pain or longing. Her voice says: the world is broken, we are broken, but this music will keep us afloat… for now.
When First Aid Kit sings their song "Emmylou" to Emmylou Harris, the catch in her voice appears on her face.

It's a lovely song. And it's unaccountably moving to listen to the song while Emmylou Harris is also moved by the song. Perhaps the affective experiences amplify one another: Emmylou Harris's voice is moving, the song "Emmylou" is also moving, and so watching the subject of the song be moved by the song is that much more powerful.  I think, also, that her presence in the room makes the lyrics suddenly more poignant. Of the four people named in the chorus (all of whom were friends of hers), only Emmylou Harris is alive. Gram Parsons, Johnny Cash, and June Carter Cash have shuffled off this mortal coil. As she listens, I imagine she is thinking of them. That in turn brings to mind my own absent friends, which engenders empathy.
The song "Emmylou" yearns for a love that may or may not revive. First Aid Kit's performance makes love's absence more palpable.
I first started seriously listening to Emmylou Harris twenty years ago, when Wrecking Ball (1995) came out. Produced by Daniel Lanois, it had a scruffier production, with nice touches of ambient noise – reminiscent of his collaborations with Brian Eno on U2's albums. So, I'll conclude this brief post with my two favorite songs from Wrecking Ball: "Where Will I Be?" (written by Lanois) and "Deeper Well" (written by Lanois, Harris, and David Olney).

Photo credit: "Emmylou Harris Awarded Polar Music Prize," 3NewsNZ, 11 June 2015. (First Aid Kit was performing for Harris as part of this award ceremony.)
Not a photo credit: Instead, thanks to Cecelia Tichi, who – back in 1995 – gave me a cassette with Wrecking Ball on one side and Cowgirl's Prayer on the other. I soon went out and bought copies of both on CD.