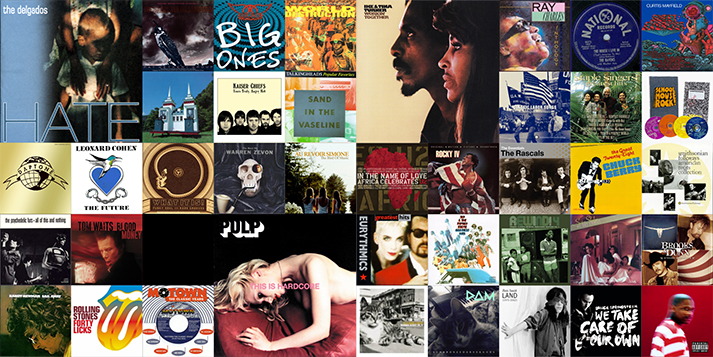 With the 2016 presidential election slightly less than 6 weeks away, it's time to get up and dance. Or run around flailing and hollering. Likely, a bit of both. To aid you in this necessary activity, I have assembled two mixes – one for each of the two major presidential candidates. Â Actually, I've assembled three. For those offended by profanity, I have a "clean" version of the Hillary Clinton mix (omitting YG's "FDT").
Each mix strives to represent key ideas of the candidates' campaigns. I've compiled songs that reflect the key concerns of the fascistic, narcissistic fraud who is running as a white supremacist. And I've assembled songs that reflect the key ideas of the experienced, even-tempered, feminist neoliberal. Â So, I present to you, dear listeners,…
Enjoy!
---
The Angry Mob: TrumpPence Uber Alles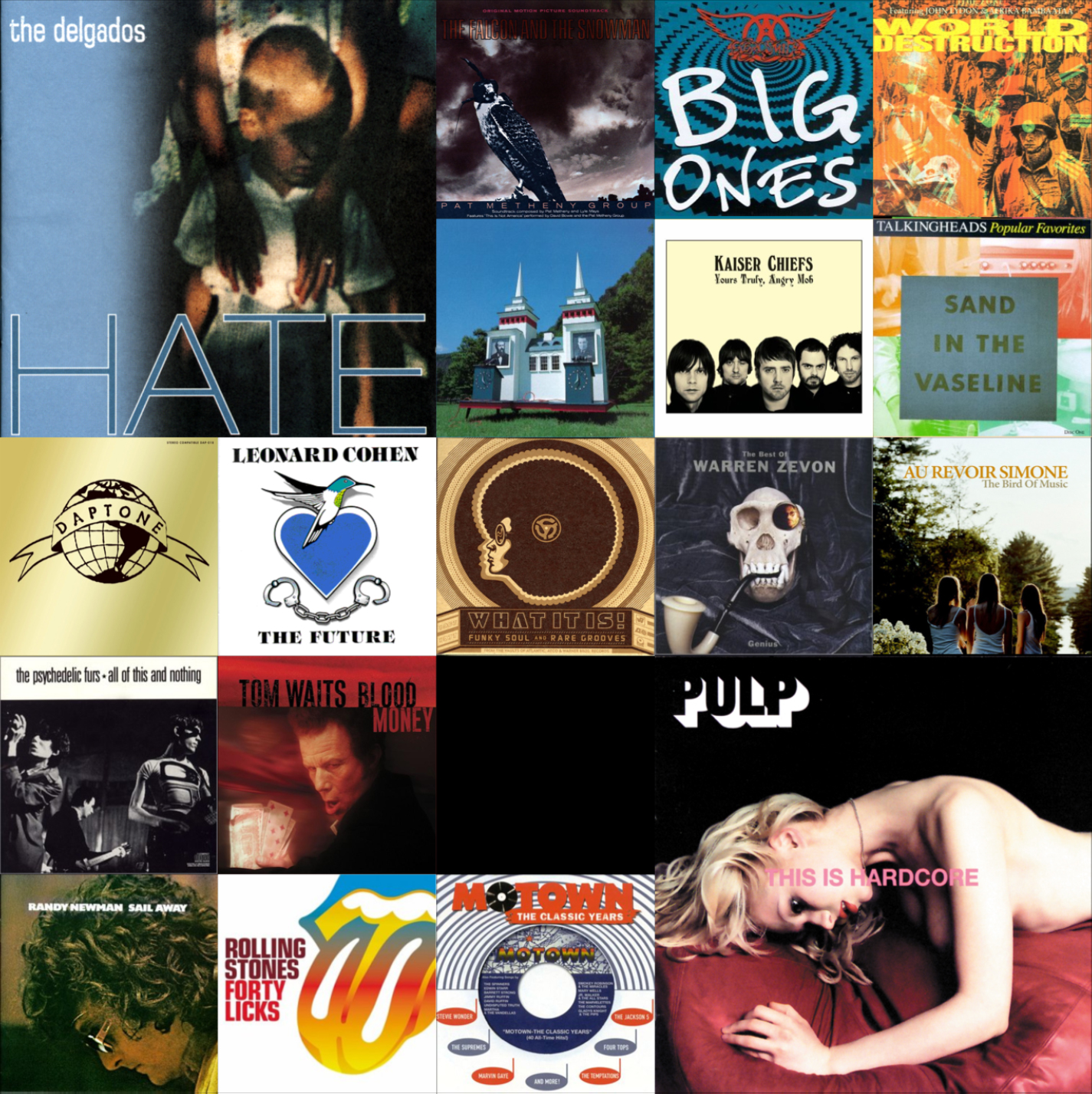 1. I'm always surprised to read that evangelical voters support Trump, since he personifies at least six of the Seven Deadly Sins (lust, gluttony, greed, wrath, envy, hubris, and sloth – the last of which was most visible in his lack of preparation for the first presidential debate). In the Stones' "Sympathy for the Devil" (1968), Mick Jagger's smooth-talking con-artist Satan nicely encapsulates The Donald's approach to life.
2. Zevon's "Mr. Bad Example" (1991)* articulates the precise business philosophy of Donald Trump. He'll swindle you, and then move on to the next scam.
3. The Psychedelic Furs deliver an apt description of the candidate's rhetorical approach: he's full of hot air. "President Gas" (from 1982, and about President Reagan) is even more applicable to the kind of president Trump would be, and to the followers he attracts: "You'll say yeah to anything, / if you believe all this, but / Don't cry, don't do anything. / No lies, back in the government. / No tears, party time is here again. / President gas is up for president."
4. In "Kiss Me, Son of God" (1988), They Might Be Giants sing, "I built a little empire out of some crazy garbage called the blood of the exploited working class. But they've overcome their shyness, now they're calling me 'Your Highness.'" Were TMBG thinking of The Donald when they wrote this?
5. "Who are the ones we kept in charge? / Killers, thieves, and lawyers." Tom Waits' "God's Away on Business" (2002) describes the amoral heart of the Trump campaign.
6. Whenever I look at a Trump rally, the lyrics from the Kaiser Chiefs' "The Angry Mob" (2007) enter my head: "We are the angry mob. / We read the papers every day. / We like who we like, / we hate who we hate. / But we're also easily swayed."
7. In "The Future" (1992), Leonard Cohen evokes the fascist nightmare embodied by the soulless fraud who craves approval and wants to commit war crimes: "It's lonely here –Â there's no one left to torture! / Give me absolute control / Over every living soul. / And lie beside me, baby –Â that's an order!"
8. Apocalyptic dystopian dance music from Talking Heads' live album Stop Making Sense (1984).
9. Aerosmith, describing a world on the brink, also advises against "judg[ing] a wise man by the color of his skin."
10. Make America Hate Again! The Delgados' "All You Need Is Hate" (2002) seems to be the guiding principle of the Trump campaign.
11. Randy Newman intended "Political Science" (1972) as satire; Trump hears it as wise foreign policy. "We give them money, but are they grateful? / No. They're spiteful and they're hateful. / They don't respect us. So, let's surprise them. / We'll drop the big one, and pulverize them."
12, 13, 14, 15, 16. These songs reflect the fact that the world will only become more unstable under a President Trump. Indeed, I'm not sure we'd survive his presidency.
17. Trump's America is not the America I want to live in. And so, the David Bowie-Pat Metheny collaboration "This Is Not America" (1985) joins this mix.
18. I dedicate Pulp's "The Fear" (1998) to a fear-mongering campaign presided over by an unhinged charlatan: "This is the sound of someone losing the plot. / Making out that they're OK when they're not."
——
* Spotify has given you the live version; I chose the studio version. Both are good!
---
Stronger Together: America, the Exceptional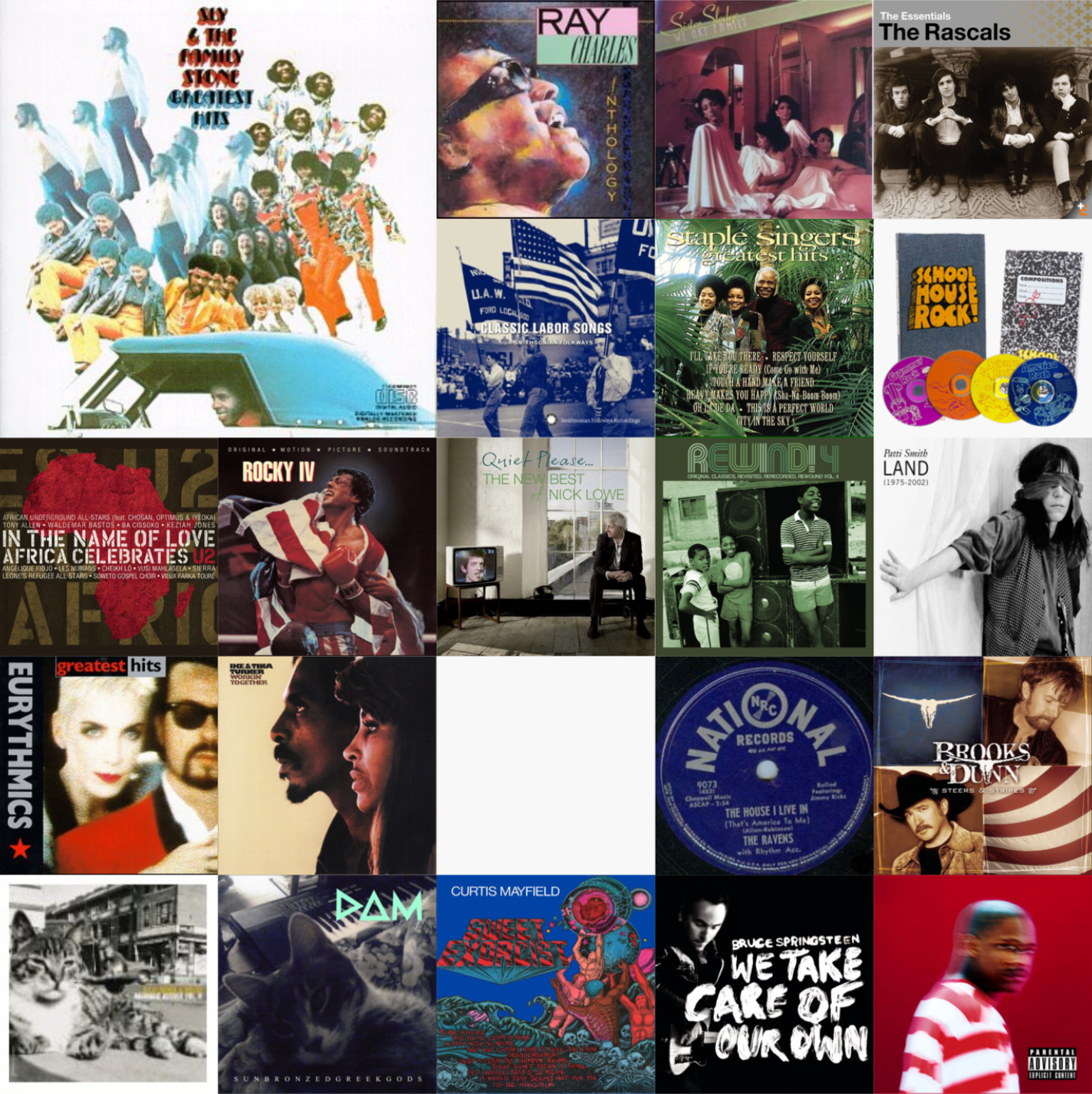 1. The Mavericks recently recorded a version of this postwar Popular Front anthem, a pop hit for Frank Sinatra. Its lyrics (by Abel Meeropol, who also wrote the lyrics for "Strange Fruit") deliver a message as necessary today as it was then: "All races and religions –Â that's America to me" is the antithesis of Trump's campaign, and the center of Clinton's campaign. Â I've included the Ravens' 1949 a cappella version. As a bonus track, here's the Mavericks' version, too.
2. Woody Guthrie's response to Irving Berlin's "God Bless America" is the perfect rejoinder to the classist (yet classless) Trumps: "There was a big high wall there that tried to stop me. / There was a sign was painted, said private property. / But on the back side, it didn't say nothing. / This land was made for you and me." Â This is the excellent version by Sharon Jones & The Dap-Kings (2004), but check out Guthrie's original, too.
3, 4, 5. Clinton's campaign has sounded the notes of American exceptionalism that both parties summon when rallying voters to their side. These claims cannot of course be verified, but they're patriotic.
6, 7. Clinton has an actual plan to invest in American jobs, rebuild infrastructure, and tax the wealthy to pay for it.
8, 9, 10. At the Democratic convention and in her ads, the Clinton campaign has been stressing the feminist nature of her candidacy.
11. Ike and Tina Turner's "Workin' Together" (1971) echoes the "Stronger Together" slogan of the Clinton campaign. Also, Clinton knows how to work with others.
12. Sly & The Family Stone's "Everyday People" (1970) is a funky anthem of mutual respect for difference.
13. The Staple Singers' "Respect Yourself" (1971) is great advice. Also, Clinton's approach to others is to treat them with respect. Trump likes only those who flatter him; all others are disposable.
14. Billy Bragg and Wilco's "All You Fascists" (2000) is another Woody Guthrie song (music by Bragg), included because Trump is a fascist thug who admires fascist thugs.
15. The NSFW song on the mix, and the reason I've assembled an alternate "clean" mix, as well. YG's "FDT, Part 2" is also great, but I'm limiting myself to one song by each artist. Â Here are the videos for both parts –
16. The original recording (1974) of Nick Lowe's song, later made famous by Elvis Costello.
17. The Rascals' "People Gotta Be Free" (1969) because Clinton has a far better grasp of this idea than The Donald does.
18 & 19. People do have the power. Get out and vote!
20. Soweto Gospel Choir's beautiful cover (2007) of U2's tribute to Dr. King.
21. I like the slow pace and touch of melancholy I hear in Ray Charles' voice. The song is patriotic, but there's something in the performance that acknowledges the complexity of loving a country that oppresses you.
---
Stronger Together: America, the Exceptional [clean version]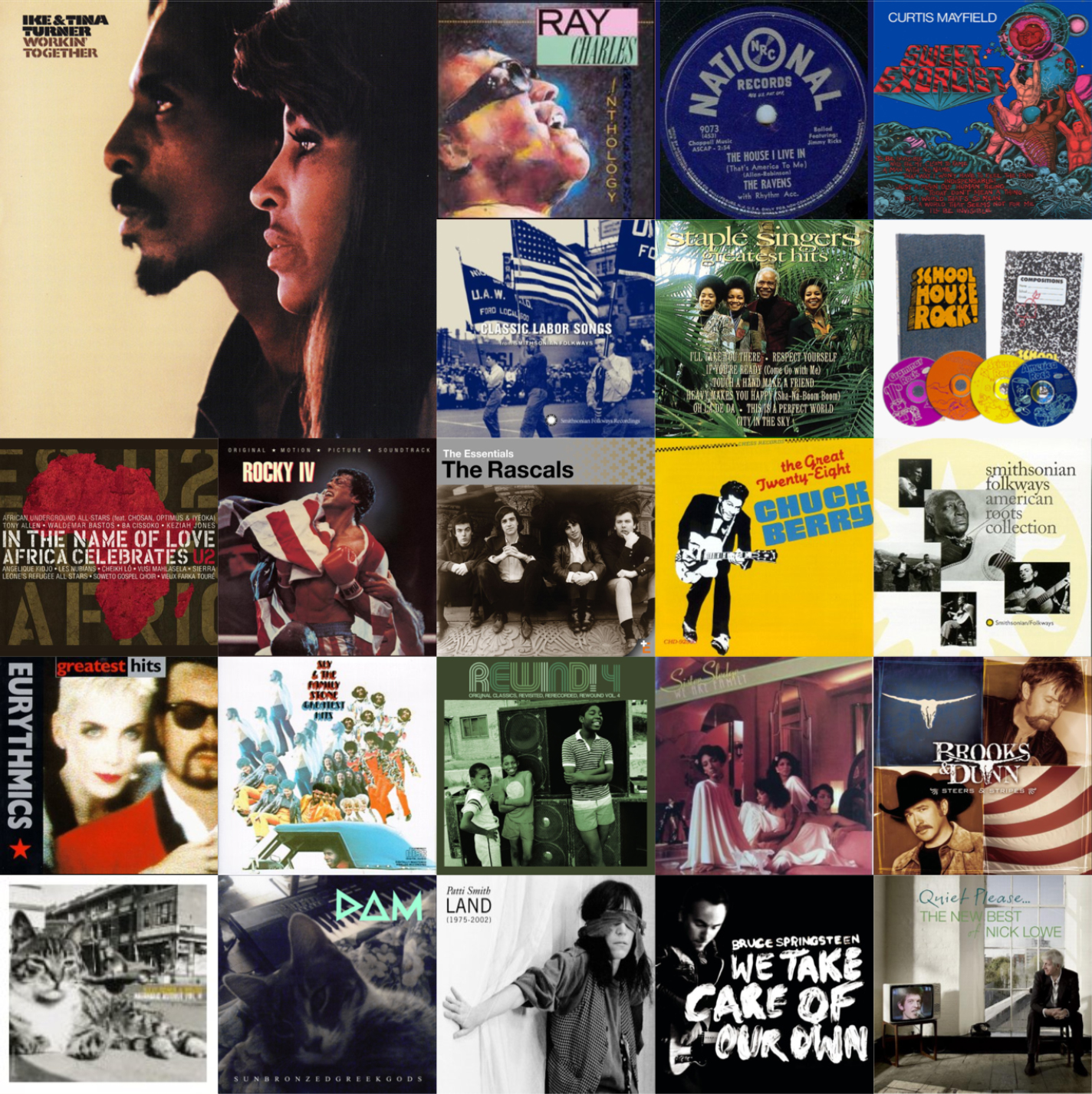 Since some listeners may not want to expose children to profanity or simply may dislike cursing themselves, I've omitted YG's "FDT" – which leaves room for two different songs.
3. Chuck Berry's "Back in the U.S.A." (1959), grouped with the patriotic, American-exceptionalism songs.
20. Josh White's "Freedom Road" (1944). Returning to the Popular Front era, White (who recorded his version of "The House I Live In" before Sinatra recorded his) sings for integration, featuring the lyrics of Langston Hughes.
---
Were you inclined to burn CDs, each of the above mixes fits on a single CD. I also restricted myself to one artist per mix. As a result of these choices, many suitable tracks had to be omitted.  Here are a few.
… for Trump
"Armageddon Days Are Here (Again)" by The The (1989)
"America Is Waiting" by Brian Eno & David Byrne (1981)
"Going Fetal" by Eels (2005)
"There's A War Going On For Your Mind" by Flobots (2007)
"Ignoreland" by R.E.M. (1992)
"Everything Goes to Hell" by Tom Waits (2002)
"Mad World" by Tears for Fears (1983)
"The Day the Devil" by Laurie Anderson (1989)
"Your Mind Is on Vacation" by Mose Allison (1962)
"It's the End of the World as We Know It (And I Feel Fine)" by R.E.M. (1987)
"Run on for a Long Time" by The Blind Boys of Alabama (2001)
"Your Racist Friend" by They Might Be Giants (1990)
… for Clinton
"Wavin' Flag" by K'naan (2010)
"The Star Spangled Banner (Live)" by Jimi Hendrix (1969)
"The Schuyler Sisters" by Renée Elise Goldsberry, Phillipa Soo, Jasmine Cephas-Jones, Leslie Odom, Jr., Original Broadway Cast of Hamilton (2015)
"Freedom" by Anthony Hamilton & Elayna Boynton (2012)
"Turn Me Around" by Mavis Staples (2007)
"Love Train" by The O'Jays (1972)
"Freedom" by The Isley Brothers (1970)
"Coming to America" by Me First and the Gimme Gimmes (2008) or Neil Diamond's original (1980)
"Respect" by Aretha Franklin (1967)
"U.N.I.T.Y." by Queen Latifah (1993)
"We'll Never Turn Back" by Mavis Staples (2007)
---