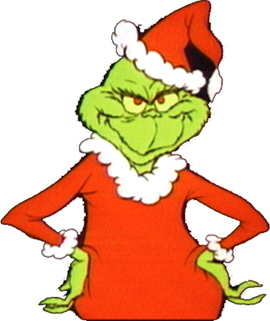 The holidays! When people sing – and expect you to sing. Except, perhaps, you don't want to sing. Maybe you are shy. Or self-conscious about your voice. Or you imagine that everyone else sings better than you do.
Well, worry no more! I am here to cure your self-consciousness, and to prove that many people are much, much worse singers. Me, for example. So, here I am performing "You're a Mean One, Mr. Grinch" – the lyrics of Dr. Seuss, and music of Albert Hague – from the 1966 TV special How the Grinch Stole Christmas!
To cleanse your palate after that, here's the original, as performed by Thurl Ravenscroft. No, Boris Karloff does not sing the songs in How the Grinch Stole Christmas! He does the narration only. All songs are performed by the late great Thurl Ravenscroft (1914-2005) – whom you may also know as the voice of Tony the Tiger ("They're grrrrreat!"). Learn more about him at All Things Thurl.
May your bingle balls brighten, your whofoo fluff lighten, your pantookas heighten, and your bizzle-binks delight 'em. Happy Holidays! Merry Christmas! Happy Hanukkah! Merry Solstice! Festive Festivus! Indeed, happy Whatever-You-Would-Like-to-Celebrate!
(It's been a tough year. Do not deny yourself joy. Find light where you can. Take care of yourself. Tougher times lie ahead. During the holidays, do your best to recharge your spirit. Peace.)