During the past week, my six-year-old niece Emily has invited me to – and I have joined – many dance parties. "Dance party!" she declares, and then goes to the CD player to put on one of the (dance) mixes I've made for her. She then skips directly to her favorite songs, and dances only to those songs. Were that possible when I was a child, I might have done the same. (A child of the analog world, I lacked instant access to favorites – unless the first song on the mix tape was a favorite.)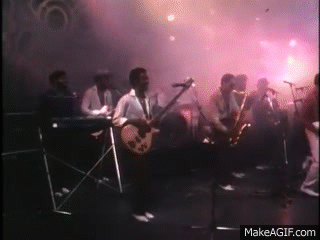 While dancing to Kool and the Gang's "Celebration," I often think of and emulate (poorly) the dance moves of the band on stage. So, I thought: I'll show Emily the video. This intrigued her – perhaps in the way that seeing my favorite artists on TV intrigued me (and hooked me to MTV) when I was younger. And so we began to look at the videos for other favorites. As I prepare to leave (my flight to Denmark departs tomorrow morning), I thought I would leave her – and whomever happens to read this – with videos of her favorite songs.
In the words of one of her favorites, "Nothing I can see but you when you dance, dance, dance."  Dance, Emily. Dance, dance, dance! With love from your Tonton Phil. [Emily is Swiss; "Tonton" is a playful French term for "Uncle."]
Justin Timberlake, "Can't Stop the Feeling" (2016)
Emily prefers the one from The Trolls (above). I prefer the participatory dance video (below).
Kool and the Gang, "Celebration" (1980)
As I said (above), this video inspired me to show her these videos in the first place.
Joan Jett and the Blackhearts, "I Love Rock and Roll" (1981)
I actually put this – and the next song – not on a dance mix, but on a "drums" mix for her when she was a much smaller child (and very fond of drumming). I remember, back in the day, thinking this was a badass video. Joan Jett is still a badass. And Emily really rocks out to this one – air guitar and all.
Stevie Wonder, "Superstition" (live on Sesame Street, 1973)
This is not the same recording Emily and I danced to, but, hey, it is live on Sesame Street. And it's fantastic.
Pharrell Williams, "Happy" (2013)
The version above features the Minions (favorites of Emily) at one point. The version below (from the "5am" episode of his 24-hour video of "Happy") features only Minions.
The Go-Go's, "We Got the Beat" (1981)
The Pipettes, "Pull Shapes" (2006)