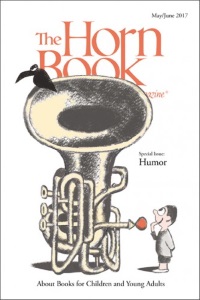 In its new issue, The Horn Book joins the resistance. If the previous statement is a slight overstatement (and it is, because the magazine's values have opposed those of Trumpism since before it acquired that name), it is only a slight overstatement. The May-June 2017 issue includes at least four pieces critical of the current regime: Raul the Third's "The Adventures of Baby D" (which imagines the tiny-fingered tyrant as a tiny-fingered tyke), Eugene Yelchin's "Mocking Moscow" (Russian jokes, including some on Trumpy), an amusing anecdote by Molly Idle, and my contribution (named in the title of this blog post).
My article isn't on-line, but UPDATE, MAY 2: My article went on-line today, and here's the "thesis" paragraph:
Having a race-baiting, Muslim-banning, pussy-grabbing, narcissistic sociopath as president of the United States is not funny. But we can use humor as a weapon against him. As Mel Brooks famously said of a different real-life fascist clown who bullied his way into power, comedy can cut men like this down to size, robbing them of their "power and myths."
In the piece, I discuss books by Michael Ian Black and Marc Rosenthal, Lewis Carroll, Norton Juster, Florence Parry Heide, Julius Lester, Rowboat Watkins, Toby Speed, Jon Scieszka and Lane Smith. So, yes, the essay is in no way comprehensive. It is instead suggestive, offering ways of thinking about humor and resistance.
Back in the fall, Roger Sutton asked if I'd contribute to The Horn Book's upcoming special issue on humor. I thought: sure, that might be fun. After all, by the time my essay was due, the election would be over, Hillary Clinton would be president, and we'd all be in a better mood. So, I agreed to write the piece.
Well, to paraphrase Mose Allison, it didn't turn out that way. No matter what those pollsters said, it just didn't turn out that way.
So, I wrote this instead.
If you pick up this issue of The Horn Book, you also get…
three Niblings in one issue! Betsy Bird and Jules Danielson have a piece on their late friend and collaborator, Peter D. Sieruta.
Lisa Yee on the expectation of being funny, which you can also read on the Horn Book's website.
Lisa Brown, rewriting the classics to make them funny.
many articles by people not named Lisa.
jokes, sprinkled throughout the issue.
cover art by Jon Agee.
You can see a full table of contents here.