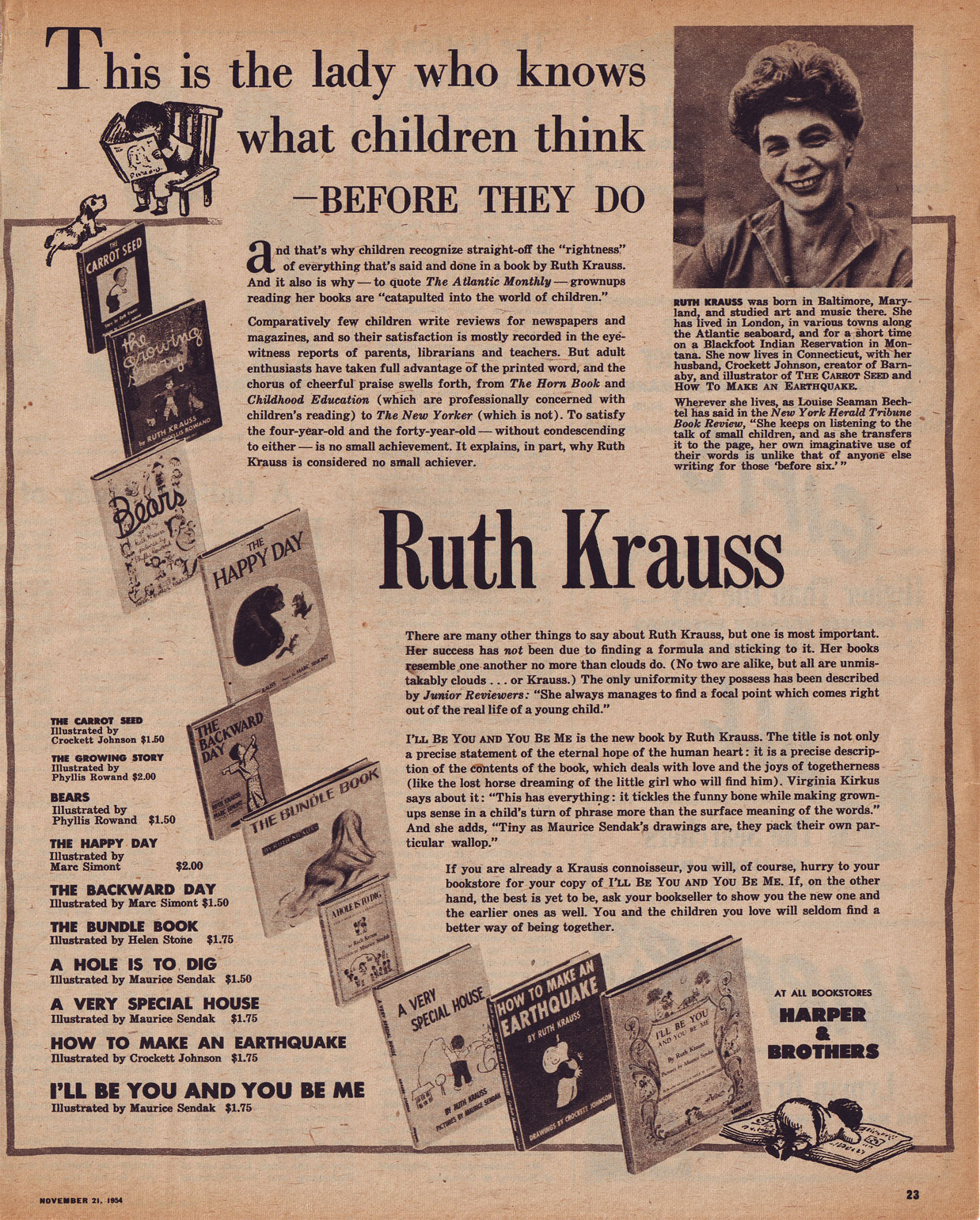 Is it just me, or does "This is the lady who knows what children think — BEFORE THEY DO" sound like the tag line for a horror movie? Â You will be relieved to know that Ruth Krauss could not read children's minds. But she was an excellent and sympathetic listener. In her earliest work, she was able to imagine herself into the mind of a child. By the time of The Bundle Book (1951), she was getting her ideas from children themselves. They played, and she wrote down what they said. Or they told her stories, and answered her questions. The best-selling A Hole Is to Dig (1952) is the most famous example of this technique, but she relied on it for other works you see pictured here – A Very Special House (1953), How to Make an Earthquake (1954), and I'll Be You and You Be Me (1954).
Old advertisements are fun to read. I especially like how this one praises Krauss as unique: "Her success has not been due to finding a formula and sticking to it. Her books resemble one another no more than clouds do." At this stage of her career, that claim, though overstated, nonetheless carries some truth. Within a few years, she would begin to recycle ideas – Monkey Day (1957) borrows from I'll Be You and You Be Me, Open House for Butterflies (1960) offers a variant on the premise of A Hole Is to Dig.
But being constantly original is very hard work. In any case, by the late 1950s, she had decided to become a poet. She still wrote for children, but reserved more of her creative energy for verse. However, when this ad appeared (21 November 1954) she was at her creative peak as a children's author – having just published the third of her eight collaborations with Maurice Sendak. So, as the ad says, "Ruth Krauss is … no small achiever." Oh, and, of course: "hurry to your bookstore for a copy." Â Go on. Â I know you want to hurry there … because I know what you think BEFORE YOU DO.