I'm posting another Crockett Johnson artifact to commemorate the completion of the latest (and, I hope, final) round of revisions to The Purple Crayon and a Hole to Dig: The Lives of Crockett Johnson and Ruth Krauss (forthcoming from UP Mississippi, 2012). I just finished this evening.
One of the greatest challenges in writing the Crockett Johnson half of the biography is that he lacked any autobiographical impulse. Krauss wrote roughly 150 pages about herself; Johnson wrote none.  She was effusive; he was reticent.  This letter, which Marcia Ascher kindly shared with me, is a case in point: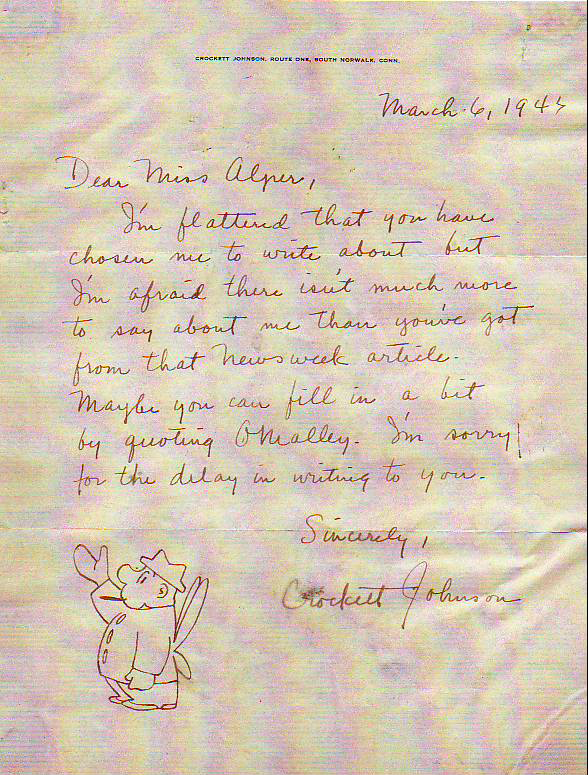 Asked for details about his life, Johnson suggests that she look at a recent Newsweek article or quote from a fictional character –Â Barnaby's loquacious con artist of a fairy godfather, Mr. O'Malley. Granted, he is responding to a ten-year-old fan's query for her school project; he may not have had time to compose a full autobiography. Still, this sort of self-effacing response is typical of Johnson. You might say that his succinct, minimalist aesthetic extends even to casual self-expression.
If you did, you would be partially correct. When he's writing satirically, he can approach a verbosity of O'Malley-esque proportions.  I'll post an example of that some other time.