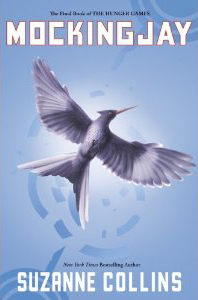 War is hell.  If General Sherman (and, I expect, many others) hadn't said it first, I suspect Suzanne Collins might have chosen those three words as a subtitle for her Hunger Games trilogy.  As its predecessors did, Mockingjay dramatizes the physical and emotional consequences of war.  It's especially adept at displaying the scars invisible to those of us who either have not been in a war or do not know people who have. The victors of the Hunger Games cannot sleep – as Finnick says, "I drag myself out of nightmares each morning and find there's no relief in waking" (156).  They are haunted by what they've done, and by what they haven't done.  Even if the physical wounds heal, the emotional ones linger.  Early in the novel, after Gale admits that he'd use a bow and arrow on people if it would keep Katniss safe, she thinks, "I don't know what to tell him about the aftermath of killing a person. About how they never leave you" (68). Like the first two books in series, the third is about trauma.
It is also about torture, which – no matter what your government tells you – is not merely an "enhanced interrogation technique." Â It's torture. Â Characters in Mockingjay have been tortured by the agents of Panem, the totalitarian regime against which the Rebels (including our heroine Katniss) fight. Â Appropriately, Collins does not invite us into the scenes of torture. Â She shows us what happens later, how torture's survivors cope. Â The tortures of Panem are a sophisticated cruelty, a more subtle and more damaging type of the aversion therapy scenes in Stanley Kubrick's A Clockwork Orange (1971). Â One character has been soaked in water, and then given electric shocks; now, rain, the shower, water of any kind triggers a flashback to that experience. Â Another has been drugged with venom, conditioned not just to doubt but to kill a loved one. Â Damage inflicted on the mind, the novel suggests, is the hardest pain to bear. Â As Katniss says late in the novel, "I can't believe how normal they've made me look on the outside when inwardly I'm such a wasteland" (366).
Though Collins understands why people would feel the need to fight a war, Mockingjay offers a more eloquent defense of pacifism than of, say, a "just war."  There's a line in the book that made me think of the lists of dead troops from America's current wars, names of people who are almost always younger than I am – people in their 20s, and sometimes as young as 17 or 18.  To say nothing of the hundreds of thousands of children killed in those wars.  This is the line.  Considering the "creature" that is a human being, Katniss observes, "something is significantly wrong with a creature that sacrifices its children's lives to settle its differences" (377).