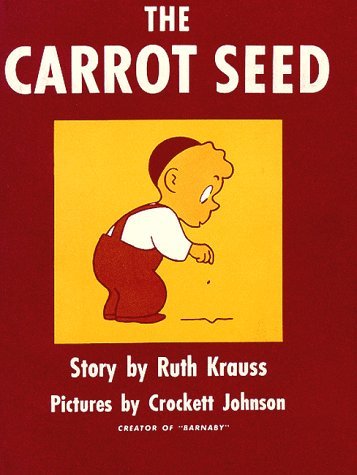 Though they had lived together since 1940 and married in 1943, this 1944 photograph is the first one to include both Crockett Johnson and Ruth Krauss. Â Taken by Frank Gerratana, it appeared in the Sunday Herald (Bridgeport, Conn.) of October 1, 1944. Â In my biography of Johnson and Krauss, I'm using a print of the actual photo: what you see below is the newspaper clipping. The photo shows them a few months after they signed the contract for Krauss's second book –Â The Carrot Seed (1945), illustrated by Johnson, and her first big success. Â Her first book – A Good Man and His Good Wife (1944), illustrated by Johnson's friend Ad Reinhardt – had just been published that very fall. Â (You'll see a reference to it near the end of the final column of text….)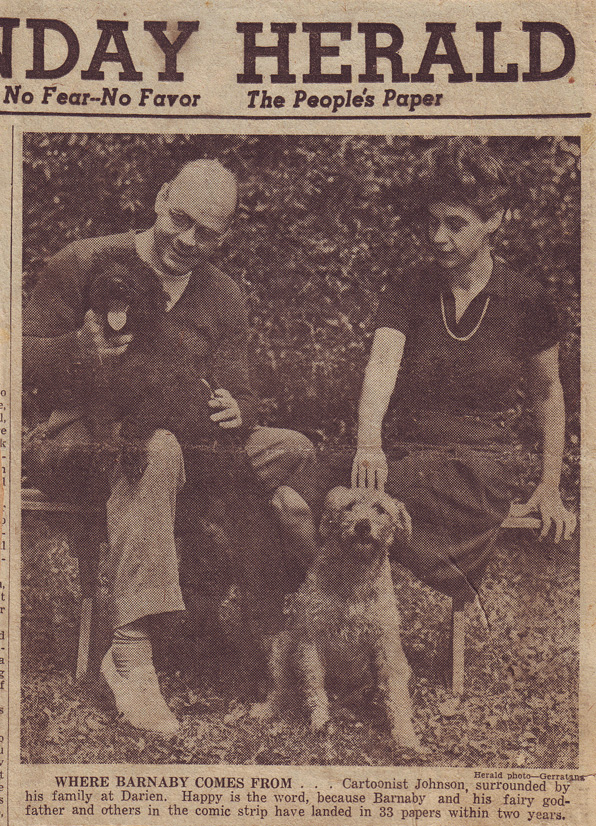 Though it contains a typographical error in its first sentence (that should be '42, not '32), the article itself (reproduced below) has been extremely valuable to me. Â There are very few interviews with Crockett Johnson or Ruth Krauss, and this is the first one of the two of them together. Â It offers one version of how they met: "on Fire Island," says Ruth. Â It provides one source for his post-secondary education: "about six months of art at Cooper Union after his graduation from Newtown High School in Queens." Â (Since Johnson never graduated from Cooper Union, the school has no record of him.) Â And, of course, Johnson reveals his support of Roosevelt, and winks at his satirical portrayal of the President's rival, Republican nominee Thomas E. Dewey.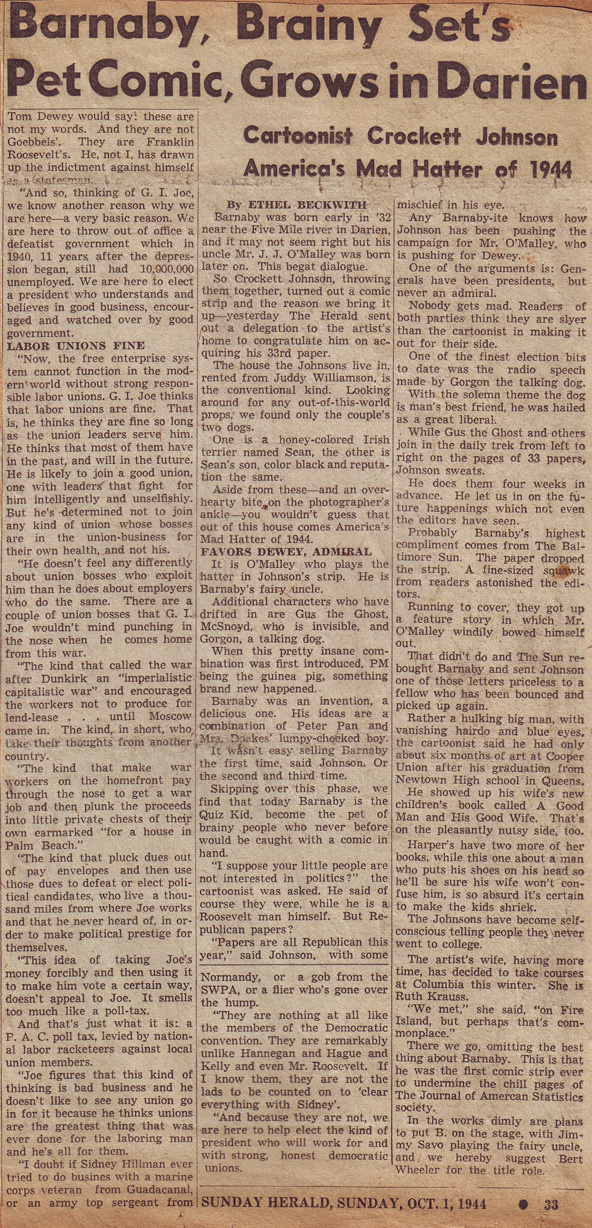 I'm able to share with you the entire original newsclipping courtesy of Betty Hahn, the spouse of Ruth's cousin, Dr. Richard Hahn. Â Betty has been extraordinarily generous in sharing not only her recollections, but also original photographs of Ruth Krauss as a baby and teenager – and, yes, these photos will appear in the biography. Â Literally hundreds of people have been so very generous to me! Â (The biography's acknowledgments run for 8 pages in manuscript.) Â So, thank you Betty… and thanks everyone who has helped me during the ten-year odyssey towards The Purple Crayon and a Hole to Dig: The Lives of Crockett Johnson and Ruth Krauss (forthcoming from the University Press of Mississippi in 2012).
Update, August 27, 5:30 p.m.: The above item arrived yesterday. Today, a note arrived from Betty, conveying the provenance of the items. Â The above clipping was pasted into an album (scrapbook) that Ruth's mother kept. Â Thought people might like to know.