104 years ago, David Johnson Leisk was born in New York City. Â For his pseudonym, he would later add his childhood nickname "Crockett" to his middle name… becoming "Crockett Johnson." Â Below is an ad for the second collection of the comic strip that made him famous: Barnaby (1942-1952).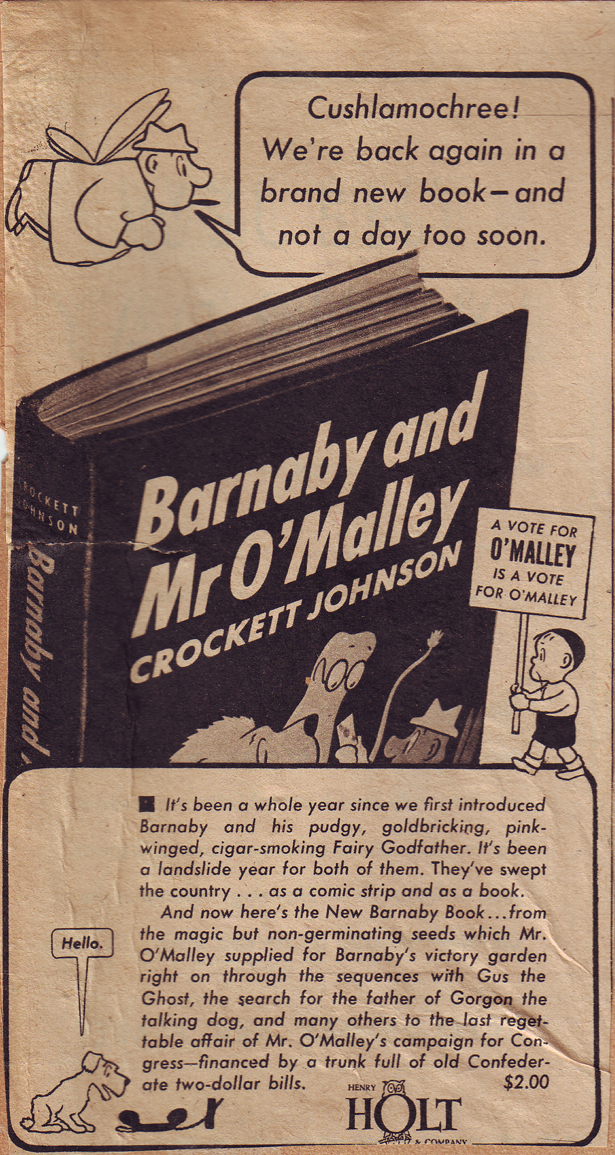 After this volume (published 1944), Johnson planned to publish a third collection, but never got around to it. Â Pocket Books republished the first collection, Barnaby (1943), in 1946. Â Dover republished each volume in 1967 and 1975, and Del Rey published six paperback volumes of the original comic strips in 1985 and 1986. Â The full run of the strip has never been reprinted in its entirety. Â Will it ever be? Â Readers of this blog may rest assured that, should such plans coalesce, I'll post news of that here.
For now, a shameless plug: in the spring of 2012, the University Press of Mississippi will publish my biography of Crockett Johnson (1906-1975) and Ruth Krauss (1901-1993). Â Both were accomplished artists in their own right (he of comics and children's books, she of children's books and poetry), and my book tells the story of their lives, works, and times.