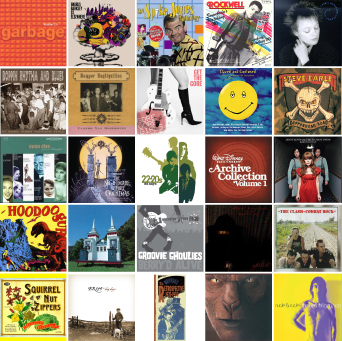 Welcome to the third Halloween Mix! Â Some more by artists from previous Halloween mixes (the Clash, Robyn Hitchcock, Squirrel Nut Zippers, They Might Be Giants), plus plenty that appear here for the first time: Laurie Anderson, Cozy Cole, Garbage, Hoodoo Gurus, Rockwell, Spike Jones, Swan Dive, and many more.
1.     This is Halloween Panic! at the Disco (2006)      5:12
Panic! at the Disco cover "This Is Halloween," on the "Special Edition" CD of the soundtrack to Tim Burton's The Nightmare Before Christmas. Â A confession: I'm very obsessive-compulsive about mix-making and had original started this mix with AC/DC's "Hells Bells" (from Back in Black), but decided that this track might make a better opening. Â Since this is an on-line mix, of course, you should feel free to cue up your own copy of AC/DC if you'd prefer the mix that way. Â After all, I'll never know!
2.     Straight to Hell The Clash (1982)      5:33
Yes, this is the song sampled by M.I.A. for "Paper Planes. " Â It's from the last proper Clash album, Combat Rock (1982), which included the big hit "Rock the Casbah" and the smaller hit "Should I Stay or Should I Go?" Â I say "the last proper Clash album" because, although there was Cut the Crap (1985), Mick Jones had departed the band at that point and Joe Strummer himself (who is on the album) largely disowned the record.
3.     The Devil's Right Hand Steve Earle (1988)      3:03
From Earle's third album, Coppherhead Road.
4.     The Devil and Me BR5-49 feat. The Jordanaires (2006)      2:40
From BR5-49's most recent album, Dog Days.
5.     Ol' Man Mose Cozy Cole (1962)      2:42
Jazz drummer Cozy Cole (1909-1981) takes a turn on vocals.
6.     The Headless Horseman Thurl Ravenscroft (1965)      2:14
The voice of Tony the Tiger (that's him saying "They're grrrreat!" in the Frosted Flakes commercials), Thurl Ravenscroft (1914-2005) gave his best remembered performance as the singing voice of the Grinch, in the 1966 animated adaptation of Dr. Seuss's How the Grinch Stole Christmas! Â However, the credits list only Boris Karloff (the Grinch's speaking voice) and not Mr. Ravenscroft. Â In a DVD extra to a recent reissue of the TV special, Ravenscroft says that Seuss apoogized for the omission – and that Ravenscroft has no hard feelings about the matter. Â To learn more about Ravenscroft, I highly recommend Brian E. Jacob's website All Things Thurl.
7.     Eye of the Zombie John Fogerty (1986)      4:36
After a decade-long hiatus, John Fogerty released Centerfield in 1985, following that up swiftly with Eye of the Zombie in 1986. Â Though the latter album did not sell as well as its predecessor, Centerfield was a huge hit – "Old Man Down the Road," "Rock 'n' Roll Girls" and "Centerfield" all charted. Â And Eye of the Zombie has its pleasures, such as the title track – the video to which is below.

8.     Six More Miles to the Graveyard Camper Van Beethoven (1987)      2:58
Camper Van Beethoven cover Hank Williams. Â This track first appeared on the band's album of odds and ends, Camper Vantiquities (1993), but was recorded during the sessions for Vampire Can Mating Oven (1987).
9.     Dig It Up Hoodoo Gurus (1983)      3:36
From the band's debut, Stoneage Romeos. Â I had more to say about the Hoodoo Gurus on the first Halloween mix (track 17)
10.  My Wife & My Dead Wife Robyn Hitchcock & The Egyptians (1985)      4:19
From Hitchcock's Fegmania!, his fourth album. Â Other standout tracks on this record include "The Man with the Lightbulb Head," "Egyptian Cream," and "Heaven."
11.  Where Evil Grows Gore Gore Girls (2007)      2:49
From Get the Gore, the Gore Gore Girls' third album.
12.  Where Your Eyes Don't Go They Might Be Giants (1988)      3:06
"Where your eyes don't go a filthy scarecrow waves its broomstick arms and does a parody of each unconscious thing you do." Â From TMBG's second album, Lincoln. Â I first saw TMBG in Rochester New York, during the tour for this record. Â At that time, the band was John Flansburgh, John Linnell, and a drum machine. Â At one point, when the electronics failed, I remember Flansburgh trying to fix it, while Linnell entertained us with a solo performance of "Why Does the Sun Shine?"
13.  Somebody's Watching Me Rockwell (1984)      3:55
With a guest vocal by Michael Jackson, Rockwell's song hit #2 on the pop charts in 1984. Â Below, the song's video.

14.  I Think I'm Paranoid Garbage (1998)      3:38
The second single from Garbage's second album, Garbage 2.0.

15. Â Paranoid Black Sabbath (1970) Â  Â  Â 2:48
The first track from Black Sabbath's second record. Â Ozzy Osbourne on vocals, Tony Iommi on guitar, Geezer Butler on bass guitar, and Bill Ward on drums. Â Below, the band's music video for this song.

16.  Trick or Treat Groovie Ghoulies (2005)      1:33
From Berry'd Alive, the band's EP of Chuck Berry covers.
17.  The Boogie Monster Gnarls Barkley (2006)      2:51
From St. Elsewhere, the debut album of Gnarls Barkley (Danger Mouse and Cee-Lo), featuring the hit single "Crazy." Â I'm very much looking forward to Cee-Lo's new solo record, The Lady Killer, due out November 9th.
18.  Funtime Iggy Pop (1977)      2:57
From Pop's The Idiot, which also featured "China Girl" – later a hit for David Bowie, who produced and co-wrote all of the songs on The Idiot.
19.  I'm Your Witchdoctor 22-20s (2005)      2:05
From the band's single 22 Days.
20.  That Old Black Magic Spike Jones & His City Slickers (1946)      2:31
Long before there was "Weird Al" Yankovic, there was Spike Jones, whose energetic, merrily anarchic covers of popular songs were hits in the 1940s.
21.  Ghost of Stephen Foster Squirrel Nut Zippers (1998)      3:32
The Zippers' follow-up to Hot ventured a little further afield musically than its predecessor, and did not do as well commercially. Â But Perennial Favorites included a lot of great songs, including this tribute to songwriter Stephen Foster.
22.  Benny's Grave Swan Dive (1997)      3:19
From You're Beautiful, the first album by Nashville-based duo of Bill DeMain and Molly Felder, a.k.a. Swan Dive. Â I highly recommend the record and, indeed, Swan Dive in general. Â I've not been keeping up with their career as closely as I should (I don't have the latest couple of CDs), but I enjoy all the Swan Dive CDs I have.
23.  The Day The Devil Laurie Anderson (1989)      4:02
From Strange Angels (1989), Anderson's most accessible record and one of her best. Â In my humble opinion, the two greatest Laurie Anderson records are Strange Angels and Big Science (1982).
24.  Run Devil Run Jenny Lewis & The Watson Twins  (2006)      1:07
Jenny Lewis recorded Rabbit Fur Coat with the Watson Twins. Â You'll also know her as the lead singer of Rilo Kiley, and for her other work – her solo record, and Jenny & Johnny, her new album with Jonathan Rice.
25.  Run on for a Long Time Bill Landford & The Landfordaires (1943)      2:37
This is the recording that Moby samples on "Run On" (from his 1999 album Play).  Many other artists have recorded the song, including the Blind Boys of Alabama (on Spirit of the Century), and Johnny Cash (as "God's Gonna Cut You Down" on American V: A Hundred Highways).
That'll be all for this week. Â Next week, it's Halloween Mix IV, followed closely by Halloween Mixes V, VI, and VII. Â Enjoy!