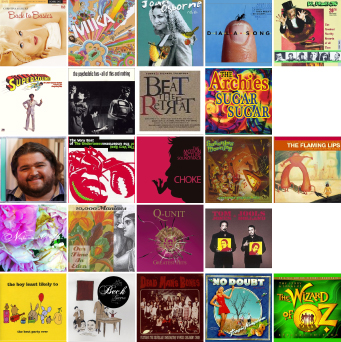 And… here's the fifth of seven Halloween mixes. Â They Might Be Giants, Tom Jones, Undertones, Flaming Lips, the Archies, and more! Â It's a very busy week, but I'm going to do my utmost to get these all up prior to the 31st.
1. Dr. Evil They Might Be Giants (1999) Â  Â  Â 1:50
From Austin Powers: The Spy Who Shagged Me, it's They Might Be Giants performing the film's theme song. Â Nice echo of John Barry's James Bond music, with Robin "Goldie" Goldwasser's vocal evoking the great Shirley Bassey.
2. Scarecrow Beck (2005) Â  Â  Â 4:16
From Beck's album, Guero.
3. King Kong Jimmy Castor Bunch (1975) Â  Â  Â 3:30
The Jimmy Castor Bunch's biggest hit was the #6 pop single "Troglodyte (Cave Man)" in 1972. Â Here's a lesser hit from 1975.
4. Spider Man Ramones (1995) Â  Â  Â 2:07
From the compilation album Saturday Morning Cartoons' Greatest Hits, here are the Ramones! Â 1-2-3-4—!
5. Spiderwebs No Doubt (1995) Â  Â  Â 4:29
Yes, I know that this (and some of the other songs here) are only loosely Halloween-y, but I'm choosing to interpret "walking into spider webs" as apt for October 31st. Â As you probably already know, this is from No Doubt's smash hit record Tragic Kingdom.

6. Ghost in You The Psychedelic Furs (1984) Â  Â  Â 4:17
From the Furs'Â Mirror Moves, the album that also brought you the songs "Heaven," "Heartbeat," and "Here Come Cowboys."

7. I Want to Be Buried in Your Backyard Nightmare of You (2005) Â  Â  Â 4:07
From the band's debut, Nightmare of You.
8. St. James Infirmary Blues Tom Jones and Jools Holland (2004) Â  Â  Â 4:06
This song has been recorded many, many times – with many lyrical variants. Â The first may be Fess Williams' "Gamblers' Blues" (1927) and the first under a version of the famous title is Louis Armstrong and His Hot Fives' "St. James Infirmary" (1928). Rob Walker's "Name That Tune" (14 June 2005) provides a fascinating history of the song. Â Sarah Vowell's "The Magical Mystery Tour" (6 Oct. 1999) offers her own reflections on the song, and Pre-War Blues' "So Young, So Cold, So Fair: The Saint James Infirmary Blues" (10 July 2008) gathers together over 100 versions of the song. Â Check it out!
9. When the Spell Is Broken Bonnie Raitt with The Five Blind Boys of Alabama (1994) Â  Â  Â 5:18
From the stellar album of Richard Thompson covers, Beat the Retreat.
10.  Candy Everybody Wants 10,000 Maniacs (1992)      3:08
From the band's Our Time in Eden.
11.  Mars Bars The Undertones (1979)      2:08
From the Undertones' classic self-titled debut, the record that includes "Teenage Kicks." Â This track is also on the fine compilation, The Very Best of the Undertones. Â Recommended for fans of Buzzocks, early Clash, and classic punk.
12.  Sugar, Sugar The Archies (1969)      2:53
Studio musicians, with Ron Dante on vocals, performing as the Archies (of the animated cartoon series based on Bob Montana's comic books). Â This was their big hit single. Â Here's the introduction to The Archies (TV show).

13.  Candyman Christina Aguilera (2006)      3:14
From Aguilera's Back to Basics, which also includes the hit "Ain't No Other Man."

14.  Candy Bottom Girls Q-Unit [50 Cent vs. Queen] (2005)      3:29
From Q-Unit's Greatest Hits, a mash-up album full of 50 Cent and Queen.
15.  Lollipop Mika (2007)      3:06
From Mika's debut, Life in Cartoon Motion, which also brought you "Grace Kelly," "Love Today," and "Big Girl (You Are Beautiful)." Â  Very catchy pop!

16.  Ding-Dong! The Witch Is Dead The Munchkins (1939)      2:49
From the 1939 MGM musical adaptation of L. Frank Baum's The Wonderful Wizard of Oz (1900).
17.  Wicked Blitzen Trapper (2008)      1:55
From the soundtrack to the movie Choke.
18.  Spider Web Joan Osborne (1995)      5:33
This appears on Osborne's Relish, which includes her hit single "One of Us."
19.  I See Spiders When I Close My Eyes The Boy Least Likely To (2005)      3:58
From the Boy Least Likely To's charming debut album, The Best Party Ever.
20.  All My Friends Are Insects Weezer (2010)      1:53
A bonus track from Weezer's latest, Hurley.
21.  The Purple People Eater Sheb Wooley (1958)      2:16
Character actor & musician Sheb Wooley's big pop hit – #1 in 1958! Â Wooley also starred on the TV series Rawhide (1959-1966) with Clint Eastwood. Â He had some hit songs on the country charts, too.
22.  Yoshimi Battles the Pink Robots pt. 1 The Flaming Lips (2002)      4:46
From the band's album of the same name (well, minus the "pt. 1").
23.  My Body's a Zombie for You Dead Man's Bones (2009)      4:31
This appears on Dead Man's Bones self-titled debut album.