When I was about 9 years old, watching television one weekend afternoon, I saw a black-and-white film of a bespectacled man climbing the side of a building.  He ascends a floor, narrowly misses falling, is about to enter the building through the window – then, another man emerges, with a policeman in pursuit, and tells the first man to keep climbing for just one more floor.  He does, and again nearly falls (but in a different way than previously).  The pattern repeats, he ascends higher, and the peril increases.  The film oscillates between anxiety and comedy.  I found it riveting.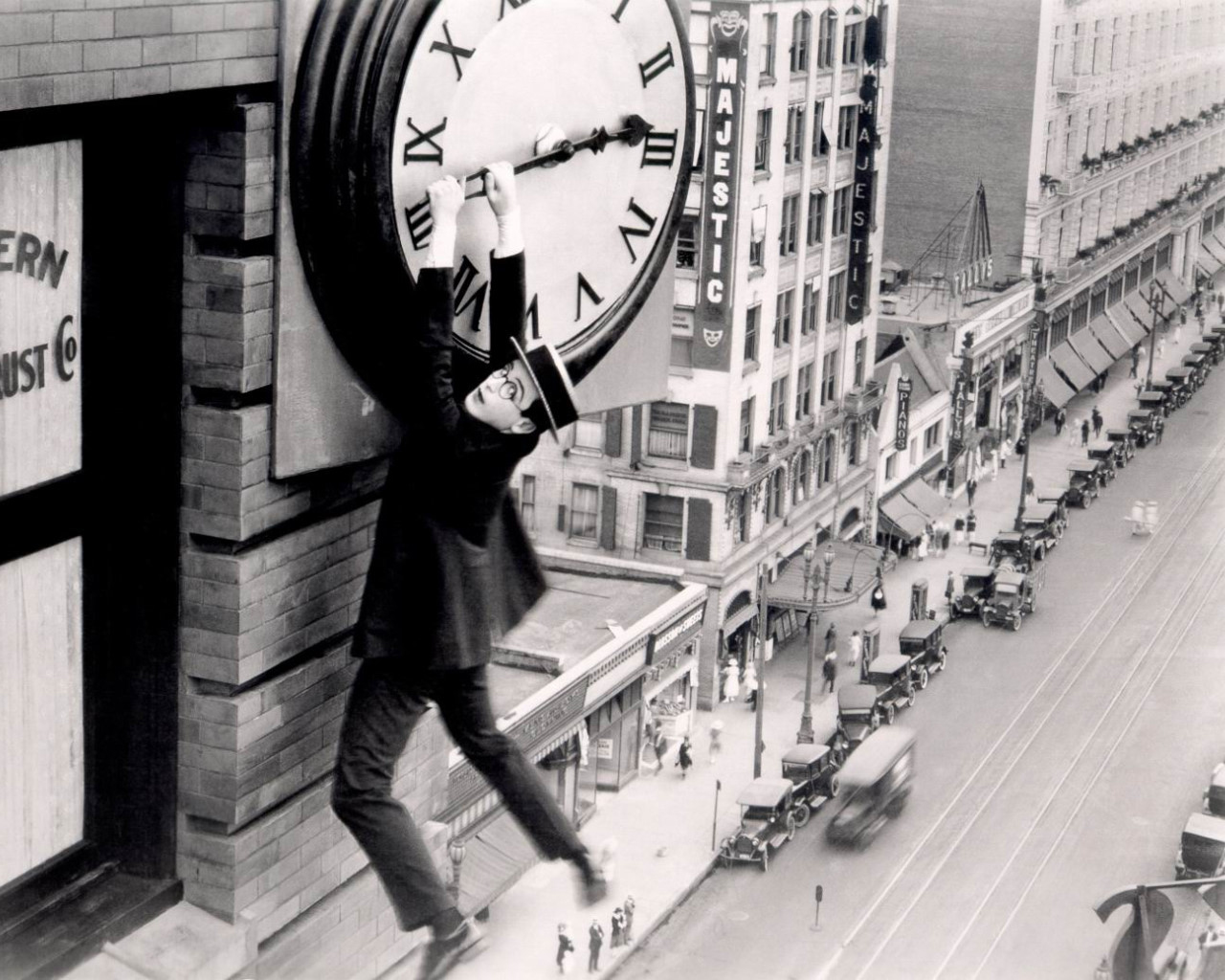 The film was Safety Last (1923), and the actor Harold Lloyd (1893-1971).  Ever since that afternoon, Lloyd has been imprinted on my imagination.  I will always think of that style of eyewear as "Harold Lloyd eyeglasses."  (Indeed, when I met my agent for the first time, the first thing I noticed was that his glasses were just like Harold Lloyd's. And before you ask, no, George is not an accident-prone comedian.  But he does do all his own stunts.)
A couple of years ago, I bought a DVD of the film, and watched it from the beginning, learning that the friend of the character played by Lloyd is supposed to climb the building as a publicity stunt. When the law catches up to the friend, Lloyd's character ends up doing it instead.  I had not remembered this – I remembered only the intense nervousness of watching Lloyd's casually dangerous climb, and of being unable to look away… while simultaneously wanting to look away.  And when I watch the film today, I have the same experience.
Given the anxiety it arouses, the image of Lloyd dangling from that clock (see above) is, I suppose, a strange choice for the background of my computer's desktop.  And yet it's been my "wallpaper" image for years.  Why?  Because I always feel that there's never enough time?  Because I'm daily confronting my dislike of heights?  Those may be some of the reasons.  But the main reason, I think, is an acute sense of the precariousness of being alive. We're here. And then we're not here. As Woody Allen says in Annie Hall (1977),
There's an old joke – two elderly women are at a Catskill mountain resort, and one of them says, "Boy, the food at this place is really terrible." The other one says, "Yeah, I know – and such small portions." Well, that's essentially how I feel about life – full of loneliness, and misery, and suffering, and unhappiness, and it's all over much too quickly.
Allen and Lloyd both understand that comedy and tragedy are not opposites.  They're close kin.  And, in Safety Last, Lloyd dangles between them, always just a few fingers from falling. To borrow a joke from Steven Wright's classic comedy record I Have a Pony (1985), "You know how it feels when you're leaning back on a chair, and you lean too far back, and you almost fall over backwards, but then you catch yourself at the last second? I feel like that all the time."