Meeting interesting people is one of the benefits of writing a biography.  I never met Syd Hoff (1912-2004) in person, but we corresponded and talked on the phone in 2000.  You may know Hoff as the author of Danny and the Dinosaur (1958) or as the creator of over hundreds of New Yorker cartoons.  As A. Redfield, he also published cartoons in the Daily Worker and New Masses.  Indeed, his first children's story (Mr. His, 1939) appeared under the name A. Redfield. (You can read it in Tales for Little Rebels, edited by Julia Mickenberg and yours truly.)
In the 1930s, he knew Crockett Johnson, then New Masses' Art Editor. Explaining that I was writing a biography of Johnson (the book had not yet become a double biography of both Johnson and Ruth Krauss), I wrote him. Here's page one of his first letter to me, followed by my transcription of the same.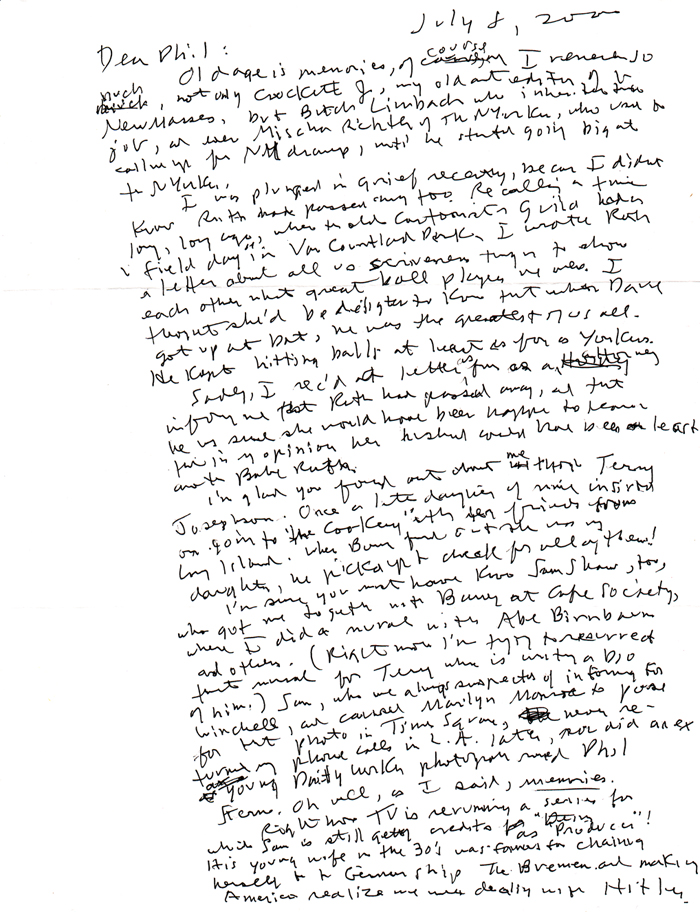 Here's a transcription.
July 8, 2000
Dear Phil:
Old age is memories, of course, and I remember so much, not only Crockett J, my old editor at the New Masses, but Butch Limbach who inherited the job, as ever Mischa Richter of the NYorker, who used to call me up for NM drawings, until he started going big at the NYorker.
I was plunged in grief recently, because I didn't know Ruth had passed away too.  Recalling a time long, long ago, when the old Cartoonists Guild a field day in Van Courtland Park, I wrote Ruth a letter about all us scriveners trying to show each other what great ball players we were.  I thought she'd be delighted to know that when Dave got up at bat, he was the greatest of us all.  He kept hitting balls at least as far as Yonkers.
Sadly, I rec'd a letter as from an attorney, informing me that Ruth had passed away, and that he is sure she would have been happy to hear that in my opinion her husband could have been at least another Babe Ruth.
I'm glad you found out about me through Terry Josephson.  Once a late daughter of mine insisted on going to "the Cookery" with her friends from Long Island. When Barney found out she was my daughter, he picked up the check for all three!
I'm sure you must have known Sam Shaw, too, who got me together with Barney at Cafe Society, where I did a mural with Abe Birnbaum and others.  (Right now I'm trying to resurrect that mural for Terry who is writing a bio of him.)  Sam, who we always suspected of informing for Winchell, had caused Marilyn Monroe to pose for that photo in Times Square, never returned my phone calls in L.A. later, nor did an ex-young Philly worker photographer named Phil Stern. Oh well, as I said, memories.
Right now TV is rerunning a series for which Sam is still getting credit as "Producer"!  His young wife in the '30s was famous for chaining herself to the German ship The Bremen and making American realize we were dealing with Hitler.
You can see that Syd had somehow got the impression that I was also of his generation, and thus must have known some of the same people. I suppose the fact that Terry Trilling-Josephson put me in touch with him might have conveyed that idea? Well, subsequent correspondence confirmed that I was just a young academic. Here's page two of the letter.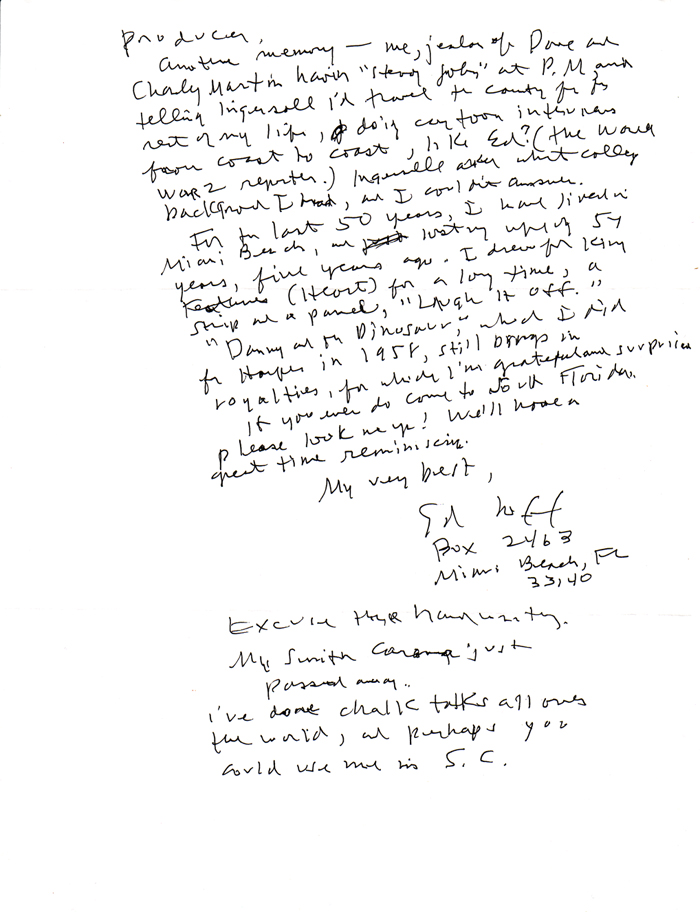 And here's a transcription of page two.
Producer.
Another memory — me, jealous of Dave and Charly Martin having "steady jobs" at P.M., and telling Ingersoll I'd travel the country for the rest of my life, doing cartoon interviews from coast to coast, like Ed? (the World War 2 reporter).  Ingersoll asked what college background I had, and I couldn't answer.
For the last 50 years, I have lived in Miami Beach, and just lost my wife of 54 years, five years ago.  I drew for King Features (Hearst) for a long time, a strip and a panel, "Laugh It Off."
"Danny and the Dinosaur," which I did for Harper in 1958, still brings in royalties, for which I'm grateful and surprsied.
If you ever do come to South Florida, please look me up!  We'll have a great time remembering.
My very best,
Syd Hoff
Box 2463
Miami Beach, FL 33140
Excuse the handwriting.  My Smith Corona just passed away.
I've done chalk talks all over the world, and perhaps you could use me in S.C.
When I first wrote to Syd, I lived in South Carolina (hence the "S.C." at the end). We did try to bring him to Kansas State University, but that fell through, and then I fell out of touch with him. Letters to his Miami address went unanswered, and I couldn't reach him by phone. I think he may have gone to California to spend some time with his sister – I'm not sure. He was very generous in sharing his recollections (and his time) with me, and I suppose he had nothing further to share.
If you'd like to learn more about Syd Hoff, Carol Edmonston (his niece) has set up a very useful website, Syd Hoff: Cartoonist and Author. And, to give credit where it's due, the photograph at the top of this page comes from her site.
Related posts: