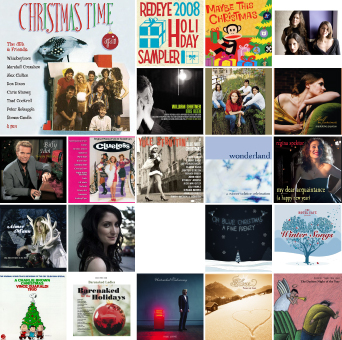 As noted in my last Christmas music post, I've made a lot of these mixes, each one different. Last year, I decided to make a mix of downbeat – even somewhat depressing – holiday music. This is it.
1. Blue Christmas Bright Eyes (2002)Â Â Â Â Â Â Â Â Â Â Â  2:22
Elvis's version has been so overplayed that it's no longer possible to truly hear the song, in his rendition. The only way to appreciate the song is to hear someone else sing it –Â in this case, Conor Oberst of Bright Eyes.
2. Lonely Christmas Marshall Crenshaw (1986)Â Â Â Â Â Â Â Â Â Â Â  2:53
From Christmas Time Again, which also features songs from Alex Chilton, Don Dixon, Peter Holsapple, and Whiskeytown.
3. You're a Mean One, Mr. Grinch Pete Nelson (2002)Â Â Â Â Â Â Â Â Â Â Â  3:47
Toning down the original version's camp, Pete Nelson finds the melancholy in Seuss's lyrics.
4. Fake Plastic Trees [Acoustic] Radiohead (1995)Â Â Â Â Â Â Â Â Â Â Â  4:46
To the best of my knowledge, this song has nothing whatsoever to do with Christmas, but "Fake Plastic Trees" certainly makes me think of Christmas trees.  Why?  I blame A Charlie Brown Christmas.  This particular rendition of "Fake Plastic Trees" appears on the Clueless soundtrack.
5. Winter Song Sara Bareilles and Ingrid Michaelson (2008)Â Â Â Â Â Â Â Â Â Â Â  4:27
I find the plaintive refrain of "is love alive?" quite touching.
6. Snowman Barenaked Ladies (2004)Â Â Â Â Â Â Â Â Â Â Â  2:59
"Made of snow, I don't know how I fit in."  BNL do bring the humor on Barenaked for the Holidays, but not on this song.
7. It Hasn't Happened Yet William Shatner (2004)Â Â Â Â Â Â Â Â Â Â Â  3:50
From Has Been, Shatner's outstanding collaboration with Ben Folds.  It's here because of the lyrics in the first verse: "It was Christmas, and I was alone. / Strange city. / Strangers for friends. / And I was broke." What's nice about this song is that you can either enjoy it straight (if you're feeling melancholic) or as camp.  I tend to experience it in the former mode – hence, its inclusion here.
8. Peace at Last Hem (2007)Â Â Â Â Â Â Â Â Â Â Â  3:38
Another song about missing a loved one during Christmastime, but delivered by Hem with such beauty and feeling.  If you like this, I highly recommend the band. They've recorded a lot of wonderful music, but I'm most partial to their first two albums, Rabbit Songs (2000) and Eveningland (2004).
9. River Madeleine Peyroux feat. k.d. lang (2006)Â Â Â Â Â Â Â Â Â Â Â  5:20
Written by Joni Mitchell, "River" first appears on her album Blue (1971).  Here, it's performed by two of our best contemporary vocalists.  "I wish I had a river I could skate away on" – such a plaintive line.
10. White Christmas Aimee Mann (2006)Â Â Â Â Â Â Â Â Â Â Â  2:59
This song has always been associated with longing. Bing Crosby's original recording, released in 1942, strongly resonated with soldiers missing home, and the people at home missing their loved ones far away.  Many have suggested that it's ironic that one of the best-known Christmas songs was written by Jewish composer Irving Berlin, but I'm skeptical of that claim.  This song evokes less the religious connotations and more the cultural experience.  It's nostalgic, dreaming of "just like the ones I used to know," where "the treetops glisten and glow."  Another example of why Irving Berlin is one of the greatest songwriters of the 20th century.
11. Winter Wonderland A Fine Frenzy (2009)Â Â Â Â Â Â Â Â Â Â Â  3:43
I know nothing about this song's composer (Felix Bernard) or lyricist (Richard B. Smith).  Wikipedia reports that Richard Himber and His Hotel Carelton Orchestra first recorded the song in 1934.  Johnny Mercer had a #4 hit with the song in 1946.
12. Christmas Time Is Here Thad Cockrell & Roman Candle (1993)Â Â Â Â Â Â Â Â Â Â Â  3:20
Another song from the compilation Christmas Time Again.  (See track 2.)
13. Something to Hold on To (At Christmas) Ron Sexsmith (2008)Â Â Â Â Â Â Â Â Â Â Â  2:30
Though he has some cheerier songs as well, Sexsmith is good for those contemplative moods.  Here, he dreams of something to hold on to – such as love or hope.
14. Christmas After All Maria Taylor (2006)Â Â Â Â Â Â Â Â Â Â Â  3:34
Resigned to the onset of another holiday season, Taylor sings, "They're all running short on time, / and waiting in these long, long lines. / I guess it's Christmas after all."
15. Have Yourself a Merry Little Christmas Hem (2005)Â Â Â Â Â Â Â Â Â Â Â  2:14
I generally avoid placing two songs by the same artist on any one mix,… but have been known to make exceptions on Christmas mixes.  This is one of those exceptions, inspired in part by the fact that some of the songs I wanted to include had already appeared on a folk mix I'd done a few years before (and I try not to repeat any songs).  It's also inspired by the fact that Hem is a great group.
16. Christmas Time Is Here Vince Guaraldi Trio (1965)Â Â Â Â Â Â Â Â Â Â Â  6:06
From A Charlie Brown Christmas, of course!
17. Greensleeves Over the Rhine (1996)Â Â Â Â Â Â Â Â Â Â Â  2:50
With lyrics, known as "What Child Is This?"  Over the Rhine brings out the darkness.  Not for nothing is the holiday album (on which this appears) called The Darkest Night of the Year.
18. Silent Night Stanley Jordan (1986)Â Â Â Â Â Â Â Â Â Â Â  3:46
From Yule Struttin' (A Blue Note Christmas), a fine collection.  Another favorite off of that one is Chet Baker's rendition of "Winter Wonderland."
19. Calling All Angels The Wailin' Jennys (2009)Â Â Â Â Â Â Â Â Â Â Â  6:27
The earliest recording of this song – by its songwriter Jane Siberry, accompanied by k.d. lang – appears on the soundtrack to Wim Wenders' Until the End of the World (1991).  A newer recording (sans lang) appears on Siberry's When I Was a Boy (1993).  It's hard to top that original version, but this one has a stark, folky appeal.
20. What's So Funny 'Bout Peace, Love and Understanding Nick Lowe (2004)Â Â Â Â Â Â Â Â Â Â Â  4:04
A live, acoustic recording by the songwriter – quieter than Elvis Costello's famous cover or the Brinsley Schwarz original (which had Lowe on vocals).  This version allows you to better hear the seriousness of the sentiment: "My spirit gets so downhearted sometimes, sometimes.  Where are the strong?  And who are the trusted?  And where is the harmony – sweet harmony?"
21. My Dear Acquaintance (A Happy New Year) Regina Spektor (2007)Â Â Â Â Â Â Â Â Â Â Â  2:52
Echoing the use of newscasts on Simon & Garfunkel's "Silent Night/6 O'Clock News," Regina Spektor mixes in sounds of gunshots & conflict – but relatively subtly, mostly in the background. The contrast highlights what's absent from the key words in a line like "Happy New Year to that is living, all that is gentle, kind and forgiving."  It reminds us that much in the world is none of these things.
22. Auld Lang Syne Billy Idol (2006)Â Â Â Â Â Â Â Â Â Â Â  0:52
I bought Billy Idol's Happy Holidays for the pure campy pleasure of it (check out his "Frosty the Snowman"), but this last track on the record is actually quite effective – and affective.  I think its brevity and lack of accompaniment makes this particular track work.
Well, as promised, this has been a somewhat melancholic mix.  If you need something more uptempo as an antidote, check out the holiday mix I posted earlier in the week.