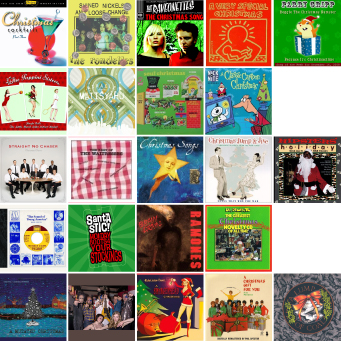 Happy St. Nicholas Day! Â For today's treat, it's the holiday tunes that no December should be without. Â Well, in my humble opinion, anyway. Â Over the past decade, I've assembled 9 or 10 different holiday mixes (all with completely different songs). Â The idea for this mix is to include favorites from all of those mixes. Â In practice, I had to fudge here and there to make a coherent mix — and, to keep things upbeat, I omitted all tracks from my two slower mixes. Â Anyway. Â Ella Fitzgerald, Ramones, Swingerhead, Jackson 5, Gayla Peevey, & more! Â Grab yourself some hot cider, a festive cookie, and press play!
Vince Guaraldi's entire soundtrack to A Charlie Brown Christmas (1965) should be on any list. Â And you probably already have it. Â So, instead of a song from that album, here's DJ John's mash-up of some of the memorable lines from the TV special, set to Guaraldi's "Linus and Lucy."
A side project of Art Brut vocalist Eddie Argos and artist Mikey Georgeson, Glam Chops offers its own version of glam rock … and holiday cheer!
Les Brown, putting the swing in Tchaikovsky!
The Puppini Sisters released their first holiday album this year, which includes what may be the first listenable version of "Last Christmas" ever recorded – it's actually a really wonderful rendition of the song. Â The new record does not include their version of "Jingle Bells," released as a single in 2006.
Recorded as a V-disc for the troops, this is one of my favorite Ella Fitzgerald holiday songs. Â If I allowed myself more than one song by a single artist, then you might also be hearing "Santa Claus Got Stuck in My Chimney" and her version of "Let It Snow! Let It Snow! Let It Snow!" on this mix. Â Love Ella Fitzgerald.
Phil Spector's A Christmas Gift for You might also be part of your holiday listening. Â If it isn't, check it out. Â His wall-of-sound treatment of seasonal tunes is great fun.
There are far fewer Hanukkah songs than Christmas ones. Â And, yes, there are some other good ones (you can only fit so much on a mix!). Â I really love Matisyahu's single, released just last month.

There are many delightful recordings of this song, notably those by Bruce Springsteen (1975), Fred Astaire (1970), Jimmy Smith (1964), Ella Fitzgerald (1960) and Bing Crosby and the Andrews Sisters (1943). Â The Jackson 5's version best fit the mood I was going for here.
This is my favorite Christmas song of all time, bar none. Gayla Peevey was a popular child singer of the early 1950s. Â This song, written by John Rox and recorded when Peevey was 10 years old, was her biggest hit.
I love the joy in this one, and the late Solomon Burke's wish to give presents to everyone, all around the world. Â I find the final verse quite touching. Â "Hope next year, things will have a lot of joy."
With music written by Raymond Scott and lyrics by Mitchell Parish, here's Louis Armstrong. Â He recorded several holiday tracks, including "Cool Yule" (written by Steve Allen), "Christmastime in New Orleans," and a delightful reading of Clement Moore's "The Night Before Christmas."
Old-school hip-hop, but not the sole Christmas song by RUN-DMC. They also recorded "Christmas Is" (1992).

Though they also recorded the theme to Square Pegs and  their hit "I Know What Boys Like," this Christmas number may be the Waitresses' best-remembered song.
Actress, singer, and Tony-Award-winner Pearl Bailey considers the potential financial benefits of the season.
I love the "hip" description of Santa Claus as "the man with the bag."
As readers of this blog may be aware, I have a special affection for a well-honed novelty tune. The contemporary master of the genre is, of course, Parry Gripp. "But, Reggie, where do you keep all the presents?" The answer to that question makes me smile every time I hear it.
Most people remember Boris Karloff as the voice of the Grinch, but forget that Karloff only does the speaking voice, and Thurl Ravenscroft sings all the songs.  It's an understandable forgetting: the credits neglect to mention this fact.
Appears on Brain Drain, the band's final album to feature bassist Dee Dee Ramone. Â The album also includes the song "Pet Sematary" (the theme to the film based on the Stephen King novel). Â I first saw the Ramones in 1988, when Dee Dee was still a member. Â When I saw them for the second (and final) time in 1990, Dee Dee had been replaced by C.J. Â But, honestly, the focus of the stage show was Joey, face obscured by hair and his sunglasses, singing into the mic – and the raw, loud sound of the band. Â Johnny's guitar, Marky's drums, and Dee Dee (or J.C.) on bass created that sound, but what I remember is the sonic experience of it all washing over me.

Shined Nickels and Loose Change, the album on which this song appears, includes a great cover of Madonna's "Like a Prayer."
From the compilation A Lump of Coal, which includes Clockhammer's version of "Here Comes Santa Claus," and Henry Rollins's ominous reading of "The Night Before Christmas."
This appears on many compilations, and even on BNL's 2004 holiday album. Â It comes to you here courtesy of the Nettwerk CD Christmas Songs.
As the Jesus and Mary Chain did, the Raveonettes mesh Phil Spector's wall of sound with thick slices of fuzzed-out electric guitar. Here's their Christmas Song, which has no resemblance to that other Christmas Song (the one written by Mel Torme).
A Swingerhead Christmas is one of my favorite Christmas CDs. It was out of print for a while, but is available again from CD Baby.
The best track from A Mutated Christmas (Illegal Art, 2001), this brings in vocals from several versions of "White Christmas": Louis Armstrong, Frank Sinatra, and of course Bing Crosby (though only his whistle).
The YouTube video (below) of Straight No Chaser's witty mash-up of holiday songs (and Toto's "Africa") prompted the group to reform, and release several albums. Â They re-recorded the tune for Christmas Cheers, which is the version you hear here.

Johnny Mercer brings you greetings from himself, Fifi, Glenn, and the entire staff.