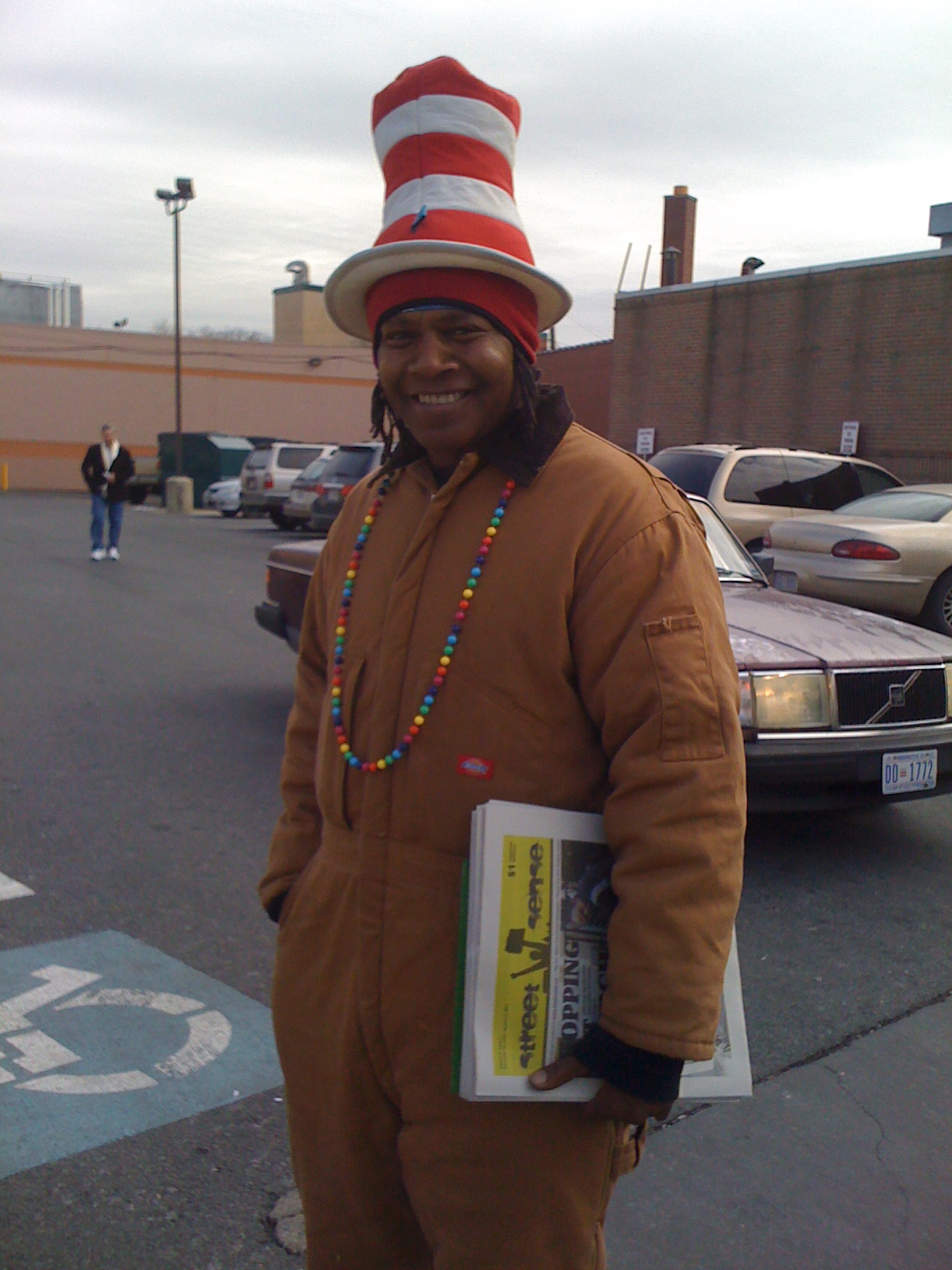 Quick post from Amtrak heading north. Â On the way back from the Diane Rehm Show (now archived on website), I passed the person at right, who was selling copies of Street Sense and who kindly granted me this photograph. Â I always enjoy spotting signs of Seuss in the world. Â And, here, I suspect that Seuss would approve of this donning of the red-and-white-stripped of his famous Cat. Â Although I'm not an expert on the organization, Street Sense wants to fight homelessness – and is thus the kind of progressive cause that Ted Geisel (a.k.a. Dr. Seuss) would be likely to support. Â It also struck me as appropriate to go from talking about Seuss on the air, to seeing this "cat" on the street. Â An apt confluence.
The radio show itself was fun.  My fellow guests, the Rev. Derrick Harkins and Maria Salvadore, were super, and of course Diane Rehm did a wonderful job.  I particularly enjoyed being in studio.  Since Kansas is not exactly a hub of public radio programs, I do most of my interviews long distance – either in a studio in Kansas, or over the phone.  That works a-OK, but the visual cues of the studio experience are even better.  One does not have to listen for the music to know to wrap up a comment quickly; simply look at Diane making the "wrap it up" hand gesture, and you know.  Likewise, it was easier for the guests (and for Diane) to sense who wished to speak next.
And, the more you talk about something, the more you learn – one reason why I enjoy the interchange of class discussion. Â For instance, Rev. Harkins made a good point about the openness of Seuss's message – it's very inclusive. Â The idea that the Grinch learns that "Christmas, perhaps, means a little bit more" doesn't tell you what it means, exactly, but does (as Maria Salvadore pointed out) strip away all of the "stuff." Â That's what the Grinch doesn't like – all the things. Â When that's pared away, he's able to understand, to have his epiphany. Â And what is that epiphany? Â I'd say that it's about community: he joins the circle of Whos, and carves the roast beast himself. Â He comes in from exile, & finds a place to belong. Â It is, as Charles Cohen points out in his 50th anniversary edition of How the Grinch Stole Christmas!, an echo of the "Prayer for a Child" poem he published in December of 1955 in Collier's. Â There, in an uncharacteristically religious poem, Seuss writes "Please tell all men / That Peace is Good. That's all / That need be understood. / In every world / In Your great sky. / (We understand. / Both you and I.)"
The Grinch finds peace in the community of Whos – a message that resonates with The Sneetches (in which groups who discriminated against one another cease doing so), and Horton Hears a Who! (in which we learn that a person's a person). Â So… on that note of brotherhood (and sisterhood), I'll conclude.