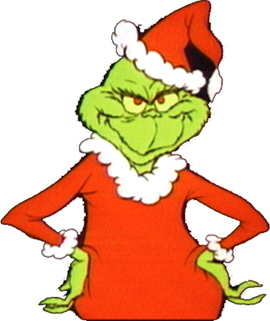 With lyrics by Dr. Seuss (1904-1991) and music by Albert Hague (1920-2001), "You're a Mean One, Mr. Grinch" has become a holiday classic.  Given that it celebrates a misanthrope, it is admittedly an unusual holiday tune.  Yes, the Grinch does reform by the end of the story, but this song focuses on his nastiness, offering no hint of the transformation to come.  Perhaps the song is so beloved because it celebrates emotions not usually sung about over the holidays: meanness, grouchiness, anger.  People certainly experience such feelings during this time of year, but most holiday tunes don't celebrate them.  Seuss – who based the character of the Grinch on himself – gives voice to the darker side of Christmastime.  And Hague's music captures the slipperiness of that "nasty, wasty skunk," sliding a full octave on each verse's final iteration of the word "Grinch."
After Seuss sent Albert Hague his lyric for the song, the composer set it to music, and then invited Seuss over to hear the results.  Sitting at the piano, Hague played it for Seuss: "You're a mean one, Mr. Grinch!  You really are a heel.  You're as cuddly as a cactus.  You're as charming as an eel.  Mr. Grinnnnch!  You're a bad banana with a greasy black peel." According to Hague, Seuss said, "anyone who can slide an octave on the word 'Grinch' gets the job."
Here are 15 versions of the song, starting with Thurl Ravenscroft's original.
Commercial announcement: I'm posting this, in part, to call attention to the Diane Rehm Show of Wednesday, December 22nd, 11 am EST. Â I'll be a guest, and the focus of the entire hour will be How the Grinch Stole Christmas!
1. You're a Mean One, Mr. Grinch Thurl Ravenscroft (1966)Â Â Â Â Â Â Â Â Â Â Â  3:01
Excising Boris Karloff's narration and placing the verses in a different order, this is almost the song as heard on the 1966 TV special, How the Grinch Stole Christmas! – co-written by Seuss and Chuck Jones, and based on Seuss's 1957 book of the same name.  There appear to have been two versions recorded: one that appears in the TV special, and one that omits the narration and places the verses in this order.  This is the latter version, brought to you here from A Classic Cartoon Christmas! Many people don't know that Thurl Ravenscroft is the singing voice of the Grinch – only Karloff is listed in the program's credits.  Best-known for this song and for being the voice of Tony the Tiger, Ravenscroft also sang back-up on records by Elvis Presley, Bing Crosby, Dinah Shore, and Rosemary Clooney.  You'll also hear Ravenscroft's voice on many Dinsey records and in Disney's theme parks.  Brian E. Jacobs' excellent All Things Thurl will tell you everything you need to know.
2. You're a Mean One, Mr. Grinch Mojo Nixon (1992)Â Â Â Â Â Â Â Â Â Â Â  2:35
Slightly off-key, and off-kilter.  The man behind "Elvis Is Everywhere" recorded this for his Horny Holidays! (1992).
3. You're a Mean One, Mr. Grinch Gary Hoey (1998)Â Â Â Â Â Â Â Â Â Â Â  3:07
Rockin' the Grinch, heavy-metal style.  From Hoey's Ho! Ho! Hoey II (1998).
4. You're a Mean One, Mr. Grinch Swingerhead (1999)Â Â Â Â Â Â Â Â Â Â Â  2:18
From one of my all-time favorite holiday records, Swingerhead's A Swingerhead Christmas.  This was out of print for a time, but it's now available from CD Baby.
5. You're a Mean One, Mr. Grinch Rockapella (2000)Â Â Â Â Â Â Â Â Â Â Â  3:14
Like Ben Folds, I'm also not a fan of too much beat-boxing in a cappella.  A little percussion goes a long way.  So, if I'd prefer more subtle "drums" here, Rockapella do rock the Grinch a cappella.  And the lead vocalist really hits those bass notes.  From the group's Rockapella Christmas.
6. You're a Mean One, Mr. Grinch Asylum Street Spankers (2001)Â Â Â Â Â Â Â Â Â Â Â  3:11
Oscillating between country, jazz, bluegrass, and I-don't-know-what, the Asylum Street Spankers deliver a genre-bending cover of the song.  From A Christmas Spanking (2001).
7. You're a Mean One, Mr. Grinch Slaid Cleaves (2001)Â Â Â Â Â Â Â Â Â Â Â  3:44
The accordion makes me want to call this the "New Orleans" version of the song, but I'm not sure if that's strictly accurate… since he grew up in Maine and lives in Texas. Â The "Americana" version, perhaps? From Cleaves' EP Holiday Sampler (2001).
8. You're a Mean One, Mr. Grinch Pete Nelson (2002)Â Â Â Â Â Â Â Â Â Â Â  3:47
The downbeat cover.  If many versions embrace the Grinch's anger, Nelson's recording finds the melancholy behind the green grouch's mood. Purists will note that I called the Grinch "green": true, he's white in Seuss's original book, but he's green in the TV special that introduced this song. If you'd like an entire mix of more somber holiday music, you might enjoy my Blue Christmas mix, posted a week or so back.
9. You're a Mean One, Mr. Grinch The Gypsy Hombres (2002)Â Â Â Â Â Â Â Â Â Â Â  3:39
Ever wondered what Django Reinhardt's recording of the song would sound like?  Look no further.  From the Gyspy Hombres' Django Bells.
10. You're a Mean One, Mr. Grinch Brian Setzer (2005)Â Â Â Â Â Â Â Â Â Â Â  2:38
On Dig That Crazy Christmas, Brian Setzer's rockabilly-inflected big band puts its spin on the Grinch.
11. You're a Mean One, Mr. Grinch Aimee Mann (2006)Â Â Â Â Â Â Â Â Â Â Â  3:27
When I first heard this, I thought: Aimee Mann?  Really? I'm admirer of her work, but never expected her to cover this song.  This version interpolates some of the narration from the TV special – that's Grant Lee Phillips contributing the male vocal.
12. You're a Mean One, Mr. Grinch Straight No Chaser (2009)Â Â Â Â Â Â Â Â Â Â Â  2:54
More a cappella, but with more subtle use of the beatbox than Rockapella.  Indeed, Straight No Chaser's arrangement is more intricate, more complex, but without making the sound too busy.  A nice balance here.  From Christmas Cheers.
13. You're a Mean One, Mr. Grinch Glee Cast featuring k.d. lang (2010)Â Â Â Â Â Â Â Â Â Â Â  3:18
From this season's special Glee episode, and featuring the vocals of k.d. lang!  Closely modeled on the cover by Aimee Mann, this includes some narration – male vocalist here is Matthew Morrison.
14. Grinch Introduction / The Grinch / "You're a Mean One, Mr. Grinch" Take 6 (2010)Â Â Â Â Â Â Â Â Â Â Â  4:16
I love Take 6, and I expect the comic business would be fun live.  Upon repeated listenings, I find myself wishing there were a version without the ad-libbing.  The arrangement is great, but the humor … wears thin.
15. You're a Mean One, Mr. Grinch The Raleigh Ringers (2010) Â  Â  Â  Â  Â  Â 3:37
If you need further evidence of the song's classic status, look no further than this version… performed on handbells. Â From the Raleigh Ringers' A Wintry Mix.
16. Whoville (Won't Get Yuled Again) mojochronic (2008)Â Â Â Â Â Â Â Â Â Â Â  1:03
As a bonus track, here's a mash-up of the Grinch and the Who –Â punning, of course, on the name of the people who live in Whoville.
So, fahoo fores and dahoo dores! Â (To say nothing of fahoo ramus and dahoo damus.) Â Welcome Christmas!