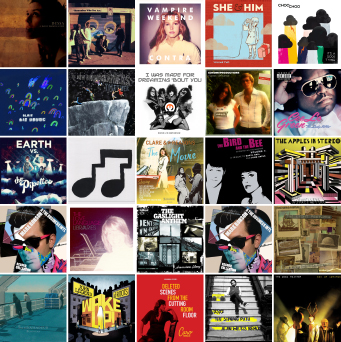 According to iTunes, these are the songs released in 2010 that I played most in 2010.  As such, the list is going to skew slightly towards the beginning of the year (since those songs have been in the playlist for a longer period of time).  The number at the far right is the number of plays the track has received this year.  So… here's what iTunes tells you about me & my year's musical obsessions – of tracks released in 2010, at any rate.
1. 911 Delta Spirit      3:16      23
"The folks back east, they say the market's fine. / I heard that before 1929. / When Black Tuesday comes, it'll be a hit. / Right out of the air into the pit."  An uptempo – even danceable – song with a social conscience.
2. Rock Island Arsenal The Light Footwork      4:02      22
I can't make out all of the lyrics, and frankly have no idea what this song is about.  Its repeated plays in my iTunes may be, in part, a result of my attempts to decipher it.  But I also simply like its sound.
3. Paris Kate Nash      3:03      21
"You'll never listen to me.  No, you'll never listen to me."   Surprised that this is as high as it is in my top 50 most played – "Do-Wah-Doo" is a catchier song from this record.  Apparently, my ear disagrees with the previous sentence.  "Said you'd lend me anything.  I think I'll have your company."
4. Need You Tonight Beck's Record Club      3:41      20
Fantastic live-in-studio recording of the INXS hit.
5. Under Control Good Shoes      2:29      20
Wearing their Gang of Four influence on their sleeves, Good Shoes sing a song of desire.  "To always be hungry and never satisfied."
6. When I'm Small Phantogram      4:09      20
Like "Rock Island Arsenal" (above), I don't really understand this song.  I just like the sound of it.
7. Dancing On My Own Robyn      4:51      20
I know exactly why I like this one – something about the combination of catchy, uptempo pop with sad lyrics.  Not that the lyrics are particularly profound.  They aren't at all.  They're of the person-I-love-doesn't-love-me genre.  We've heard this type of song before.  Yet, inexplicably, Robyn manages to pull it off.
8. Missing Eliza Doolittle      3:41      19
The sample of the Fleetwoods' "Come Softly to Me" (1959) is definitely a big part of this song's appeal.  Without that melodic hook, I'm not sure that I'd have been pulled in.
9. Rodolfo The Record's      4:16      19
For this song, it's definitely the hook.  It's a fantasy of getting "far away from a day job," but the appeal for me is all about the sound of the song.  And, yes, the Record's do spell the band name with that gratuitous apostrophe (instead of The Records).  From the album De Fauna et Flora.
10.  I Want the World to Stop Belle & Sebastian      4:32      18
Channeling the Cure's "Love Song" (listen to that bass line!), Belle & Sebastian ask for the morning, and the understanding.  Another song that I can't fully decipher.
11.  It's OK Cee Lo Green      3:46      18
You know Cee Lo Green's The Lady Killer because of the hit single (the clean version of which is "Forget You"), but the whole album is fantastic.  One of my favorite records of the year, hands down.
12.  Satisfied      Cee Lo Green      3:27      18
Another from The Lady Killer.  I'm not going to include more than one track by any given artist, so you'll have to seek this song yourself.  (Support independent record stores and just buy the CD.  Trust me.  You won't regret it.)
13.  Dutch Dessa      3:20      18
Dessa's A Badly Broken Code is my nomination for album of the year.  I'll say more about this in tomorrow's post, but for now I'll say: solid hooks both musically and lyrically.  She is a poet.
14.  The Bullpen      Dessa      2:36      18
Also from A Badly Broken Code.  Go.  Now.  Buy the album.
15.  Heart of Steel Galactic feat. Irma Thomas      3:28      18
From ya-ka-may.  Soulful New Orleans vibe, Irma Thomas' smokin' vocals, and… wow.
16.  Paris (Ooh La La) Grace Potter & the Nocturnals      3:15      18
"If I was a blade, I'd shave you smooth."  Strangely, the second song on this list with "Paris" in the title.  Ooh La La, indeed.
17.  Heaven's on Fire The Radio Dept.      3:33      18
Beginning with a spoken-word suggestion that we "destroy the bogus capitalist process that is destroying youth culture," the song then moves to its actual subject: desire.  "One look at you, and Heaven's on fire."
18.  Where I'm Going Cut Copy      3:36      17
Cut Copy channel T. Rex… or possibly Goldfrapp.
19.  Children's Work      Dessa      3:12      17
More from A Badly Broken Code.  This is the first Dessa song that I heard, and it's the song that got me hooked.  Since I'm not posting more than one song by any given artist, you'll have to seek this yourself.
20.  I Am Trying to Break Your Heart JC Brooks & The Uptown Sound      3:39      17
Wow!  I like this even better than Wilco's original version.
21.  You're the Kind of Trouble The Holmes Brothers      3:46      16
"I've heard the rumors.  I hope they're true. / You're the kind of trouble that I could get in to." Classic R&B with a bluesy vibe.
22.  When You Walk in the Room Fyfe Dangerfield      3:28      16
A very happy song.  On his solo record, Fyfe Dangergield (lead singer and songwriter for Guillemots) is in love.
23.  Cut Loose The High Decibels      2:26      16
Old school hip-hop. Â Reminds me of RUN-DMC.
24.  Our Generation (The Hope of the World) John Legend & The Roots feat. CL Smooth      3:16      16
"It's all left up to us to change this present situation. / Take a lesson from our elders.  Don't make the same mistake. / Let's fill the world with love, get rid of all the hate."  Amen to that.
25.  Hey Hey Hey Michael Franti & Spearhead      3:47      16
I think Michael Franti has been listening to U2.  Certainly, on the anthemic refrain, his guitarist sounds a lot like the Edge.
26.  If You Can't Sleep She & Him      2:49      16
A cappella, multi-tracked Zooey Deschanel.  Beautiful.  You could sleep to this, but you'll stay awake because you won't want to miss a note.
27.  Dream About the Future The Apples In Stereo      4:16      15
Robert Schneider continues to channel Jeff Lynne.  Still, there's always room for a catchy E.L.O.-seque tune.
28.  Stuck Caro Emerald      4:33      15
Retro-swing from her debut, Scenes from the Cutting Room Floor (released last year in Europe, and this year in the US – but only via iTunes).  Big in her native Holland, but no one's heard of her in the U.S.
29.  It's a good Thing (Radio Edit) CHOO CHOO      3:02      15
"It's a good thing I don't remember what went wrong."  An apparently optimistic song that's actually rather dark.
30.  Call Me The Pipettes      2:50      15
Featuring none of the original members, the Pipettes return!  Are they still the same pre-fab pop group that they were?  Should we care?  The new record isn't as consistent as the debut, but there are a few strong songs – such as this one.
31.  Albatross Sambassadeur      3:52      15
"I leave it just to be to what it is, just a memory.  It seems to be."  The lyrics can be a bit ESL, but a lovely, melancholy, orchestral pop sound.
32.  Holiday Vampire Weekend      2:18      15
From the band's sophomore effort, Contra.
33.  Everybody Wants to Rule the World Clare & The Reasons      3:56      14
Cover of the Tears for Fears song.  With violins and cello.  Very nice.
34.  The Difference Between Us The Dead Weather      3:37      14
"One day, I'm happy and healthy.  Next, I ain't doing so well."  The latest from Jack White & co.
35.  Mineshaft II      Dessa      3:41      14
More from A Badly Broken Code.  I'm telling you: definitely check it out.
36.  Pumped Up Kicks Foster The People      4:13      14
My, this is a catchy tune.  Who is this band?  I know nothing about them.
37.  The Diamond Church Street Choir The Gaslight Anthem      3:12      14
Channeling Bruce Springsteen, c. 1975.
38.  Carpenter's Wonderwall Go Home Productions [Oasis vs. Carpenters]      3:06      14
The Gallagher Brothers meet the Carpenter Siblings.
39.  Girls FM Happy Birthday      3:00      14
Another song with an appealing sound.  I can't say I've paid much attention to its lyrics.
40.  How Did All These People Get In My Room? I Blame Coco      3:10      14
Yes, this is the band of Eliot Sumner, a.k.a. Sting's daughter.
41.  Heart to Tell The Love Language      2:27      14
"Some fools rush in.  Some fools just wait."
42.  I Was Made for Dreaming 'Bout You MadMixMustang [Kiss vs. Beyonce]      4:17      14
Whoa. Â Bringing in Beyonce beats, MadMixMustang creates the long-lost Kiss dance hit.
43.  Record Collection Mark Ronson & The Business Intl      3:50      14
The title track from the producer behind Amy Winehouse's big hit record of a few years ago.
44.  Bang Bang Bang      Mark Ronson feat. MNDR & Q-Tip      3:51      14
Another track from Mark Ronson's Record Collection.  And, as noted earlier, I'm only posting one track per artist.
45.  A Bite Out Of My Bed The New Pornographers      3:13      14
From the indie supergroup's Together.
46.  Garden Grow Our Broken Garden      4:14      14
Dark, self-destructive, catchy.
47.  The Shining Path (Alan Wilkis Remix) RJD2      3:38      14
"They will see the albatross that lives in your shadow"? Â This is the second song on this list that references an albatross. Â What the –?
48.  Heard It On The Radio The Bird And The Bee      3:03      13
The sole original song on Interpreting The Masters Volume 1: A Tribute To Daryl Hall and John Oates, which is a very enjoyable album of Hall & Oates covers.  Really.
49.  Candy in the Kitchen Blair      3:08      13
A mix of nostalgia and uptempo, wistful and danceable.  That balance between opposing emotions seems to be a theme.
50.  Dr Wanna Do      Caro Emerald      3:02      13
Another track from Scenes from the Cutting Room Floor.