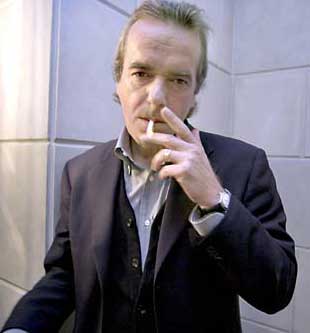 On the BBC's Faulks on Fiction this week, Martin Amis said, "People ask me if I ever thought of writing a children's book. I say, 'If I had a serious brain injury I might well write a children's book', but otherwise the idea of being conscious of who you're directing the story to is anathema to me, because, in my view, fiction is freedom and any restraints on that are intolerable."  He added, "I would never write about someone that forced me to write at a lower register than what I can write."
It's tempting to observe that Mr. Amis appears to have already suffered "the serious brain injury" of which he speaks. Â To suggest that only brain damage could enable him to write for children implies that children are brain-damaged adults; to claim that writing for younger readers is writing "at a lower register" betrays an astonishing level of ignorance about the field. Â Since both notions are demonstrably false, perhaps we should both wish him a speedy recovery, and advise him to take better care of that head of his. Â Indeed, one might say that, given the pervasiveness of the injury he's evidently suffered, the real news here is that he's able to form complete sentences on his own. Â Remarkable!
But, of course, Amis's condescension is not the result of head trauma.  It's a result of the arrogance and ignorance that afflict many otherwise intelligent people, when they attempt to write about children's literature.  A.S. Byatt's description of the Harry Potter novels as "jokey latency fantasies" (2003) comes to mind, as does Harold Bloom's infamously lazy comments (2000) on the same series.  Like Amis, both are intelligent people – Byatt, a gifted novelist, and Bloom, a sharp literary critic.  However, hampering their ability to apply that intelligence to books for younger readers, their damaged minds struggle under cultural prejudices that consider children's literature "lesser" and "not for serious writers."
So, before (purely as an experiment) we thwack Mr. Amis in the head to see what sort of children's book he might write, we might remember that his remarks are but a symptom of a larger cultural bias. He may lack sufficient understanding to perceive this, but children's literature is, of course, very difficult to write well. As Dr. Seuss said, "I find writing for children more difficult, and more satisfying.  There are infinitely more writing tricks to capture adult readers than children.  You can't kid the kids.  If the story or method of telling it bores them, you don't get a second chance.  They just walk out on you."  But another of Seuss's comments is even more applicable here.  Asked whether he'd ever consider writing for adults, Seuss liked to say, "Adults are obsolete children and the hell with them."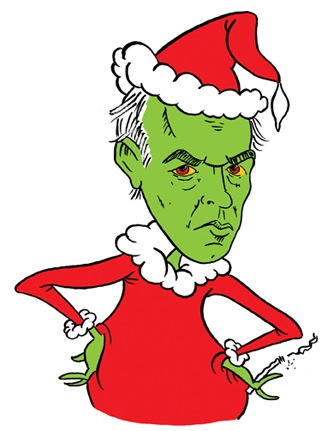 Update, 13 Feb. 2011, 11 am: Patricia Storms' Only a Brain Injury Could Make Me Draw Martin Amis (on her BookLust blog) features caricatures of Amis as the Cat in the Hat, Max, Madeline, the Pigeon, a Moomin, and others. Â One of those caricatures is, I think, ideal to accompany my particular blog post — as it combines both Amis and Seuss. Â I refer, of course, to her Amis as Grinch (at right)! Â So. Go and amuse yourselves with her art.