"Barnaby exclusively in the Chicago Sun!" Here's a photo of a Chicago Sun delivery truck in the 1940s.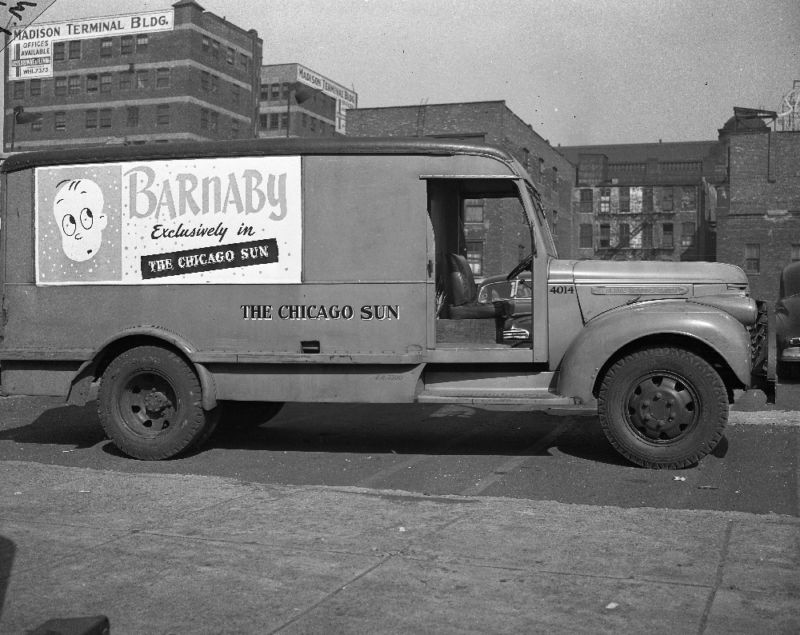 The occasion for sharing the photo is the quest for original Barnaby strips! Â As readers of this blog know, Eric Reynolds and I are co-editing The Complete Barnaby for Fantagraphics. Â We're currently working on gathering strips from 1942-1943 – volume 1 (featuring those strips) is due out in April 2012. Â Should you have any of these strips (or later ones), do drop me a line! Â (My email address is at right, under "A note on mp3s.")
Also, I love the fact that Crockett Johnson's comic strip is being used to sell newspapers. Â Despite the many great strips being written these days (Cul de Sac, Doonesbury, Zits, Non Sequitur, etc.), you don't see them deployed to help boost a paper's circulation. Â Which is a missed opportunity, I think.
Photo credit: Thanks to Charles Davis for sharing this! (Photographer unknown.)