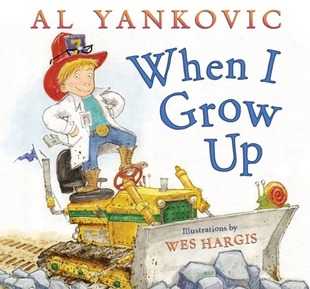 Celebrity children's books usually suck.  The good news about Al Yankovic's When I Grow Up (2011, illustrated by Wes Hargis) is that it does not suck.  Unlike many celebrity books, it does not star a child version of the author, it does not simply add illustrations to one of his songs, and nor does it try to pack in a heavy-handed moral message.  The verse ranks up there with that of the better Seussian school of poetry.  Yankovic's is not as strong as Toby Speed's, but it's OK.  After all, Yankovic is not only a parodist; he's a songwriter, with experience writing verse.  Indeed, his original songs – the doo-wop spoof "One More Minute," and, "Bob," his palindrome-filled tribute to Dylan – are some of his best.
Seuss and Silverstein loom large in Yankovic's literary imagination.  Protagonist Billy owes a debt to Seuss's boy dreamers – Gerald McGrew of If I Ran the Zoo (1950), Morris McGurk of If I Ran the Circus (1956), Peter T. Hooper of Scrambled Eggs Super! (1953).  As they do, he has an active imagination, and sees himself achieving great, if unusual, things.  There are echoes of Silverstein's "Sarah Cynthia Sylvia Stout" in the verse describing Billy's culinary aspirations: "Why, I'll be the greatest chef you've ever seen. / The world will go crazy for my haute cuisine! / I'll tantalize taste buds with my rigatoni / Sautéed with black truffles and pickled baloney."  The book's theme of following one's own path, no matter how eccentric, also resonates with the works of Seuss and Silverstein.
That said, the book doesn't sustain its predecessors' anarchic spirit.  Yankovic might have ended after the story of Billy's great-grandfather Bob, who "just turned a hundred and three, / And he's still not quite sure what he wants to be."  Billy then announces his intention to "leave his options open" because he might be able to pursue many careers, as his great-grandfather did.  This ending would have authorized dreaming.  Instead, Yankovic concludes with Billy confessing "Or maybe – just maybe now – when I grow up, / I can be a great teacher like dear Mrs. Krupp."  A laudable aspiration, but it contains Billy's formerly unruly imagination and, frankly, strains credulity.  The 8-year-old kid who was deciding between snail trainer, giraffe-milker, rodeo clown, pickle inspector, and "smell pit-sniffing deodorant tester" might become a teacher, but would he know that already?  After listing his many other much more unusual career options, this choice feels curiously conventional.
Wes Hargis's illustrations are professional, and do the job they need to do. Â But they don't have the verve or the energy that a story like this needs. Â I'd like to see Mo Willems, Lane Smith, or Laurie Keller take a crack at this. Â They could bring the visual oomph that this book lacks.
In sum, for a first children's book, this is a laudable effort.  If Yankovic keeps at it, he could make a mark in literature for children.  This book isn't quite at that level, but it shows promise.  Here's hoping that, like Billy, he keeps dreaming.