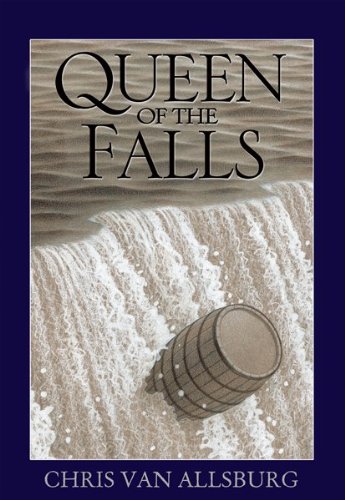 His first non-fiction work, Queen of the Falls (2011) is also one of Chris Van Allsburg's best.  Indeed, in some ways it marks a return to form.  After writing and illustrating a picture book each year for about 15 years, Van Allsburg stopped producing picture books for a while.  Following Bad Day at Riverbend (1995), he took a break.  Seven years passed before Zathura (2002), the sequel to Jumanji (1981) and the only so-so book in his career.  Four years later came Probuditi! (2006), a much stronger story than its predecessor and his first book to star African-Americans.  His new book is even better.  With Queen of the Falls, we're back to the classic Van Allsburg of the 1980s and 1990s – but we're also going somewhere he's not gone before.  He's using his gifts for the fantastic to make history live.
The story is true, but Van Allsburg does not abandon his penchant for surrealistic juxtapositions.  Describing Niagara Falls' height "as tall as a seventeen-story building," he fills a full page with a late-nineteenth-century building of precisely that height, rising up in the middle of the falls, water cascading around each side.  On the page opposite, in an inset illustration, a little girl's face seems to look in the direction of this sight, inviting us to see it as more than just a visual metaphor – even though that's all it is, as subsequent illustrations of the falls reveal.  For that moment, we believe that it's real, and share her awe.  Other such juxtapositions derive not from the imagination but from apparent incongruities in the real world.  Annie Edson Taylor standing next to a barrel as large as she is, and the huge barrel's sudden smallness when atop the vast falls recall Magritte's experiments with size, like Le Tombeau des Luteurs (1960) or Les valeurs personnelles (1952).
It is also one heck of a story.  Annie Edson Taylor (1838-1921) was the first person to go over Niagara Falls in a barrel and survive.  The first man to achieve the same feat did so a full decade later.  When she did it, she was a 63-year-old widow.  And this was in 1901.  As Van Allsburg's narrator reports, "Americans could not have been more amazed if they'd read a horse had hit a home run, or a baby had been elected president.  How could anyone, let alone a woman, survive a trip over Niagara Falls?"  Echoing his The Widow's Broom (1992), Queen of the Falls critiques sexism without editorializing: the phrase "let alone a woman" registers as condescending, but he trusts readers to pick up on that.
While you read the book, you forget she survived … until she does survive.  Van Allsburg deftly creates suspense, allowing us to wonder.  Just prior to the plummet, a two-page spread shows the barrel a couple of feet from edge of the falls, where the waters rush down, beyond our view, past the bottom of the page.  At bottom right, a single line of text states: "'Oh, Lord,' she whispered, and then she was gone."  Turn the page, and the next image is Annie, inside the barrel, her mouth open, eyes wide and looking heavenwards.  Even when you know the outcome, it's hard not to feel her fear.
Here's hoping that Mr. Van Allsburg creates more historical picture books. His narrative art draws us in, makes us think, makes us feel, makes us wonder. Who better to explore the mysteries of history?
Above, Van Allsburg talks about the creation of Queen of the Falls.