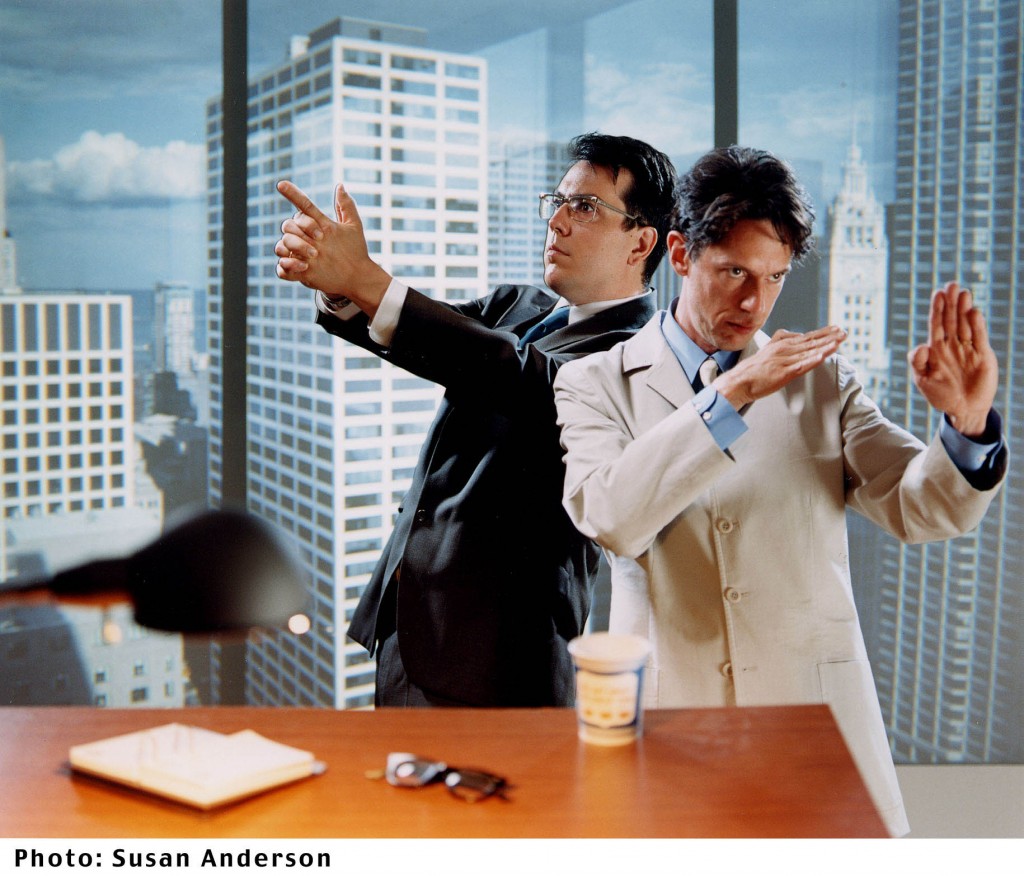 They might indeed be geniuses. Â What other band has, in the last quarter century, produced such consistently great music? Â Music for films, TV, adults, children, and mammals of any description? Â I ask you: Who? Commemorating new music by They Might Be Giants (who, dear reader, are this blogger's favorite band), here are nine TMBG songs everyone should know – complete with videos. Â Happy They Might Be Giants Awareness Day, everyone!
"Don't Let's Start," from They Might Be Giants (1986)

From the band's debut album, we learn that "No one in the world ever gets what they want, and that is beautiful. / Everybody dies frustrated and sad, and that is beautiful."
"Ana Ng," from Lincoln (1988)

On TMBG's second album – with cover art by Brian Dewan – John Linnell sings about a beloved whose "voice is a backwards record," and who lives on the other side of the world.
"Birdhouse in Your Soul," from Flood (1990)

The band's breakthrough (and major label debut) Flood brought two hits (yes, hits!), a cover of "Istanbul (Not Constantinople)," and the above song. Â "Everyone must listen to me. / Filibuster vigilantly."
My favorite song from their next album, Apollo 18 (1992), is "Mammal."  However, I can locate only a few performance videos on YouTube  – and the audio is of middling quality.  So, we'll move on to…
"Meet James Ensor," originally on John Henry (1994)

This is a live recording from 2009. Â John Flansburgh sings a song about "Belgium's famous painter. / Dig him up and shake his hand. / Understand the man." Â Yeah.
"Doctor Worm" from Severe Tire Damage (1998)

One of three studio tracks from a live album, this was a pop hit in Australia. Â In my private universe of interesting music, it was also a pop hit. Â It is a song about a character who, as he says, is "not a real doctor, but I am a real worm. Â I am an actual worm." Â And a worm who plays the drums, too.
Speaking of doctors, TMBG would go on to write and record — with Robin "Goldie" Goldwasser on vocals — "Dr. Evil" (1999) for Austin Powers. Â Next up, more soundtrack music:
"Boss of Me," the theme song to Malcolm in the Middle (2001)

Above, TMBG perform the song on Mr. Jay Leno's late-night television program.
Oh, and we must not forget the tune I think of as the "They Might Be Giants Happy Birthday Song":
"Older," from Long Tall Weekend (1999)

Above, TMBG perform the song on Robert Krulwich's excellent (but short-lived) television program, Brave New World.
There are many excellent songs on Mink Car (2001), among them "Another First Kiss," "Working Undercover for the Man," and a cover of Georgie Fame's "Yeh Yeh." Â But I'm not finding suitable videos on YouTube. Â Likewise, No (2002) is a great record, and the band's first children's record. Â In addition to the title track, there's "John Lee Supertaster," "Violin," and "Where Do They Make Balloons?"… but the YouTube videos aren't helping us here.
"Bastard Wants to Hit Me" from The Spine (2004)

Above, Laika Studio (creators of Coraline) offer a light-hearted animation for a song exploring one of TMBG's recurring themes (paranoia). Â TMBG wrote songs for Coraline, but only the "Other Father Song" made it into the film. Â "Be Careful What You Pack" (originally intended for Coraline) can be found on The Else.
"The Mesopotamians," from The Else (2007)

I love the idea of Mesopotamians on tour, squabbling in the back of their Econoline van.
"Nine Bowls of Soup" from Here Come the 123s! (2008)

The deadpan absurdity of this makes me smile every time I hear it. Why an ichthyosaur? Â Why the airplane? Â  The song moves calmly forward through all of its silliness. Â "Whoa! Â Whoa! Â Whoa! Â Whoa! Â / Whew, I really thought that that was it."
And, yes, the above song is why I've chosen only nine TMBG videos. Â Enjoy!