A Crockett Johnson–Ruth Krauss biography update with good news, thanks, and apologies. Â Let's do the apologies first.
Apologies. Â It was unprofessional of me to air this disagreement publicly. Â It's one thing to blog about the editing process, and another to air one's editorial differences in a public forum. Â I've already apologized to my editor (who hadn't read the blog post, and, when I described it to him, said he didn't mind), but I'd also like to apologize to all of you. Â I try to make this blog useful – and I think Wednesday's post, though it was certainly useful for me, also stemmed from a motivation that was more personal than utilitarian. Â I've since considered deleting it, but I decided it would be better to leave it up, acknowledge my misstep, and apologize. Â So. Â Apologies. Â I shall strive to do better in future.
Good news.  I had a productive conversation with my editor yesterday morning.  We've mapped out a path forward, and I have a much clearer understanding of his expectations for the manuscript.  Now that I understand him, I think we're mostly on the same page (as it were).  As readers of earlier posts on the editorial process will be aware, I've been doing my best to follow the guidance of both editor and readers.  I've never written a biography before, and am grateful for the help.  While I have some facility at writing scholarship, I've had to teach myself to write narrative.  I'm getting better at it, but I'm well aware that I lack the skills of a fiction writer – skills helpful to constructing narrative.  So, in addition to mixed messages not helping, I also really need very specific advice about precisely what to change.
In our conversation yesterday, I gained some clarity.  My editor's single most helpful comment was to identify my problem as the conflict between (a) trying to create a completist biography and (b) trying to create a critical biography.  What I should do is focus on the critical biography, and reduce the completist elements.  As he noted earlier in our conversation, were this a new biography of, say, Ernest Hemingway or Maurice Sendak, then the manuscript's current length could be justified.  Crockett Johnson and Ruth Krauss do not (yet!) have that kind of cultural importance.  So, grasping the critical vs. completist issue helps me better assess where I need to excise detail, paragraph, section, and so on.  Some of the cuts will end up in The Complete Barnaby (Fantagraphics, 2012-2014).  Others will appear on this blog.  Still others will just stay on my hard drive.
One other important update. Â The Purple Crayon and a Hole to Dig: The Lives of Crockett Johnson and Ruth Krauss will not appear in April 2012. Â Expect it in June 2012. Â I need time to make these revisions, and UP Mississippi needs a year's production time from receipt of final manuscript.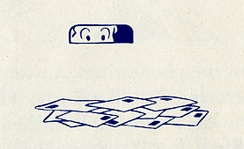 Thanks. Â One happy result of this disagreement has been realizing how many kind and supportive people there are out there. Â Thanks to everyone who commented on Wednesday's post, both on the blog itself and via Facebook. Â Thanks to the support offered (via email) by Leda Schubert, Mark Newgarden, and Dan Steffan. Â Mark offered to take a look at the ms. Dan's suggested revisions to the opening paragraphs are so strong that (presuming he grants me permission), I'd like to use some of his suggestions. Â Thanks to my editor for the hour-long conversation yesterday morning. Â And, of course, thanks to George Nicholson, agent, friend, and cheerleader. Â I always benefit from his counsel.
Well. Â Onwards with revision and – since it's the end of term – lots and lots of grading.
Illustration credit: Crockett Johnson, "Fun at the Post Office," from Ruth Krauss's How to Make an Earthquake (Harper, 1954).