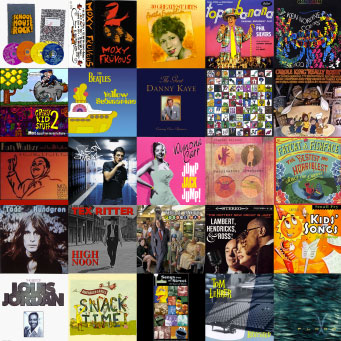 In North America, those of us who are teachers or students are thinking about school.  In August and September, the summer holidays end, and a new term begins.  To commemorate (or commiserate?) this season last year, I posted Dark Sarcasm in the Classroom: A Back-to-School Mix.  This year, I'm posting a mix about language.  Enjoy!
1)Â Â Â Â  The New A B CÂ  Lambert, Hendricks & Ross (1959)Â Â Â Â Â  3:06
Leading the mix itself and its "ABC" section (which concludes with track 7), it's the vocalese trio of Dave Lambert (1917-1966), Jon Hendricks (b. 1921), and Annie Ross (b. 1930).  From their album Lambert, Hendricks & Ross! (a.k.a. The Hottest New Group in Jazz!).
2)Â Â Â Â  ABC-DEF-GHIÂ  Big Bird (1970)Â Â Â Â Â  1:48
On Sesame Street, Big Bird (voiced by Carroll Spinney) tries to pronounce the alphabet as a single, 26-letter word.  From Songs from the Street: 35 Years of Music.

3)     African Alphabet  Ladysmith Black Mambazo and Kermit the Frog (1991)      1:51
In another one from Sesame Street, the voices of Ladysmith Black Mambazo join Kermit the Frog (voiced by Jim Henson).  This song can also be found on Songs from the Street: 35 Years of Music.

4)     Alphabet of Nations  They Might Be Giants (2005)      1:27
"West Xylophone, Yemen, Zimbabwe!" They Might Be Giants' alphabetical trip around the world, from their second children's album, Here Come the ABC's.  If I weren't restricting myself to one song per artist, I would definitely include other TMBG songs in this mix.

5)Â Â Â Â  "A" – You're Adorable (The Alphabet Song)Â  Jo Stafford and Gordon MacRae (1949)Â Â Â Â Â  2:25
I don't know much about Gordon MacRae, but Jo Stafford was a popular vocalist in the 1940s and 1950s.  With husband Paul Weston, she was also half of the deliberately off-key comedy duo Jonathan and Darlene Edwards.  This song appears on the compilation Small Fry: Capitol Sings Kids' Songs for Grown-Ups.
6)     Alligators All Around  Carole King (1975)      1:54
From King's great collaboration with Maurice Sendak, Really Rosie –Â an animated TV special that first aired on CBS in 1975.

7)     Crazy ABCs  Barenaked Ladies (2008)      3:49
Steven Page mocks Ed Robertson's attempts to write a new alphabet song.  Appears on Snack Time!, the first BNL children's record. Word is that the group (now sans Page) is working on a second children's record.
8)     Dictionary  Muckafurgason (2004)      2:14
Having concluded the "ABC" section of the mix, we turn to the dictionary, courtesy of New York trio Muckfurgason.
9)     The Books I Like to Read  Frances England (2006)      2:13
"These are the books I like to read / Because reading suits me. / With every page I turn, the pictures coma alive.  / Imagination takes what's possible to new heights."  And the song name-checks both Harold and the Purple Crayon and Green Eggs and Ham!  From Frances England's Fascinating Creatures.
10)  A Noun Is a Person, Place, or Thing  Lynn Ahrens (1973)      2:57
The first of 6 songs from Schoolhouse Rock on this mix.  Since I encounter students (yes, college students) who do not know what a noun is, I often wish that these were still airing during Saturday morning cartoons.

11)  C Is for Cookie  Cookie Monster (1973)      1:29
"Hey, you know what? A round cookie with one bite out of it looks like a 'C.' A round doughnut with one bite of it also looks like a 'C.' But it is not as good as a cookie. Oh, and the moon sometimes looks like a 'C,' but you can't eat that."  Words of wisdom from the Cookie Monster.  The song appears on Songs from the Street: 35 Years of Music, and (I expect) on many other compilations.

12)Â  Silent EÂ  Tom Lehrer (1972)Â Â Â Â Â  1:31
One of several songs that Lehrer did for Sesame Street. Available as a bonus track on Tom Lehrer Revisited.

13)  All Together Now  The Beatles (1969)      2:11
This always sounded to me a bit like a combination of a nursery rhyme and a reading primer. From the end of Yellow Submarine, where the Beatles appear on screen and talk to the audience:

14)  Onomatopoeia  Todd Rundgren (1978)      1:35
From Rundgren's Hermit of Mink Hollow.
15)  The Noise Song  Tex Ritter (1953)      1:48
Putting onomatopoeia into practice, Mr. Tex Ritter tells us all about noises – those made by cows, pigs, ducks, sheep, railroad trains,… even college boys.
16)  Tonguetwisters  Danny Kaye (1951)      2:17
Though I expect this song appears on more than one compilation, it appears here via the 3-CD set The Great Danny Kaye. Â Can anyone sing this lyric at the pace that Kaye does? Â I doubt it.
17)  Tip of My Tongue  Fatcat & Fishface (2008)      2:41
Appears on the New Zealand group's album Dogbreath, and again on the compilation The Bestest and Horriblest.
18)  Wordplay  Jason Mraz (2005)      3:09
Cheerful pop from Jason Mraz. Â Appears on the album Mr. A-Z.
19)  A Word a Day  Phil Silvers & Rose Marie (1952)      3:32
A song of malapropisms, a term named for Mrs. Malaprop, a character in Richard Brinsley Sheridan's The Rivals (1775).  This particular song, however, is from a different play – the Broadway musical Top Banana (1952), with music and lyrics by Johnny Mercer and book by Hy Kraft.
20)  The Ballad of William Archibald Spooner  Logan Whitehurst & the Junior Science Club (2006)      0:55
From Logan Whitehurst's final record (Very Tiny Songs, completed just before he passed away), a tribute to the man who gave us the term "Spoonerism."
21)  Bob  "Weird Al" Yankovic (2003)      2:29
A Dylanesque tribute to palindromes or a palindromic tribute to Dylan?  Either way, the results are funny.  From Yankovic's Poodle Hat.

22)  Rufus Xavier Sarsaparilla  Jack Sheldon (1976)      3:00
The second Schoolhouse Rock number on this mix addresses pronouns. Â Actor, jazz trumpeter, and singer, Jack Sheldon also sang the Schoolhouse Rock numbers "Conjunction Junction" and "I'm Just a Bill."

23)  Green Eggs and Ham  Moxy Früvous (1992)      3:45
From the band's debut – a 6-song cassette.  This Canadian quartet were my favorite group of the 1990s.  Their live shows were something to behold. Below, an example of their improvisational stage shows. The song itself starts at around 4:30.  Warning to our underage listeners: in the live performance below, Jian Ghomeshi drops a bunch of F-bombs at around 7:40 or so.  The audio-only version (above) is clean.

24)  Mother Goose Étude #6  F'loom (1998)      1:20
From the band's self-titled debut album.
25)  Nursery Rhyme Rock  Wynona Carr (1956)      1:59
Gospel, R&B, rock 'n' roll – Carr sang it all. Â This is from a collection titled Jump Jack Jump!
26)  The House That Jack Built  Aretha Franklin (1968)      2:21
Continuing the nursery rhyme theme, here's a #6 pop hit for Aretha Franklin.  The B-side of "Say a Little Prayer," the song appears on 30 Greatest Hits (Atlantic, 1985).
27)Â  School Days (When We Were Kids)Â  Louis Jordan (1949)Â Â Â Â Â  2:34
The jump blues of Louis Jordan (and others) helped create the sound that would become known as "rock 'n' roll."  From The Best of Louis Jordan (MCA Records, 1975), a solid single-CD collection of his work.
28)Â  Patty Cake, Patty Cake (Baker Man)Â  Fats Waller and His Rhythm (1938)Â Â Â Â Â  3:16
The final song in our "nursery rhyme" sequence appears on A Good Man Is Hard to Find: The Middle Years Part Two (1938-1940).  One in Bluebird/RCA's fantastic series of Fats Waller CDs – now, alas, out of print.
29)  Maroon  Ken Nordine (1966)      1:40
The song for which Barenaked Ladies named their 2000 album appears on Ken Nordine's spoken-word/jazz classic, Colors.  I've placed it here because, like nursery rhymes and playground chants, the song is as much about the sound of words as what they mean.  And, linking us to the next song, the theme of the record is Nordine trying to describe colors – the sort of task for which one might want to unpack some adjectives….
30)  Unpack Your Adjectives  Blossom Dearie (1975)      3:01
The mix concludes with four Schoolhouse Rock songs.  I generally don't like to use so many songs from the same record (in this case, a 4-CD set), but since each track is performed by a different artist, I've given myself a pass here.  Here, the late Blossom Dearie – of "Peel Me a Grape" fame – teaches us about the adjective.

31)  Lolly, Lolly, Lolly, Get Your Adverbs Here  Bob Dorough (1974)      3:02
Bob Dorough –Â who had previously worked with Miles Davis on "Blue Christmas (To Whom It May Concern)" – sang (and wrote) a number of Schoolhouse Rock songs, including "Three Is a Magic Number."

32)  Verb: That's What's Happening  Zachary Sanders (1974)      3:00
"A verb tells it like it is." In addition to teaching us about verbs, this cartoon features an African-American superhero — not a common sight on television either in the early 1970s or today. Â Zachary Sanders also sang the Schoolhouse Rock song "Electricity, Electricity."

33)  Interjections!  Essra Mohawk (1974)      3:01
"Darn! That's the end." Â Essra Mohawk also sang the Schoolhouse Rock song "Sufferin' Til Suffrage."