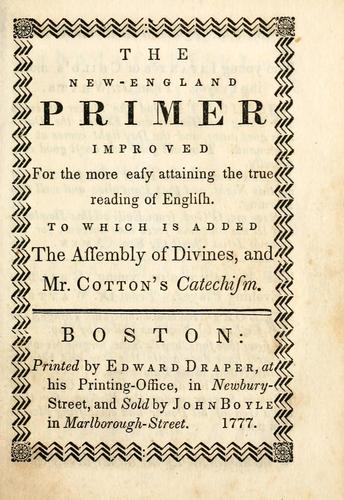 The beginnings of children's literature in America predate the nation, but not the region. In 1686, the publication of the New England Primer heralded a centuries-long tradition of books for children and young people written in, on, and around New England. These works show that constructions of places and people are not wholly separate processes; in their convergence, they produce complex and multi-faceted environments. Just as it is impossible to consider "the child" as a singular entity, it is equally impossible to conceive of a single "New England." Both formations are heterogeneous, intricate, and highly dependent upon subjective perspective. Proposed for the Jan. 2013 MLA in Boston, this panel will consider not only the different New Englands readers encounter through various texts for children, but –Â concurrent with the MLA 2013 Presidential Theme of "Avenues of Access" –Â also how the region itself has both prevented and promoted access to children's literature.
Questions and subjects prospective panelists might wish to pursue include but are not limited to:
the role of publishers. Houghton Mifflin, Candlewick, David R. Godine, Beacon all have offices in Boston, the city that was also home to earlier publishers of works for children (E.P. Dutton, Lothrop and Lee, Munroe and Francis, Ticknor and Fields, the American Tract Society, Isaiah Thomas)
the role of librarians from the region, such as Caroline M. Hewins, Minerva Sanders, Alice M. Jordan
magazines for children, such as Our Young Folks (pub. by Atlantic Monthly), Youth's Cabinet, The Student and Schoolmate, Parley's Magazine, Oliver Optic's Magazine, Robert's Merry Museum (founded by Samuel Goodrich and edited by Louisa May Alcott)
Horn Book.  Based in Boston, the influential publication has, since 1924, provided reviews of and essays on children's books.
the mid-19th century popularity of world histories and geographies for children, written and published in New England by Samuel Goodrich, Jacob Abbott, and others
Authors who live or lived in New England, such as Louisa May Alcott, M.T. Anderson, Sandra Boynton, Virginia Lee Burton, Eric Carle, Lydia Maria Child, Robert Cormier, Eleanor Estes, Nathaniel Hawthorne, Crockett Johnson, Ruth Krauss, Robert Lawson, Lois Lowry, Robert McCloskey, Gregory Macguire, Eleanor H. Porter, H.A. & Margret Rey, Maurice Sendak, Dr. Seuss, Marc Simont, Lane Smith, Chris Van Allsburg,, E. B. White, and Mo Willems. We welcome considerations of New England authors not traditionally acknowledged as writers for children, but who wrote for children nonetheless (such as Sarah Orne Jewett, Mary E. Wilkins Freeman, and Alice Cary) as well as those whose works are assigned to young readers even if not necessarily intended for them (J.D. Salinger, Sylvia Plath, Junot Diaz)
Books set in New England, such as: The New England Primer (1686), Jacob Abbott's Rollo books (1835-1858), Samuel Griswold Goodrich's Peter Parley series (1827-1859), Louisa May Alcott's Little Women (1868-69), Alice Cary's Snow-Berries: A Book for Young Folks (1867), Kate Douglas Wiggin's Rebecca of Sunnybrook Farm (1903), Eleanor H. Porter's Pollyanna (1913), Rachel Field's Hitty, Her First Hundred Years (1929), E. B. White's Charlotte's Web (1952) and The Trumpet of the Swan (1970), Robert McCloskey's Make Way for Ducklings (1941) and many books set in Maine (Blueberries for Sal, One Morning in Maine, Time of Wonder), Chris Van Allsburg's The Stranger (1986), Dr. Seuss's And to Think That I Saw It on Mulberry Street (1937), Oliver Butterworth's The Enormous Egg (1956), Robert Lawson's Rabbit Hill (1944), Esther Forbes's Johnny Tremain (1943), Joan W. Blos's A Gathering of Days: A New England Girl's Journal, 1830-32 (1979), Elizabeth George Speare's The Witch of Blackbird Pond (1958), Jacqueline Briggs Martin's Snowflake Bentley (1998), Virginia Hamilton's Anthony Burns: The Defeat and Triumph of a Fugitive Slave (1988), Eleanor Estes' The Moffats books (1941-1943, 1983), Lois Lowry's Anastasia Krupnick series (1979-1995), Jeanne Birdsall's The Penderwicks series (2005-), Robert Cormier's The Chocolate War (1974) and I Am the Cheese (1977), M.T. Anderson's The Astonishing Life of Octavian Nothing, Traitor to the Nation (2006-2008).
By 15 March 2012, please send 500-word abstracts to Philip Nel (philnel@ksu.edu) and Kate Slater (kslater@ucsd.edu).  Panelists will need to be members of the MLA by 7 April 2012.
This panel is sponsored by the MLA Children's Literature Division but is not guaranteed. Â The 2013 MLA will be held in Boston, 3-6 January 2013.